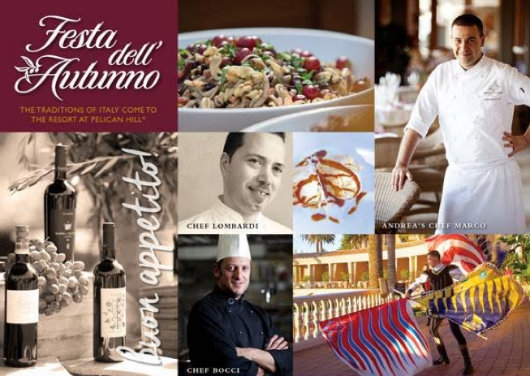 Experience Italy by way of The Resort at Pelican Hill at its fifth annual Festa dell'Autunno, an autumn epicurean festival from October 8-11.

For the first time, the weekend festivities begin tonight from 6 to 10 p.m. with a Guest Chef Wine Dinner at Pelican Grill, followed by two additional Guest Chef Wine Dinners at Andrea Ristorante on Friday and Saturday. You can also enjoy an Italian Street Festa on Saturday from 2 to 8 p.m.; a carnival for children on Saturday; and a jazz brunch on Sunday.

Guest Chef Bocci at Pelican Grill
Thursday, October 8 from 6 – 10 p.m.
Chef Alessandro Bocci of Italy's Michelin-starred All'Acquacotta restaurant at Terme Saturnia Spa & Golf Resort in Maremma presents a four-course dinner menu with paired wines, featuring the season's best meat and fish.
$175 per person (wine pairings, tax and service included)

Guest Chef Lombardi at Andrea Ristorante
Friday, October 9 and Saturday, October 10
Chef Sebastiano Lombardi from the Michelin-starred Ristorante Il Pellicano in Tuscany's seaside town of Porto Ercole presents a three-course lunch and five-course dinner menu, balancing tradition and innovation to feature the freshest autumn ingredients, paired with fine Italian wines. Lunch served from noon – 2:30 p.m., and dinner served from 6 – 10 p.m.
$225 per person for dinner; $80 per person for lunch (wine pairings, tax and service included).

Italian Street Festa
Saturday, October 10
You can experience a harvest season celebration from 2 to 8 p.m. at the Resort, celebrated along olive tree-lined Bungalow ways, with Italian food and wine, live music and dancing, traditional art, a Mercato, Motori Italiani auto exhibits, bocce ball and traditional flag performances.
$125 per adult (wine, tax and service included); $55 per child under age 12 (tax and service included)

Carnevale dei Bambini at Camp Pelican
Saturday, October 10
From 2 to 8 p.m., Pelican Hill's children's retreat presents Festa dell'Autunno weekend activities for locals and guests alike. Designed for ages 4-12, Camp Pelican's Children's Carnival includes special afternoon and evening activities, including traditional Italian dancing, Venetian mask decorating, flag waving lessons and dressing up in classic Renaissance-style costumes for a Street Festa procession under the guidance of Italian flag performers. In the evening, the Resort pasta chef stops by for a cooking activity, followed by dinner, gelato and a screening of Pinocchio, the animated movie.
$95 per child (tax and service included)
Under the California Sun Jazz Brunch
Sunday, October 11
From endless Prosecco mimosas to endless ocean views, Festa weekend concludes with a festive al fresco jazz brunch 10 a.m. – 1 p.m.
$100 per adult; $45 per child under age 12 (Prosecco, tax and service included)

Event tickets and accommodation packages are available for purchase at pelicanhill.com/festa.
For reservations and information, you can also call Pelican Hill's Festa specialists at 855-55-FESTA.
Free Friday Night Flix at Woodbury Town Center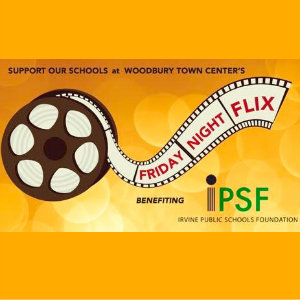 Pack up your beach chairs and blankets and get ready for some films under the stars. Woodbury Town Center's series of "Friday Night Flix" brings free family-friendly movie nights and with picnic dinner specials at 5 p.m., family activities at 6 p.m. and the movies screen at 7 p.m.
Here's the line-up: "Paddington" on Oct. 9, "The Boxtrolls" on Oct. 16 and closing with the live-action "Cinderella" on Oct. 23.
Picnic dinner specials from 5 p.m. to closing will be offered from The Counter Burger, First Class Pizza, The Flame Broiler, Subway and Casey's Cupcakes.
Family-fun activities start at 6 p.m. with a DJ, face painter, balloons, bubble maker, appearances by the Chick-fil-A Cow and various crafts for kids. On Oct. 23, kids can "meet-and-greet" with Cinderella and make their own princess wands.
Woodbury Town Center has partnered with the Irvine Public Schools Foundation to provide $1 popcorn to attendees. Proceeds from the sales will be donated back to the foundation to benefit local Irvine public schools.
Woodbury Town Center is at 6200-6460 Irvine Blvd. in Irvine at the corner of Sand Canyon Ave. & Irvine Blvd.
---
The Latest from greer's oc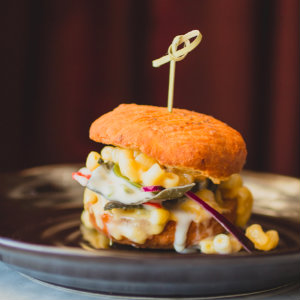 Cheese Please! Ooze Fest
Bring your cheese loving friends to Ooze Fest, the first of its kind cheese festival on Saturday, Oct. 10 in Santa Ana. The gist of the fest is that the folks at Foodbeast are celebrating National Cheese Month…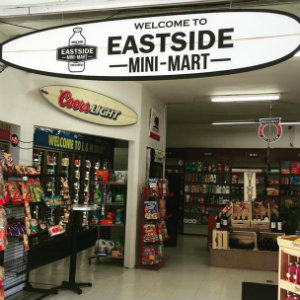 Mini But Mighty Eastside Mini Mart
Longtime Eastside Costa Mesa residents will remember the old Alta-Dena Drive Thru Dairy on Santa Avenue, an easy accessible dairy shop that also sold beer and wine for decades.
It's now under new ownership from a local family who turned…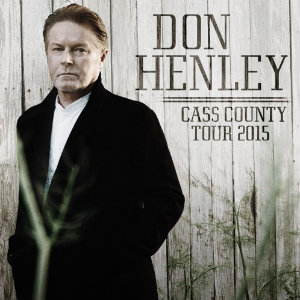 The Fabulous Forum Club and Don Henley experience
For the first time since the Forum completed its reinvention, the exclusive Forum Club at the "Fabulous" Forum will open its doors to the public. A special dinner benefiting the Walden Woods Project before Don Henley's upcoming concert…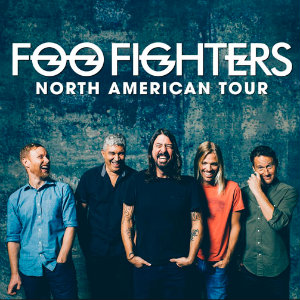 Foo Fighters 'Sonic Highways' World Tour at Honda Center
Foo Fighters "Sonic Highways" World Tour follows the release of the band's hugely successful album "Sonic Highways'" climb to the top of the charts worldwide.
The Foo Fighters will make their stop in Orange County on Saturday, October 17…