Fashion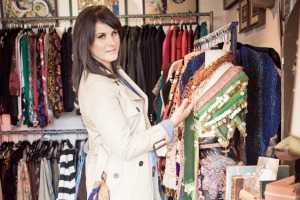 Leslie Christen, Wear to Where Editor
05.10.11
We're thrilled to have a new addition at Greer's OC. Fashionista Leslie Christen will be writing "Wear to Where" every Wednesday. Leslie has a great eye for style, and she knows great local boutiques where you can find must-have fashions in Orange County. She is the owner of "Leslie Christen | LifeStyling," a business that does personal shopping, fashion styling, closet edits and organization.
For tips on what to wear and where to buy view her blog at www.LeslieChristen.com, contact her at Style@LeslieChristen.com.
Photo Credit: Equinox Photo / Tricia Meteer.
---
Trend Tuesdays: Sex and the City for your Feet
02.25.14
By Holly Clinard of Holly in Heels
Get your wallets ready, and your credit cards primed - the SJP Collection by Sarah Jessica Parker is a new collection of shoes, launching exclusively at Nordstrom stores and Nordstrom.com on February 28! Eek! With an exclusive reflection of Miss Parker's personal style, this Italian-crafted line of shoes grabs styles that you'll want to get your hands on ASAP this season.

Take a look at the rich colors of the line - coral, mint, teal and pink, to classic colors including purple, red and navy - those which Sarah Jessica has often said are "the new neutral." I love love love that there is a story behind each name of a pair of SJP shoes. You'll of course find the "Carrie", and even the "Maud", named after legendary designer Maud Frizon. And if you're worried about heel heights, fret no further - the collection of twenty-five shoes fits the shoe prefs of every lady, at every age. The price point is something to adore, too, ranging from $195 to just under $500 - but well-worth the high quality Italian leathers and materials that you'll be boasting on your toes.
The stylish Sarah Jessica Parker herself, President SJP USA LLC explains,
"I've taken inspiration from things in my life such as the grosgrain ribbons I tied in my hair as a girl, to the flower accents from the Sex and the City wardrobe, to references to classic styles from the late 70's and early 80's. I'm a firm believer in quality and timelessness and have created this collection with the hopes that women will love wearing it for years to come."
Handbag lovers and the outerwear obsessed will also be pleased to know that this gorgeous, Nordstrom-exclusive line also includes handbags and the SJP "Manhattan" trench coat. Yes yes, I am also in love.

For more on the lovely SJP Collection by Sarah Jessica Parker, click here.
xoxo,
holly in heels
---