Greer's Blog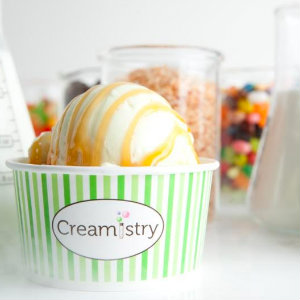 10.01.15
The new Creamistry on Bristol Street in Costa Mesa will be celebrating its grand opening on Saturday, Oct. 3 with a FREE ice cream giveaway from 4 to 8 p.m..
Creamistry continues to take SoCal by icy storm with its newest location. Its made-to-order, liquid nitrogen ice cream brings edible science in seconds--a blast of liquid nitrogen flash freezes the ingredients and transforms into fresh, creamy ice cream.
Choose your ice cream base, from Straus cream to non-GMO and non-dairy/coconut milk base options — and pick from Creamistry's more than 35 signature flavors, from birthday cake and cookie butter, to a variety of Asian-inspired flavors such as Thai iced tea, hand roasted black sesame and Matcha green tea.
The flavor combinations are endless and you can make your own truly customizable ice cream treat, just the way you want.
3033 Bristol Street in Costa Mesa (at corner of Bristol and Paularino, between South Coast Plaza and The Lab/The Camp).
---
10.01.15
Play It Forward is a family-friendly afternoon on Sunday, Oct. 4 from 1 to 4 p.m. at Chuck Jones Center for Creativity in Costa Mesa.
Children of all ages will get to have hands-on experiences at different booths featuring such activities as toy-making, mask-making, balloon animals making, light table animation drawing, lyric writing, and guitar playing.
Parents can learn how to make salsa with a chef, bean bag toss for a favorite varietal, there's a cave with light libations and plenty of family photo opps.
The carnival atmosphere will be enhanced with fresh popcorn, cotton candy, hot pretzels, a bar filled with fruit juices, sodas, ice cream truck and more!
Tickets are $50 per family and are available at PIF4Creativity.org.
---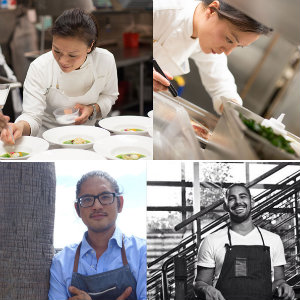 10.01.15
On Saturday, Oct. 3 you can join Chef Shirley Chung at Twenty Eight in Irvine for a special Top Chef Harvest Dinner with former Top Chef alumni Brian Huskey and Louis Maldanado.
Take a seat (or reserve a seat) and experience the culinary collaboration of three talented chefs through 8-courses, with wine pairings by Toloso Winery, a special cognac tasting by Remy Martin and complete the night with cigars on the front Patio.
You also have an 8-course vegan option. Cost is $188 per person.
You can pre-purchase your dinner and reserve a seat here.
Twenty Eight Restaurant & Lounge is at 19530 Jamboree Road in Irvine. 949.852.2828.
---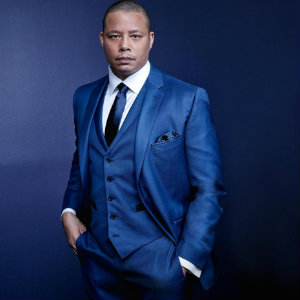 09.30.15
An incredible online auction for charity, benefiting Costa Mesa-based SPIN (Serving People IN Need) is accepting bids by visiting thelatestspin and going to auction.
The fundraiser for SPIN features a dozen one-of-a-kind opportunities organized by restaurateur Elizabeth An of Crustacean, AnQi, and House of An and her best pal Soogie Kang,
Among the most special items are a walk-on part on the major hit TV series "Empire" starring Terrence Howard, tickets to Carnegie Hall's 125th Anniversary Gala in New York City, a concert with Sting and meet and greet, two nights in New York City at the St. Regis Hotel's "Dior Suite," shopping extravaganzas at Armani, Neiman Marcus, South Coast Plaza and more.
You can bid on exclusive seats at the Segerstrom table for Candlelight Concert 2015 starring Diana Krall. There are exclusive get-a-ways to Santa Barbara, Pelican Hill at the Newport Coast, and private chef dinners for a party of your closest friends.
The auction closes Tuesday, Oct. 6. Every dollar goes to benefit families in need avoiding homelessness. It's all part of "The Latest SPIN" for 2015.
---
More Greer