Greer's Blog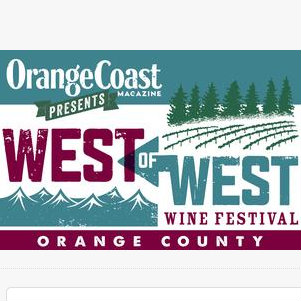 10.17.14
Wine lovers can get in on the West of West Wine Festival Orange County presented by Orange Coast Magazine at the Grand Terrace at Honda Center on Saturday, Nov. 8 from 10 a.m. to 2 p.m.
Guests can samples wines from more than 30 West Sonoma Coast vintners and enjoy a day in the sun with friends.
Entertainment includes an exciting Sommelier Challenge between Orange County's top sommeliers, hosted by Next Vintage Wine Shop at Charlie Palmer; delicious gourmet tastings from Chef Jojo Doyle of Grand Terrace at Honda Center, Chef Saekyong Kim of Charlie Palmer, Chef David Shofner of Wineworks for Everyone, Chef Alex Dale from Sealegs Wine Bar, Chef Andrew Sutton from Carthay Circle, Chef Imran Ali from Tamarind of London and more restaurants,
Also enjoy specialty lounges by Sub-Zero Wolf and Celebrity Cruises; tastes and desserts by Bread Artisan Bakery, OC Donut Bar and Keurig; music and photo ops; and a lively Q&A session/live podcast with Orange Coast's resident wine bloggers, The Wine Dudes.
Tickets cost $175 or $200 for VIP early access which includes grand tasting tickets (includes reserve tasting preview hour from 10 to 11 a.m.)
All tickets include wine, tastings, entertainment, gift bag and parking.
There are also discounts for guests purchasing in pairs. Visit orangecoast.com/wowoc for more info.
Honda Center is at 2695 E. Katella Ave. in Anaheim.
---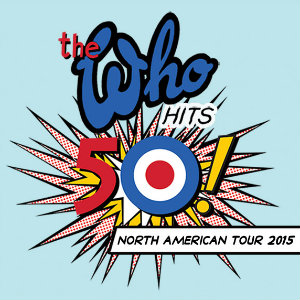 10.17.14
The Who will celebrate their 50-year legacy with "The Who Hits 50!" tour arriving at Honda Center in Anaheim on Wednesday, Sept.16 at 7:30 p.m.
Tickets for the Honda Center performance are on sale now at thewho.com, ticketmaster.com, all ticketmaster retail outlets and by phone at 800.745.3000, and at the Honda Center Box Office on Saturday, October 18 at 10 a.m.
Set lists will include The Who's entire career, from the band's early days to classic albums including Who's Next, Tommy, Quadraphenia, My Generation and Live at Leeds, through today.
Prices range from $49.50 for Upper Level Terrace Seating to $149.50 for Lower Level Plaza Seating.
Honda Center is at 2695 E. Katella Ave. in Anaheim.
---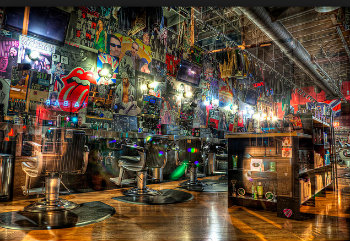 10.16.14
Floyd's 99 Barbershop, The Original Rock 'N Roll Barbershop for men and women – is opening a new shop in in the Crossroad Shopping Center in Irvine tomorrow. Floyd's 99 will be offering half-price haircuts during the grand opening.
It's known for offering a great haircut at a reasonable price in a unique rock 'n roll themed atmosphere. Each location boasts its own individuality; walls are plastered with posters of bands and musical artists.
With personal connections to type 1 diabetes, Floyd's 99 is a strong supporter of the Juvenile Diabetes Research Foundation (JDRF), the largest charitable funder of T1D research.
The Irvine Shop marks the 15th Floyd's 99 Barbershop to open in California, and the 77th shop to open since the brand launched in 2001. Next up will be a Tustin location.
Open 9 a.m. to 9 p.m. Monday through Friday; 9 a.m. to 8 p.m. Saturday; and 10 a.m. to 6 p.m. Sunday.
Floyd's 99 is at Crossroads Shopping Center at 3972H Barranca Parkway in Irvine.
---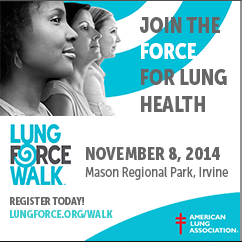 10.15.14
On November 8, 2014, join the American Lung Association LUNG FORCE Walk at Mason Regional Park in Irvine to stand up against lung cancer and for lung health. The LUNG FORCE Walk is like no other charity walk. With an inspiring signature song, a festive atmosphere and fun for the entire family, you can celebrate the collective power of breath.
Only a FORCE of many can stand up against lung cancer. JOIN TODAY!
The Lung Association recently launched the LUNG FORCE movement to battle lung cancer in women and to raise awareness for women's lung health. Lung cancer is the most deadly form of cancer in the US and claims more lives each year than breast, colon, pancreas and prostate cancers combined. Consider these facts:
• Every 5 minutes, a woman in the U.S. is told she has lung cancer, and every 8 minutes, a women in the U.S. dies from the disease.
• Lung cancer is the #1 cancer killer of women, surpassing breast cancer in 1987.
• The 5 year survivor rate of lung cancer is 16%
• Only 1 percent of women cited lung cancer on a top-of-mind basis.
Watch this video to hear one woman's inspiring story and learn how LUNG FORCE is bringing women together to make lung cancer history. Join her and the FORCE today!
---
More Greer