Greer's Blog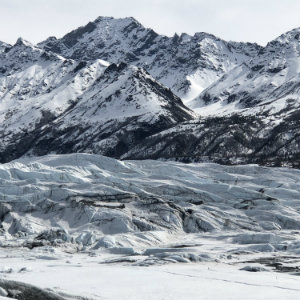 05.21.18
If there's one thing you can say about traveling to Alaska, it's that you will have so many great options if you love the outdoors—you'll want to come back to see more someday. I just took my mom and my boys to Anchorage with the intent of seeing and doing as many things as possible— with three generations to keep in mind. To be honest, I didn't have a lot of time to plan my trip and although I read some blogs, the best info I found was on Alaska.org and Reddit, a great resource for up-to-date honest reviews.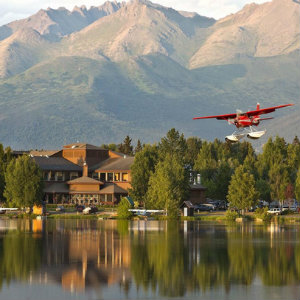 We stayed at The Lakefront Alaska since it's in a great location, not far from the airport and I thought my boys would find it fun to watch the float planes take off and land on the lake. The hotel was perfect, not fancy, but Anchorage isn't a place for luxury hotels. It's a great place to stay since there are so many nearby sites to see. Everyone who worked there couldn't have been nicer and even the people who were originally from California never once said they missed it. As it appears from talking to locals, Alaska is the best place to live if you want a simple and happy life— plus you're surrounded by the beauty of nature.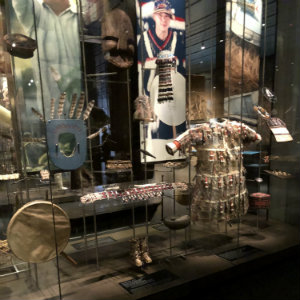 When we travel we like to have our own car and the freedom to do what we want to; we're not big fans of group tours. Our first stop was the Anchorage Museum and we love it. We highly recommend going if you're ever lucky enough to go. You'll want to carve out about two hours to see as much as you can. We concentrated on the exhibit that focused on Alaska history, Art of the North and Ethnography. It's an impressive museum and we appreciate so much the Alaska Native artifacts, historical and contemporary artwork.
We also attempted to climb Flattop Mountain at Glen Alps, a great day hike in Anchorage and reported one of the most climbed mountains in Alaska. We now know we really needed crampons to climb to the top— we did not have proper hiking shoes. The summit is rocky and steep, not to mention slippery from ice and snow. We were so impressed by the mountain vistas and the views of the city from the trail. It's a must if you love hiking.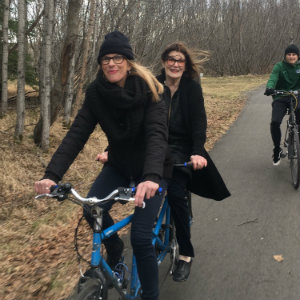 We love riding bikes and were lucky enough to find Downtown Bicycle Rental on Fourth Street. We can't say enough great things about this shop and the owner, Pete is so helpful and knows everything about the trail and bikes. He'll go out of his way to accomodate what you need including staying at the shop after hours.
We read about the Tony Knowles Coastal Trail considered one of the most beautiful coastal trails in the nation says USA Today. It winds along the coast eleven miles and includes the fault line of the '64 quake, scented forests, if you're lucky you'll see moose and bald eagles, and you can take in vistas where you can spot beluga whales offshore in Knik Arm and take in Denali, North America's highest peak.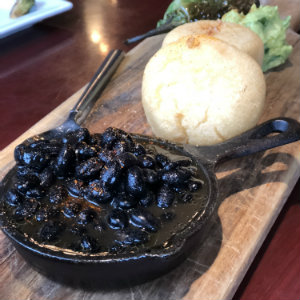 For casual dining, in Anchorage we loved the friendly people and great food and drinks at Slippery Salmon Bar & Grill, the fast-casual Taco King; and for a little more upscale we loved Pangea Restaurant and Lounge, for global fusion cuisine and for fine dining, we loved Crow's Nest at the top of Hotel Captain Cook with 360-degree views of the city.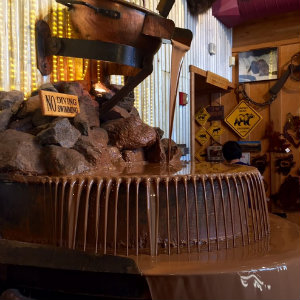 I
If you love wild berry jams and jellies and chocolates, you'll want to stop by Alaska Wild Berry Products since 1946 in Anchorage that boasts the world's largest chocolate falls. You can take a tour of the candy kitchens and shop from nineteen jams and jellies, syrups and sauces, dozens of chocolates and fudges, and other candies as well.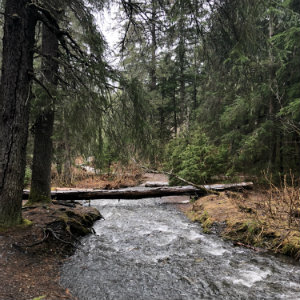 Top of our list of day trips was to go to Girdwood, a resort town about an hour drive south of Anchorage. It's one of the most beautiful drives you will ever take, the Seward Highway is right on the shorelines of four-mile-wide mud flats of Turnagain Arm, a waterway into the northwestern part of the Gulf of Alaska. It's is known for its tides of up to 40 feet--the largest tides in the United States.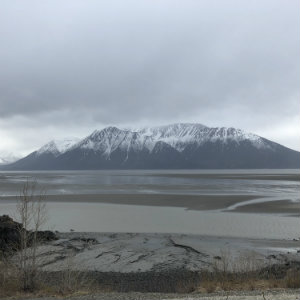 The mud flats almost stretch like a plain to the opposite shores of Cook Inlet, where they meet mammoth sloping mountains. On the left of the highway are Chugach State Park's 3,000-foot mountains.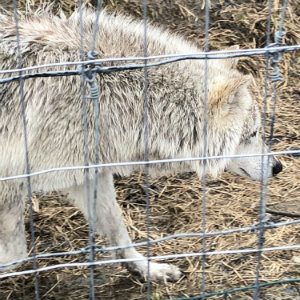 There are so many things to do at Girdwood including flightseeing over glaciers, kayaking skiing, snowboarding, summiting Mt. Alyeska for great views or take a rainforest hike. Since it was so early in the season, we could only hike in the rainforest just behind the Hotel Alyeska, a luxury resort at the base of the Mount Alyeska. We also wanted to see wildlife up close, so we went to the 140-acre Alaska Wildlife Conservation Center near Girdwood. The center provides refuge for orphaned, injured, and ill animals— those that can't survive in the wild.
You can see moose, wood bison, reindeer, wolves, deer, muskox, and foxes, depending on when you go, the black and brown bears can be hibernating.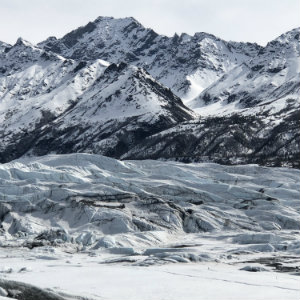 On our last day, we drove two hours north east of Anchorage to see the famous Matanuska Glacier, chosen by Alaska Magazine as #2 of "49 Places To Go In The 49th State." It's the largest glacier that's accessible by car in the U.S. It's massive at 27 miles long by four miles wide. We were able to explore the 600 ft. high glacier by foot without a guide, but thankfully a volunteer guide noticed we were solo and offered to show us what is dangerous and what was safe. She warned us of snow bridges and crevasses that we could unexpectedly fall into at 200 ft. deep! To a novice (us) they are not visible because they are covered by surface snow. In no way, did we want to fall into one, so were so thankful she found us. If we had more time and depending on the time of year, we would go on one of the guided climbs, or a guided glacier cave tours. We definitely need to go back.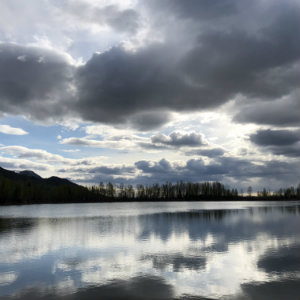 We also stopped at Reflection Lake in the Matanuska Valley. It's a beautiful picturesque lake and also a great place to relax or go on a hike.
After all of the talk of running into a bear (we stopped at REI to buy bear mace), or a moose, wolf, etc. we didn't see any wild life, save for bald eagles on our bike ride, but on my last morning run in Anchorage, I saw a moose happily grazing on a tree in someone's backyard. He took no notice of me, but he made my trip.
---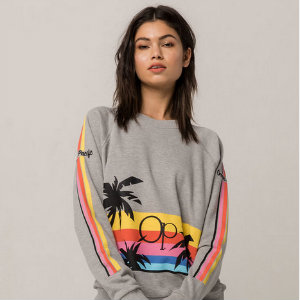 05.21.18
With warmer weather just around the corner, it's time to think summery fashions. Two iconic surf brands Ocean Pacific (Op) and Maui and Sons just debuted carefully designed, vintage-inspired women's 2018 capsule collections.
Both collections feature an array of vintage artwork, silhouettes and, in many cases, original fabrications, reviving the iconic Southern California surf style they first introduced to the world in the 1970s and 80s. These collections offer the best of retro, refashioning the laidback California surf culture with the help of the same trendsetting styles that started it all.
Op and Maui and Sons have an incredible selection of summery revival fashions To view the current collections, which are available online and at select stores nationwide, visit: Tillys, Jack's Surfbaords, Zumiez and Style is Simple.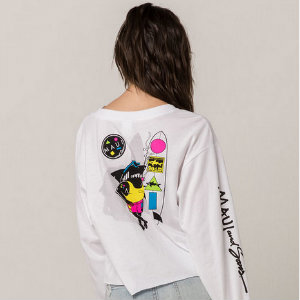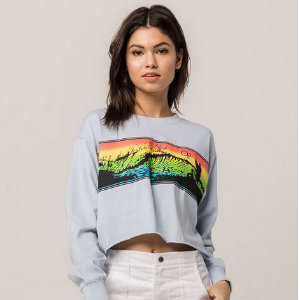 ---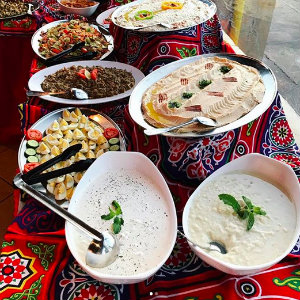 05.18.18
The Muslim holy month of Ramadan has arrived and Anaheim's Little Arabia District is once again offering a variety of 'iftar' buffets at its local restaurants. During this month, Muslims fast from sunrise to sunset and families gather to break their fast during these special times.
Many of your favorite restaurants in Little Arabia usually suspend their regular menu and transform their space to an all-you-can-eat feast that lasts all month. Some even change their business hours and stay open until the wee hours of the morning.
A few of their restaurants include
Olive Tree Restaurant: 714.535.2878.
El Mahroosa Cafe & Hookah Lounge: 714.991.9200.
Rose Cafe: 714.635.3333.
Little Arabia Lebanese Bakery & Cuisine: 714.833.5760.
---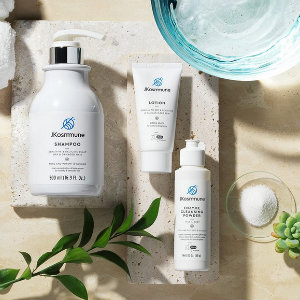 05.18.18
Just in time to produce a fresh spring complexion comes beta-glucan one of the next significant trends in skincare. If you're not familiar with it, it's a been used medically to boost immunity and promote wound healing. In skincare, it works as a collagen booster, strengthens the skin barrier, and is reported to be 20% more effective at moisturizing than hyaluronic acid. It's especially great for dry and sensitive skin but also beneficial for all skin types/those concerned with skin health and anti-aging.

JKosmmune is a new Korean inspired beauty brand founded by a scientist that has a patented method to extract the most potent and pure (99.9%) beta-glucan on the market. Their products contain up to 50% more beta glucan than other brands and the entire line is sustainable and cruelty-free. JKosmmune's high-grade skin care products hydrate the skin below the top layer of the epidermis, eliminating redness, irritation, wrinkles, and pigmentation.
All products — including haircare line, too — contain high quality, all-natural 3rd generation beta glucan that is 99.9% pure. It protects the complexion from harmful climate effects. I've been trying their serum, lotion and cleanser and am happy that my skin feels less dry. JKosmmune are free of paraben, ethanol, talc, mineral oil, silicon oil, benzophenone, Phenoxyethanol, paraffin, sulfate, and color additives.
The product lines include enzyme cleansing powder, serum, lotion, toner and shampoo and are available at jkosmmune.com.
---
More Greer