Greer's Blog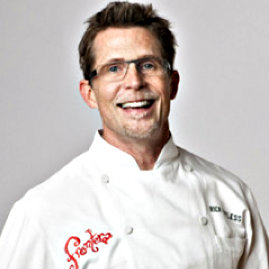 09.02.14
The inaugural Newport Beach Wine and Food Festival opening night will be celebrated at RED O Restaurant hosted by Master Chef Rick Bayless on Friday, Sept 19 from 6:30 to 11 p.m. You can enjoy a star-studded evening with celebrity chefs, cocktail party, three-course wine and food pairing and live and silent auctions offering one-of-a-kind luxury experiences.
All proceeds raised through the auctions and donations will benefit the Festival's charity partners, Hoag Hospital Foundation's Circle 1000 and Project Hope Alliance.
VIP Launch Party at RED O on Friday, Sept 19 from 6:30 to 11 p.m., tickets cost $350.
Tickets are available here.
Red O is at 143 Newport Center Drive in Newport Beach.
---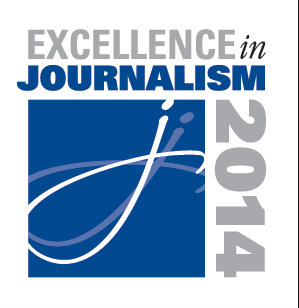 08.29.14
Interested in quality journalism and need a day of inspiration to learn more about the craft? You can attend the Excellence in Journalism Day at Chapman University in Orange on Saturday, Sept. 6. It's a free conference organized by the Orange County Press Club thanks to generous grants and donations.
Eleven Pulitzer Prize winners, two Emmy-winning broadcasters and two New York Time best-selling nonfiction authors will provide inspiration and share their skills during a day of workshops.
The conference begins at 9 a.m. in Memorial Hall, with attendees dispersing about 9:20 a.m. for breakout sessions in Argyros Forum.
You can choose among five breakouts each hour, starting at 9:30 a.m., 10:30 a.m., 11:30 a.m. 2 p.m. and 3 p.m. Lunch is on your own from 11:30 a.m.- 2p.m., with great choices in nearby Olde Town Orange.
You can RSVP to attend by emailing ocpressclub@orangecountypressclub.com.
Featured presenters include:
Claudia Rowe, education solutions reporter, The Seattle Times
Gustavo Arellano, editor, OC Weekly, author, commentator
Charles Apple, Focus Page editor, Orange County Register
Norberto Santana Jr., editor-in-chief, Voice of OC
Keith Esparros, investigative reporter, KNBC/4, Los Angeles
Don Bartletti, Los Angeles Times photographer, Pulitzer Prize winner
Michele Gile, Orange County bureau chief, KCBS/2,KCAL/9
James V. Grimaldi, The Wall Street Journal, Pulitzer Prize winner
Susan Kelleher, The Seattle Times, Pulitzer Prize winner
David Hasemyer, freelance investigative journalist/InsideCliimate.com, Pulitzer Prize winner
Michele Nicolosi, The Orange County Register, Pulitzer Prize winner
Martin Dugard, nonfiction author of three New York Times best-sellers with Bill O'Reilly
Amy DePaul, nonfiction author, UCI literary journalism program
Caitlin Rother, nonfiction author, UC San Diego Extension
Ruben Vives, Los Angeles Times, Pulitzer Prize winner
Abigail Goldman, LA Times, Pulitzer Prize winner
Gary Metzker, Chapman University, Pulitzer Prize winner
Joe Little, multimedia journalist, KGTV/10, San Diego, Emmy winner
Gary Reynolds, senior director of production operations, ESPN
Rob Curley, editor, Orange County Register
Kim Christensen, Los Angeles Times, two-time Pulitzer Prize winner
Jeff Gottlieb, Los Angeles Times, Pulitzer Prize winner
Terry Wimmer, University of Arizona journalism professor, Pulitzer Prize winner
Martin J. Smith, editor, Orange Coast Magazine, nonfiction author
Samantha Dunn, writing coach, author, journalist, freelancer
Chapman University is at One University Drive, in Orange.
---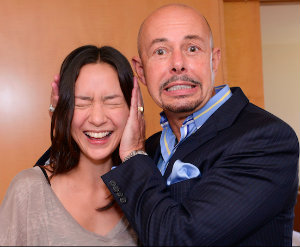 08.28.14
By Sue Facter

Hollywood awards season is not complete without a visit from New York based jewelry aficionado, Michael O'Connor. The style guru hosted his annual Emmy Style Lab at the L'Ermitage Hotel where he showcased the latest in bling for celebrities, nominees and stylists to rule on the Emmy red carpet. This is an invitation and appointment-only event.

The former QVC style director says that color is the key, even for diamonds. "Celebrities are choosing to reinvent classic designs with modern shapes and patterns." (We spotted chocolate diamonds!)

For 48 hours pre-Emmys from dawn till dusk, he hosts a constant flow of well-heeled guests. And we're not talking Louboutins. When Greer's OC stopped in, Kate Flannery ("The Office") was on her way out, after selecting a pair of drop leaf earrings by Kallati worth $15K with 2.6 carats pave set with diamonds. Another Kate (Linder, "Young and Restless") called his private line. Kate Mulgrew ("Orange is the New Black") was drawn to Leo Diamond stiletto style drop earrings with 13.65 carats by Leo Schachter worth $200,000.

O'Connor's warm personality, sense of humor and knowledgeable tidbits makes everyone comfy as he shows a pre-pick necklace for an actress du jour. "This is not a done-deal because you know how that works. But I am almost certain that a very important person will be wearing this necklace on Emmy night."

Whether it's vintage Hollywood glam or a modern version, O'Connor (who has worked many carpet for Reelz TV and other shows) knows how to pair personality with pendant. He never forgets the men, especially the "Mad Men" appeal. Seah Watches & Jewelry launched The Astronomer timepiece, the only watch in the world that comes with the Greek Zodiac signs that replace the hours.
"Takat is reinventing Hollywood glam with an 108 carat Columbian Emerald cut necklace featuring 72 carats of diamonds priced at three million." He says Sofia Verega was born to wear this.

Designer Kara Ross from Diamonds with a Story Collection designed parts of broken sidewalk concrete with diamonds to create a statement ring priced at $2,130. He thinks it would be perfect for Heidi Klum.

Other designers included Bellarri, Brenda Smith, Dena Kemp, Leeza Braun, Mastoloni, Susan Eisen Fine Jewelry, and Vahan Jewelry.
---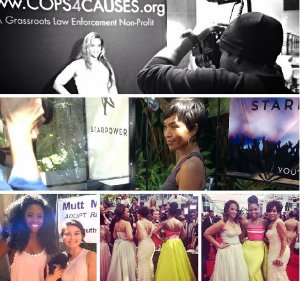 08.28.14
By Sue Facter
Ever wonder what it would be like to attend an award-gifting suite? Greer's OC was fortunate to do some Emmy hopping and we have the 411!
The GBK Gift Lounge, hosted by Gavin Keilly, took over the L'Ermitage Beverly Hills. Edie Falco, Viola Davis, and Dasha Polanco collected a Maxim (queen sized) mattress, Michael Todd True Organics, Soniclear (from the man who invented the scrunchy), Di Modolo Milano Lolita bangles, trips to Muli Luxury Resort in Nusa Dua, Bali, Moon Palace Spa and Golf Resort in the Caribbean, The Little Nell in Aspen and something close to home, The Crescent in Beverly Hills.
Penny Marshall said that the Original Pet Pal Dog Bedding was for a friend. Our best sighting was Angela Bassett who flashed us a million dollar smile. The favorite is The Artisan Group's array of handcrafted designers. Featured were Amelia's Southern Expression, Nan Gates Designs, Shannon Howard Fine Art Photography, Julie Ellyn Designs, and Zoe and Piper.

Doris Bergman hosted her 5th annual pre Emmy Gift Lounge at Fig and Olive with a Mediterranean style luncheon. Jon Voight picked up a tux that Art Lewin Bespoke Clothiers designed. Halso visited MDSun's (Dr. George Sun, plastic surgeon, who showcased his products), Whitening Lightening and Gerard Cosmetics a Red Carpet Survival Kit and Intemporelle Designs (not your grandmothers' clutches).

Kate Burton, R. J. Mitte, Dot Marie Jones and Khandi Alexander attended.

Popular vendor, Twisted Silver (and Perch Jewelry) gifted Debra Mitchell designs that she unravels from the environment. My Saint My Hero showcased bracelets with spiritual messages. Telic Footwear provided comfy sandals and Single, pretty dresses. Vida Emanuel European Day Spa gifted in-house treatments. The kids from Wednesday's Child were honored.

We can't forget the glam locale of Debbie Durkin's Beverly Hilton's Stardust Penthouse EcoLounge. Ray Donovan's Elliott Gould brought his lady and his pooch. We missed Beau Bridges and his baby blues. But we caught up with "Dancing with the Stars" Glev Savchenko.

This soiree gifted Armani Wells Distinctive Men's Clothiers, Baylee Nasco, J Andre Spopnges, Alignmed posture shirts, Serengeti Eyewear, Canine Caviar and Feline Caviar, Club W Wine Tasting, Ties by Mark Roscoe Couture (they loaned gowns too). We were a bit surprised when we walked on the terrace to see a female guest air brush tanning in the nude. Bathing suits were optional! And the OC was represented! OC Hair and Makeup provided touchups.

---
More Greer