Greer's Blog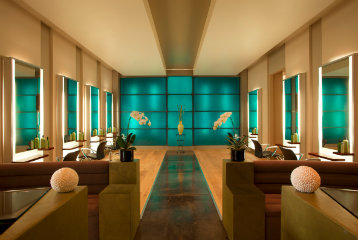 11.25.14
Too busy during the holidays to focus on looking your best? Prior to a holiday party or event, let the experts at St. Regis Monarch Beach take over and book a Merry Makeover package. The limited-time package starts off with an Intraceuticals oxygen facial infusion focused on the face, eyes and lips.
The 45-minute oxygen treatment will leave skin moisturized, rejuvenated and glowing and it's designed to reduce fine lines. It's perfect for a pre-makeup application to help make you look even better.
Following the facial infusion, at the Salon at Spa Gaucin, you will have an expert make-up consultation and application. The experience ends with a shampoo and hair styling from top stylists including Richard Dalton, stylist and former hairdresser to Princess Diana.
This treatment takes approximately two hours and 45 minutes with a special price of $235 per person, plus a 20 percent service charge through December 2014.
Click to book an appointment online, or call 949.234.3367.
St. Regis Monarch Beach is at 1 Monarch Beach Resort N. in Dana Point.
---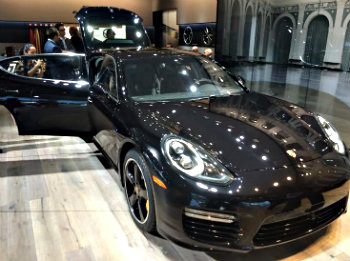 11.24.14
Who could possibly take in all there is to see and do at the LA Auto Show? It's one of the world's premiere auto shows for serious buyers, industry people, car enthusiasts, media, and lookie loos—up to 900,000 visitors in all.
For 10 days, the gigantic Convention Center turns into the place to see what's new and what's on the horizon for automakers and technology. This year's show, which runs through Sunday, Nov. 30, also showcased 60 world and North American vehicle debuts, at least 50% of those were never before seen premieres.
Now with limited time on our hands on press day, we could only focus on one reveal—the debut of the $263k Porsche Panamera Turbo S Exclusive Edition —a car that's so rare—only 100 were made and only 27 are sold in the U.S.
The craftsmanship and passion that went into making and design this car could turn heads of even the most uninterested driver. The sedan isn't just powerful speed wise--from the 4.8-liter 570-horsepower turbocharged V8—it also went from zero to 60 in the luxury division: the exterior is hand-painted with two-tones that literally fade into each other; the interior is also two-tone finished in chestnut brown and piano black.
Behold, the softness and beauty of the leather, too--hand picked from the Italian luxe leather company, Poltrona Frau. The seats are ventilated for comfort, no matter the weather, and passengers in the back seat will be treated to Porsche's new Rear Seat Entertainment Plus system—in other words, 10.1-inch touchscreen computers at their beck and call. For detail enthusiasts there's also hand-made badges to signify the car originated from the Porsche Exclusive factory.
Porsche also revealed two other stunning cars to the world: two new GTS models, the 911 Carrera GTS and the Cayenne GTS. The 911 Carrera GTS is available as coupe and convertible, equipped with rear-wheel or all-wheel drive and develops 430 hp.
The Sport Chrono package and other performance enhancing features are fitted as standard equipment. The Cayenne GTS develops 440 hp and has a sporty, air suspension equipped, chassis with a lowered ride height, to take driving performance to an even higher level.
---
11.24.14
Newport Beach native Savannah Young, 12, was born 10 weeks early, weighing in at just 3 lbs. 10 oz.. No doubt Savannah was ready to get a jump on performing as soon as possible. She's a professional actress, model for LensCrafters and Pearle Vision, singer, songwriter and excellent student at Newport Heights Elementary. She's even the class president and sang her presidential speech. She's also the child actor in London Grammar music video for their award winning song "Strong."
Thomas Barsoe--of OC Hit Factory—formerly a huge pop star from Denmark, discovered her.
He heard her sing at the OC Mart Mix four years ago and had to work with her. He said her talent was beyond her years. He had never worked with a child before. Barsoe teaches his singers to learn all aspects of the business--i.e. song writing, producing--not just wanting to be a pop star.
Savannah wrote a song "Road To History" when she was just 8 years old and it's now available on iTunes, here. The song is "a glimpse into my future" she says.
She's currently working on putting an album together.
Here's the link to her video produced by Barsoe.
---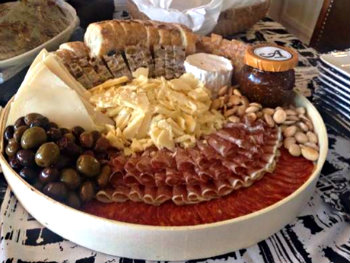 11.21.14
You can simplify your holiday and spend more time with loved ones than in the kitchen? Let Chef Shelly Register from A Market in Newport Beach help make your holiday feast delicious and easy with her Thanksgiving to Go menu of side dishes and desserts.
Today is the last day to place orders for cheese and charcuterie platters, and side dishes including Brussels Sprouts with maple and bacon (a quart for $17); Mashed Potatoes (quart for $15), Cranberry-cherry relish (a pint for $9); Sausage, Wild Rice and Pinenut Stuffing (a quart for $20); Pan Gravy (a pint for $9); Parker house rolls (a half dozen for $10); or Sourdough rolls (a dozen for $8.)
Delicious desserts available to round out your meal include Pumpkin Spice Cake ($50), Raspberry Red Velvet Cake ($50), Apple Pie ($35), Pumpkin Pie ($25), assorted mini cookies or cupcakes, Sour Cream Coffee Cake ($28), and a small Pumpkin Bread ($8.50).
A Market is at 3400 West Coast Highway, just south of Newport Boulevard.
Place an order by calling 949.650.6515.
---
More Greer