Greer's Blog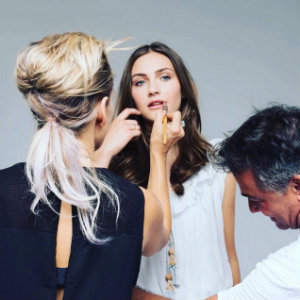 10.24.16
If you're looking for an excellent makeup artist for any occasion, or want to learn makeup tips and tricks with a pro lesson, look no further. Yvette Beebe is an OC based celebrity makeup artist with more than 20 years experience and her work is so impressive. She's worked on music tours, movie sets, T.V., music videos and print media campaigns.
She's available for appointments at Holiday Salon In Costa Mesa and she also tours with rock stars such as PINK, Janet Jackson, Tina Turner, Cher and most recently Bruce Springsteen. Yvette did the cover of this month's Vanity Fair with Bruce Springsteen, shot by Annie Leibovitz. She also has the cover of Rolling Stones with Bruce Springsteen.
"I love what I do and Holiday Salon is a perfect fit for me," said Yvette. "I travel at times for my clients and I love having this salon as my home base here in OC." Her services also include eyebrow shaping, brow and lash tinting, personalized makeup lessons, bridal and event makeup.
You can get in touch with Yvette Beebe to book an appointment at 415.244.0830. You can also check out her works on Facebook @Yvette Beebe Beauty, and Instagram @yvettebeebe_beauty
Holiday Salon is at the Westport Square Shopping Center at 369 E. 17th St #5 in Costa Mesa. 949.642.4040.
---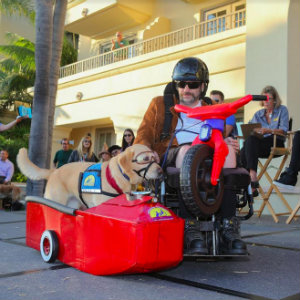 10.24.16
Come out and bring your furry friend for tricks and treats in celebration of Yappy Howl-O-Ween on Thursday, October 27 from 4 to 7 p.m. at The Ritz-Carlton, Laguna Niguel. Emmy Award-Winning KTLA Television Reporter Wendy Burch will serve as the evening's emcee for the costume contest.
The Yappy Hour celebration is a chance for pups to strut their stuff in their favorite costume and lap up water in their favorite flavors – Beastly Bacon, Creepy Chicken, Ghoulish Beef and Frightful Vegan. You can can relax with a selection of wines from Mutt Lynch Winery.
During the costume contest, a panel of judges will determine which canine will take home the prize in the costume categories of "Dynamic Duo," "Most Creative," "Cute, Cuddly & Silly," and, of course, "Best in Show." There is a donation of $10 per canine, per category to enter.
Proceeds from Yappy Howl-O-Ween, including the costume contest entry fee, will benefit the Canine Companions Veterans Initiative which provides an opportunity for veterans to regain their independence through the support of a Canine Companions service animal.
For more information, visit here.
The Ritz-Carlton Laguna Niguel is located at One Ritz-Carlton Drive in Dana Point.
---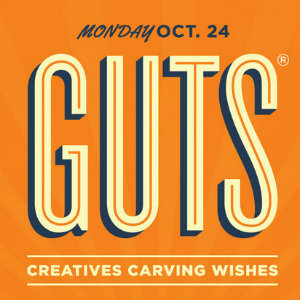 10.21.16
454 Creative is partnering with AIGA (the professional association for design) and Make-A-Wish Orange County & the Inland Empire to bring Orange County's creative community together in a fun pumpkin carving contest called GUTS on Monday, October 24 from 5-8 p.m. at the SOCO Collection, OC Mix Farm Stands, and Surfas Culinary District in Costa Mesa.
The first GUTS fundraiser began in North Carolina nine years ago, and this philanthropy has spread across the country since. 454 Creative will be bringing it to Orange County for the first time to raise $100,000 to grant the wishes of 20 children for Make-A-Wish Orange County and the Inland Empire.
This event is free and open to the public, but please RSVP to check in at the event here.
3303 Hyland Ave. in Costa Mesa.
---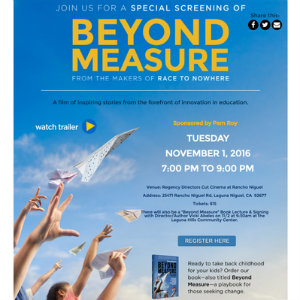 10.21.16
Concerned about your overscheduled, exhausted, stressed out student? Join me at the screening of the film, Beyond Measure: What Counts Can't be Counted being shown at Regency Director's Cut Cinema at Rancho Niguel on Tuesday, Nov. 1 at 7 p.m.
The movie's director, Vicki Abeles, will be in attendance for a Q&A following the 80-minute documentary, a follow-up to her award-winning film, Race to Nowhere. This film starts an important conversation in our community about re-evaluating education, our children's health and wellbeing and the damaging effects of a culture focused on sameness and achievement. Tickets cost $15. You can register here.
This film highlights schools that are at the forefront of innovation and shows what they are doing to engage and inspire students.
Regency Director's Cut Cinema at Rancho Niguel is at 25471 Rancho Niguel Road in Laguna Niguel.
If you can't come to the screening or want to learn more, Ms. Abeles will be discussing her book, Beyond Measure: Rescuing an Overscheduled, Overtested, Underestimated Generation, the following morning, Wednesday, November 2 at 9:30 a.m. at Laguna Hills Community Center. Her book presents ideas to both parents and schools about how we can take the pressure off our overwhelmed and anxious kids.
Laguna Hills Community Center is at 2555 Alicia Parkway in Laguna Hills.
---
More Greer