Greer's Blog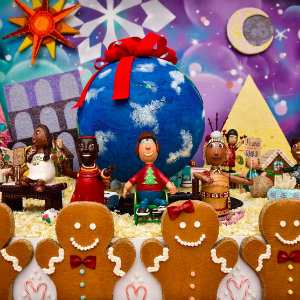 12.09.16
Here's a fun way to get into the holiday spirit, stop by to see and smell The Ritz-Carlton, Laguna Niguel's amazing Gingerbread display created by executive pastry chef Daniel Dominquez, assistant pastry chef Theresa Ebilane-Moore and their talented team of pastry chefs.
With the theme of Celebrating Diversity in Humanity, the annual showpiece highlights people from around the globe coming together in peace and harmony. More than 500 hours went into to creating this incredible 18 foot confectionary display made from an array of homemade gingerbread, colorful candy, sweet treats, baked goods, and other tasty confections — and is 100% edible.
The Ritz-Carlton Laguna Niguel is located at One Ritz-Carlton Drive in Dana Point.
---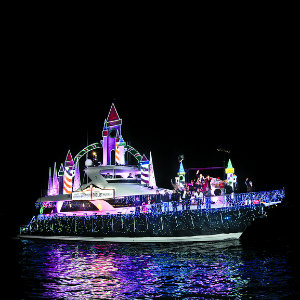 12.09.16
The Lighthouse Bayview Café is celebrating its one year anniversary today and will continue to celebrate the holiday season during the 108th Annual Newport Beach Boat Parade on December 14-18. The Lighthouse is offering a special $35 three-course prix fixe menu created by executive chef Ryan Sumner paired with the perfect view of the parade. The parade is scheduled to pass by the restaurant between 8 to 8:40 p.m.
The Lighthouse three-course prix fixe menu starts with a choice of albacore sashimi, garlic hummus or fried calamari with chili orange sauce. Main course selections feature stout beer braised short ribs with wild mushroom and pea polenta, gremolata, pan roasted sole with winter beans and potato puree, or a maple glazed pork chop served with caramelized apple puree, roasted root vegetables and chili apple gastrique.
For dessert, you must try our favorite beignets outside New Orleans--the Lighthouse cinnamon sugar beignets filled with cream cheese icing---or chocolate cake s'mores-style with toasted meringue, graham cracker streusel and whipped cream.
Lighthouse's dining experience is perfect for the entire family, the children's menu features mac 'N' cheese, choice of cheeseburger or fish and chips followed by tasty chocolate cookie, all served on a cafeteria-style compartment tray.
To kick off the five nights of the Boat Parade, The Lighthouse Bayview Café will be participating in Marina Park's holiday celebration on Wednesday, December 14. Hosting a special Lighthouse booth during the day's festivities, mini Lighthouse Burger sliders (vegetarian option available) and warm cinnamon sugar beignets will be available for purchase.
Lighthouse Bayview Café is at 1600 W. Balboa Blvd, Newport Beach. 949.933.1001.
---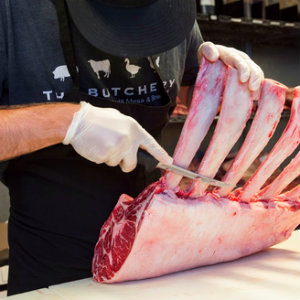 12.08.16
The place to be on Saturday is at the new Butchery at Crystal Cove Shopping Center in Newport Beach. The full-service butcher shop known for high-quality meats, artisan cheeses, craft beers and wines, will celebrate the opening of its third Orange County location at Crystal Cove on Saturday, Dec. 10 from 10 a.m. to 5 p.m. The Butchery's other two locations are in Costa Mesa and Brea.
You can stop by the new Butchery and sample an array of gourmet products and experience food demonstrations by several of top-notch purveyors. The new Butchery offers even more exclusive specialty products and a larger sandwich/deli menu. In celebration of the opening, they are offering a giveaway to one of our readers of a 4-bone-in prime rib roast for the Holidays! To enter to win, simply follow the Butchery on Instagram and leave a comment on @dailydoseoc on Instagram. We'll announce the winner on Monday, Dec. 12.
At all locations, you can select from top choice and prime beef, grass-fed beef, all natural pork and poultry that is sourced from the finest farms, ranches and purveyors.
You can choose from specialty meats like dry-aged beef and wagyu as well as exotics like bison and venison, along with locally made sausages, ground beef prepared in house and a full deli case. The shop offers a large selection of popular in-house marinated meats for grilling as well. All meats can be hand-cut to order and prepared to your specifications by skilled butchers.
In addition to the quality meats they also carry a vast selection of hard-to-find craft beers and a high-end selection of wines that their knowledgeable staff can give pairing suggestions. They also offer fresh baguettes, sandwiches, cheese and deli accompaniments like their popular chips and salsas.
Open daily 9 a.m. to 8 p.m.
8058 East Coast Highway in Newport Beach. 949.715.3383.
Open daily 9 a.m. to 8 p.m.
103 E 17th St. in Costa Mesa. 949.548.6328.
Open 10 a.m. to 8 p.m. Monday through Friday; 9 a.m. to 8 p.m. Saturday and Sunday.
415 South Associated Road in Brea. 714.529.6328.
---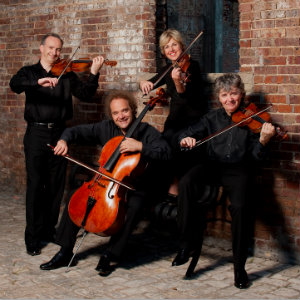 12.08.16
The award-winning Takács Quartet returns to Segerstrom Center for the Arts on Saturday, Dec. 10 for an evening of chamber music that includes Haydn's String Quartet Op. 77 No. 2, Bartók's String Quartet No. 2 and Dvořák's String Quintet Op. 97.
And, we will be giving away a pair of tickets to one lucky reader who leaves a comment on Instagram @dailydoseoc, or our Facebook page. We will announce the winner tomorrow, Friday, Dec. 9 at 11 a.m.
The Takács Quartet includes Edward Dusinberre, violin; Károly Schranz, violin; Geraldine Walther, viola and András Fejér, cello. Violist Erika Eckert joins the ensemble to perform during Dvořák's piece. The Boston Globe declares, "The Takács Quartet stands at the peak of its powers – at the peak of its profession."
Single tickets start at $29 and are available online at SCFTA.org, at the Box Office at 600 Town Center Drive in Costa Mesa or by calling 714.556.2787.
A free Preview Talk with Dr. Byron Adams will take place at 7:15 p.m.
---
More Greer