Greer's Blog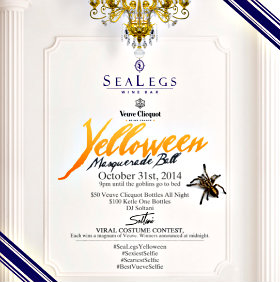 10.28.14
The award winning SeaLegs Wine Bar in Huntington beach will be celebrating Halloween on Friday at 9 p.m. with a Veuve Clicquot Yelloween Masquerade Ball.
DJ Mike Soltani will provide beats for guests to dance the night away to, and a viral costume contest will be held from 9 p.m. to midnight. Attendees can enter the costume contest by hash-tagging selfies on social media of their Halloween costumes (scariest, sexiest, couple and vuevealicious selfies), while SeaLegs live monitors the selfie costume contest hashtags (#SEALEGSYELLOWEEN, #SEXIESTSELFIE, #SCARIESTSELFIE, #BESTVUEVESELFIE).
One winner per each category will be named at midnight and will receive a magnum of Veuve Clicquot.
Specials of the night will include:
$50 Veuve Clicquot bottles
$100 Ketel One bottles
SeaLegs Wine Bar is at 21022 Beach Blvd. #105 in Huntington Beach.
---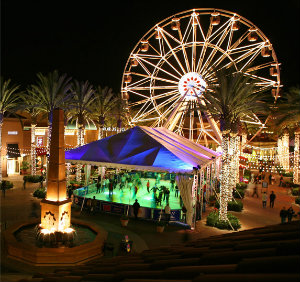 10.28.14
The outdoor ice skating tradition continues at Irvine Spectrum now through February 16. The ice rink is located in the Giant Wheel Court adjacent to Nordstrom and Macy's.
Prices are $18.50 for adults and children, including skate rental. Prices for toddlers (8T – 12T only) are $14 and includes skate rentals. Helmets are optional and provided free of charge. Ice scooters are also available for $5.
Session Times:
11:00 a.m. - 12:15 p.m.
12:30 p.m. - 1:45 p.m.
2:00 p.m. - 3:15 p.m.
3:30 p.m. - 4:45 p.m.
5:00 p.m. - 6:15 p.m.
6:30 p.m. - 7:45 p.m.
8:00 p.m. - 9:15 p.m.
9:30 p.m. - 10:45 p.m. (extended session available on Fridays, Saturdays, Nov. 10, 23 - 26, Dec. 19 - Jan. 3, and Jan. 18 and Feb. 15)
11:00 p.m. - 12:15 a.m. (late-night session available Nov. 28, Dec. 19 - Jan. 3)
For more information and details on private lessons, parties and group events, please call the Ice Rink Box Office at 949.748.8280 or visit SkateSpectrum.com.
71 Fortune Drive in Irvine.
---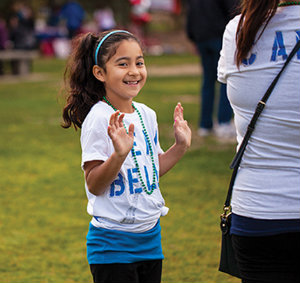 10.27.14
Join me in the JDRF Walk to Cure Diabetes on Sunday, Nov. 9 at an exciting new venue: Angel Stadium of Anaheim! You can team up with JDRF, the only global organization with a strategic plan to fight type 1 diabetes for a fun morning 5K walk with family, friends, co-workers. You can even bring your dog.
JDRF's plan will progressively remove the impact of T1D from people's lives until it is no longer a threat to anyone.
Walking doesn't cure diabetes, fundraising does and the first step is to register your team at here.
Type 1 diabetes is an autoimmune disease in which a person's pancreas loses the ability to produce insulin—a hormone essential to digestion. It can happen to anyone at anytime. More than 15,000 children and 15,000 adults in the United States receive a diagnosis each year.
Registration starts at 9 a.m.; the walk starts at 10 a.m. at Angel Stadium at 2000 Gene Autry Way in Anaheim.
The JDRF staff is always there to help. If you have questions, just call the office at 949.553.0363.
Angel Stadium is at 2000 Gene Autry Way in Anaheim.
---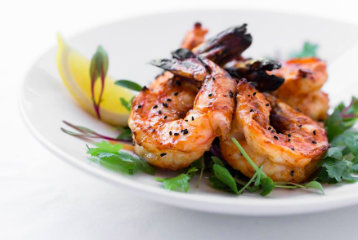 10.23.14
The Golden Foodie award-winning restaurant for Best Indian Cuisine in OC, Tamarind of London is honoring Diwali, a five-day festival celebrated by Indians worldwide with a limited time three-course feast.
Tamarind's special Diwali menu prepared by Chef Imran Ali will be available for $39 per person through through Monday, Nov. 3.
The first course starts with your choice or a kebab platter with malai chicken, lamb kebab and swordfish tikka; or vegetarian platter with hara bara, panner tikka and aloo tikki.
With the second course you can choose from butter chicken in a creamy tomato sauce, or classic rogan josh with lamb curry, onion, tomato and Kashmiri chili stew; or Achari Baingan with baby eggplant, tomato, yogurt, pickle, spices and Frank pepper tomato and Kashmiri chili stew; or Navrattan Khorma with seasoned vegatables, paneer and pomegranate in a rich caramelized curry. All dishes served with Sal Amritsari, naan, saffron rice and raita. The third course is a chef's platter with Diwali sweets.
We are also giving away a $100 gift card to Tamarind of London to one lucky winner. We will announce the winner on Wednesday, Oct. 29. Simply subscribe to Greer's OC here and leave the promotion code "Tamarind." Already a subscriber? Tell a friend.
Tamarind of London is at 7862 E Pacific Coast Highway in Newport Beach. 949.715. 8338.
---
More Greer