Greer's Blog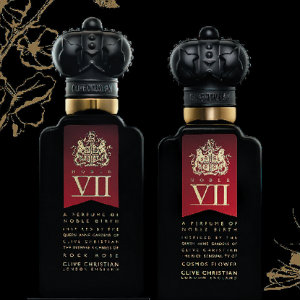 09.24.16
British luxury designer Clive Christian was just at Saks Fifth Avenue at South Coast Plaza for the launch of newest Clive Christian perfume in 17 years, The Noble VII Collection.
The two new fragrances, Noble VII Cosmos Flower for women and Noble VII Rock Rose for men were inspired by a key ingredient from Clive Christian's gardens at his 300-year-old Queen Anne residence. The fragrant rock rose scent is set against invigorating notes of citrus, warmed with bergamot, black pepper and the classic—a touch of neroli, lavender, violet and herbs bring out the character of rock rose, the base combines cocoa, patchouli and amber.
The feminine perfume was inspired by the scent of the cosmos flower. It features a rich chocolate aroma paired with bitter sweet cocoa, jasmine, osmanthus and fruity plum with a touch of pink pepper.
The Noble VII perfumes come in matte black bottles with royal red detailing and are topped with iconic crown-shaped stoppers in matte black. Even the boxes are luxurious—they come incased in a black presentation box lined with royal red velvet. You can find the perfume at Saks Fifth Avenue for $550.
We were fortunate enough to sit down with him to find out what it takes to create a luxury perfume like no other.
1. I don't know everything about the perfume industry, but I do know that it's saturated. How did you first decide to create a fragrance when there are a zillion other competitors?
Well, eighteen years ago there weren't so many. The perfume industry was pretty much a celebrity endorsed perfume world—there were some exceptions. And I came from an interior design world, where we would supply exquisite interiors to wealthy people and their beautiful houses. So wanting to expand the horizons of the British luxury brand from being an interiors brand---to A BRAND--you have to get outside of your comfort zone. We explored jewelry and leather goods, and then came across this perfume company that had a lovely providence. It used to supply Queen Victoria with perfumes, the crown on the bottle was given to them as a mark of quality and excellence.

2. And then what happened?
We then investigated and researched—employed the best perfumers and noses in the world and spent two years establishing six perfumes—which were three pairs that were produced-- staggeringly expensive and complicated, incredibly concentrated—the purest form of the perfume. I don't know how much you know, but 99% of perfumes are chemical representations of natural smells, and of course you can produce that by the gallon. Our perfumes are pure perfumes with only the most precious natural ingredients.
3. I'm guessing you must have a favorite, what would that be?
It would have to be No. 1 for women—it's breathtakingly beautiful. It's a floral oriental—with hundreds of floral notes. (No. 1 is considered the most expensive perfume in the world, at $865 for a 1.6 oz.)

4. What are you most proud of?
Besides my three daughters, I'm incredibly proud that all of my original fragrances are considered classics now. It takes 15 years for a global fragrance to be considered a classic—one that remains unchanged and all three pairs of my fragrances have made that mark.
5. What do you see in the future?
We are working on home fragrances but are researching some unique ways to deliver the scents. We are hoping that will be happen next year.
6. Let's talk about the latest fragrance, the Noble VII Collection.
I have a 300-year-old Queen Anne residence and I have been restoring it for ten years. The Noble VII Collection was inspired by the amazing gardens that surround the residence. I researched to find out what the original flowers of that time period would have been. And, as in all of my perfumes, the Noble VII has integrity—the noble heritage of the gardens were the birth of these perfumes. There are 196 ingredients in the perfumes, and right now, it's the top selling perfume at Harrods. It's only been out a month, so we are extremely proud.
7. Do you know a lot about other perfumes?
I don't. And, I don't take any notice. If you have something amazing you don't need to compare yourself to anyone else. What good would it do me?
---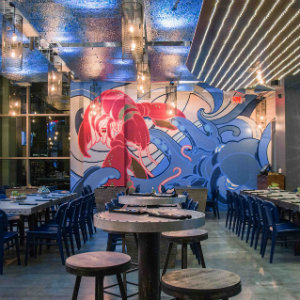 09.23.16
One of our favorite new restaurants, Anchor Hitch in Union Market Mission Viejo is offering an incredible brunch special on Saturday, Sept. 24 from 11 a.m. to 3 p.m. You can join them for brunch and receive 50% off just by showing the flyer below. A digital copy is fine!
Anchor Hitch serves most dishes family style, to encourage table interaction. At brunch you can order traditional breakfast items, interesting specialty items, their famed specialty oysters, and seafood towers.
Classic dishes at brunch include French Toast, freshly baked milk bread, choice of strawberry and banana or blueberries; Pancakes, fluff pancakes with choice of strawberry, banana or blueberries; house style omelets; chicken & waffles, a creole seasoned crispy airline white chicken breast and two Belgium waffles; and an All America Breakfast with two eggs, one smoked sausage link, two slices of Nueske's bacon, hash brown or country potatoes and honey baked ham. Their Eggs Benedict is another favorite—honey baked ham, English muffin, hollandaise and spinach—add lobster for an additional cost.
Specialty items include a Rasberry Prosciutto Salad; a Lobster Cobb, The All American house burger; Lobster Roll and Uni Pasta with fresh egg noodles, uni cream, sous vide poached egg, rice puffs and crispy seaweed.
Anchor Hitch also has a carefully curated bar menu of handcrafted cocktails, along with wine, Champagne and an array of local craft beers.
27741 Crown Valley Parkway in Mission Viejo. 949.226.8949.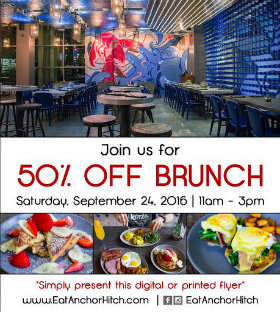 ---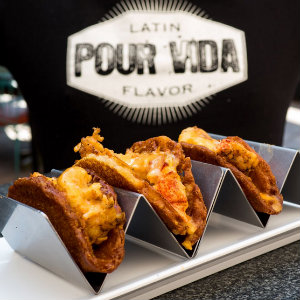 09.23.16
Pour Vida Latin Flavor at Anaheim's Center Street Promenade just created a decadent version of everyone's favorite childhood dish, the beloved corn dog.
This one, part taco, part corn dog is the brainchild of chef Jimmy Martinez who gives us the "Lobster Corn Dog Taco." Martinez starts the dish off by crafting a handmade corn dog battered taco shell, he then fills it to the brim with sautéed lobster tail and tops it all off with lobster-infused habanero queso. Watch the unicorn of all food combos come to life here.
The lobster corn dog taco special starts today (in anticipation for National Lobster Day over the weekend on 9/25), and only 12 orders are available per day, all for just a limited time!
Open 10 a.m. to 9 p.m. Monday through Thursday; 10 a.m. to 10 p.m. Friday and Saturday; 10 a.m. to 7 p.m. Sunday.
185 W Center Street Promenade in Anaheim. 657.208.3889.
---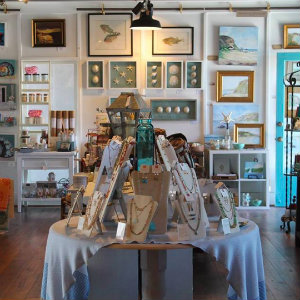 09.22.16
Seaside Gallery & Goods in Newport Beach is turning two and will be celebrating its Open Air Market on Saturday. Sept. 24 from 10 a.m. to 2 p.m. It's a haven for local art, clothing, jewelry, home, garden, gifts and entertaining finds.
It's planning a day of gift raffles and refreshments to give thanks to everyone who supports locally run small businesses.
124 Tustin Avenue in Newport Beach. 949.290.7249.
---
More Greer