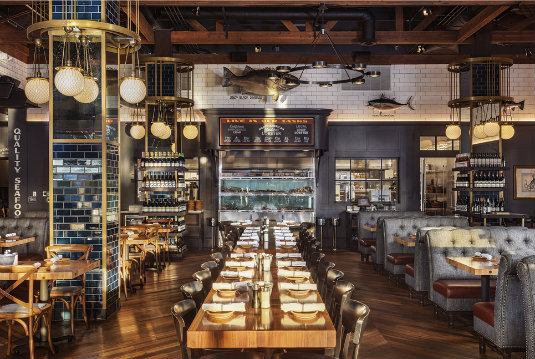 Dining at the newly reopened King's Fish House in Laguna Hills is such a treat for seafood lovers or anyone who enjoys a great dining experience. It was the first of the King's Fish House locations to get an incredible modern look, and you'll love the refreshed menu. It offers a more elevated selection of seafood, by way of the company's distribution operation based in Santa Ana, such as whole fish preparations and the Southern California delicacy, local spiny lobster. The cocktail program also now boasts 16 tap beers, more than 60 wines, and a selection of specialty cocktails.
Choose from sushi, salads, sandwiches, crab & lobster, grilled seafood and meat, Fish House Favorites such as Miso-Yaki Wild Chilean Sea Bass, Macadamia Nut Crusted Wild Mexican White Sea Bass, and Grilled Wild Chilean Sea Bass Tacos (served with choice of two sides); whole fish; and sides.
Favorites on the menu include Crab and Avocado Toast with wild lump crab and avocado on crisp brioche toast; Chilled Seafood Platters with spiny lobster, wild California Dungeness Crab, Jumbo Wild Baja Stone Crab Claws, and Kumamoto oysters. Rich and delicious Uni Pasta with Bucatini with bacon lardon in a roasted garlic cream sauce; and their new crispy Brussels Sprouts. Save room for the Hooked on Butter Cake with custom vanilla bean ice cream, homemade whipped cream, and berries.
The new design is inspired by the look and feel of a contemporary seafood warehouse with nautical touchpoints throughout and custom art. The update includes rustic wood flooring, leather banquets, floor-to-ceiling garage doors allowing for an indoor-outdoor dining experience. A wraparound, 30-seat rectangular bar anchors the space, while an additional lounge area was added to the patio, both ideal for enjoying an afternoon happy hour and the extensive raw bar offerings.
Open 11 a.m. to 9 p.m. Sunday and Monday; 11 a.m. to 10 p.m. Tuesday through Thursday; 11 a.m. to 11 p.m. Friday and Saturday.
King's Fish House is located 24001 Avenida De La Carlota in Laguna Hills. 949.586.1515.
Other King's Fish House locations are in Long Beach, Huntington Beach, Orange, and Corona.
King's also operates King Signature Group, which includes Water Grill in Costa Mesa, Downtown Los Angeles, Santa Monica, San Diego, and Dallas; Meat on Ocean in Santa Monica; 555 East in Long Beach; Lou & Mickey's in San Diego's Gaslamp District; Pier Burger on the Santa Monica Pier; and Fish Camp in Huntington Beach. Additionally, the company has established its own King's Seafood Distribution Center, an exclusive operation that caters to its growing stable of restaurants.
For more information, visit kingsseafood.com
---
The Latest from greer's oc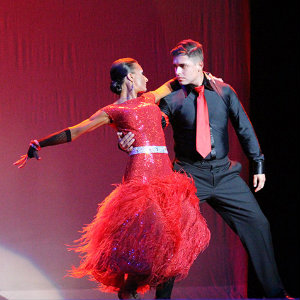 10th Annual Dancing for Tomorrow's Stars Gala
The 10th Annual Dancing for Tomorrow's Stars Gala will be celebrated on Saturday, March 17 at the City National Grove of Anaheim. It begins with a cocktail reception at 6 p.m., and features dinner along with a dancing competition,…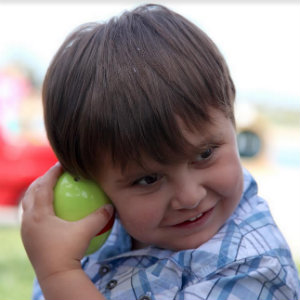 NEWPORT DUNES WATERFRONT RESORT HOSTS AUDITORY EASTER EGG HUNT
Newport Dunes Waterfront Resort welcomes the Blind Children's Learning Center students for an Easter celebration to remember on Friday, March 30 from 10:30 a.m. to 12 p.m.
The Santa Ana based organization and seventy of its students, ages one to…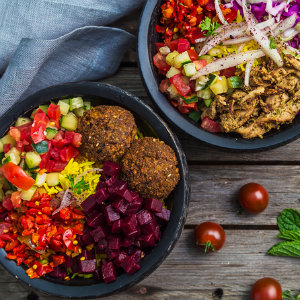 Sajj Mediterranean Celebrates Opening in RSM
Bay Area-based SAJJ Mediterranean, the popular and fast-growing Middle Eastern eatery known for its highly customizable bowls, pita sandwiches, and wraps, is celebrating the grand opening of its first Southern California location, now open in Rancho Santa Margarita. The…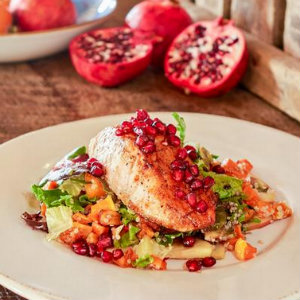 Farmhouse Annual Spring Celebration
Farmhouse owner and executive Chef Rich Mead will host an evening of unforgettable food and great company on Monday, March 19 from 6-9 p.m. Taking place during Roger's Gardens' annual Spring Celebration and benefitting The Ecology Center, the…