Dining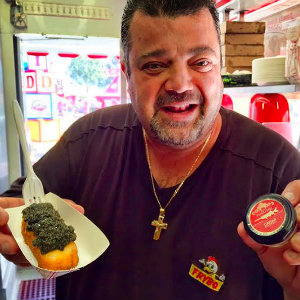 The $125 Caviar Twinkie for CHOC
One of the OC Fair's newest buzz-worthy foods, the $125 Caviar Twinkie, even piqued the interest of Time magazine; it's the novelty fair food of the summer.
Just when you thought it's another gimmicky over-the-top fair treat, it's not--entirely. Charles "Chicken Charlie" Boghosian created the decadent Twinkie with a layer of caviar on top in celebration of the 125th anniversary of the OC Fair running now through Aug. 16.
Charlie wanted to make sure that the item had a purpose behind it; so all proceeds from the $125 Caviar Twinkie go to Children's Hospital of Orange County.
Charlie is a father and so it's an important goal for him, to help kids.
If you purchase one, #CaviarTwinkie in social media and Chicken Charlie will feature mention you and thank you online for your donation.
The Fair is closed Mondays and Tuesdays. Visit ocfair.com/2015 for a full listing of each day's offerings.
The OC Fair & Event Center is off the 405 and 55 freeways at 88 Fair Drive in Costa Mesa. For more information, visit ocfair.com. 714.708.1500.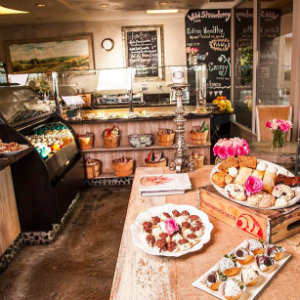 Vintage and Healthy: Wild Strawberry Café
One of our favorite local spots in Newport Beach, the charming Wild Strawberry Café is off the beaten path---on Newport Center Drive—and once you go, you'll adore the European cafe ambiance with fresh flowers, music and healthy and delicious dishes served on vintage plates.

It's the perfect place to take a break from your busy day to splurge on a pastry: almond croissant, delicious scones, brownies, cookies, apple strudel and more with an espresso, Nutella latte, or chai tea latte.

Or, you can enjoy an open faced tuna sandwiches, roasted turkey with cheese and pesto, the award-winning pastrami sandwich, kale strawberry salad with homemade dressing, dairy free vegetarian soups made daily, a fresh caramelized banana crepe, or Kobe Bryant's favorite, raw kale smoothie.

Owner and fitness enthusiast Natasha Kazic just added fresh omelets for breakfast, there are also delicious breakfast burritos, egg white frittatas, and hot barley cereal with chia and flaxseed, sugar, cinnamon with fresh fruit--an easier to digest alternative to oatmeal.

Open 7:30 a.m. to 5 p.m. Monday through Friday; 9 a.m. to 3 p.m. Saturday.

240 Newport Center Drive in Newport Beach. 949.706.0462.