Dining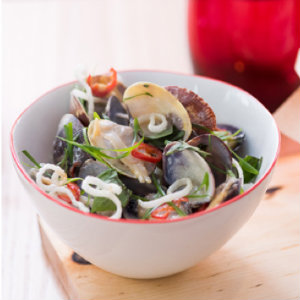 The All New Tangata Dishes Up Lunch at the Bowers Museum
Looking for a great new lunch dining spot for the New Year? Acclaimed Joachim Splichal of Patina Restaurant Group recently unveiled the redesign and new menu of Tangata at the Bowers Museum in Santa Ana. Even restaurant critic Brad A. Johnson at the OC Register gave it a glowing review last month.
The new space, in the museum's Mission-style courtyard, reflects the architectural style of the museum with a clean and modern aesthetic. Executive chef Donald Harris is offering an extensive menu featuring Pacific Rim influenced dishes with California flair such as Korean Marinated Skirt Steak with sesame glass noodles, spicy cabbage, and charred green onion; Spam Tacos with corn tortillas, sesame marinated seaweed salad, and spicy Sriracha crema; and Thai Style BBQ Chicken with crispy rice, farmer's market vegetables, and spicy peanut sauce.
You can also order delicious salads, sandwiches and burgers served with a choice of sesame fries, mixed greens salad or ginger sweet potato fries. Favorites include the candy stripe beet salads with togarashi pepper, fennel, toasted peanuts, fresh herbs, and anise vinaigrette; the Laughing Bird Shrimp Salad with gem lettuce, mango, avocado, cucumber, green papaya and passion fruit vinaigrette.
Tangata's cocktails are globally influenced and divided into "North America," "South America," "Far East," and "French Polynesia" sections, with creations as the Oaxaca Old Fashioned, Peruvian Smash, and Dreams of Lychee. There's also a nice selections of wines and premium Japanese sakes.
The restaurant is perfect for al fresco dining and is an ideal venue for weddings or evening receptions. Tangata offers special pricing for groups by reservation only.
Open 11 a.m. to 3 p.m. Sunday; 11 a.m. to 3 p.m. Tuesday through Saturday.
Bowers Museum is at 2002 N. Main St. in Santa Ana. 714.550.0906.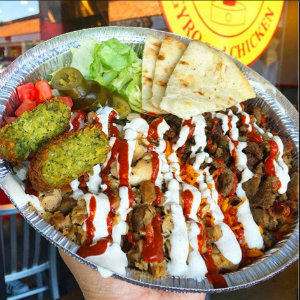 Halal Guys Arrive In Long Beach
New York's food cart with a cult following, Halal Guys recently opened its second West Coast fast casual location in Long Beach. It's first location opened in Costa Mesa in October. It's known for its gyro sandwiches, chicken-and-rice platters and delicious mystery white sauce.
You can also order delicious French fries, hummus, tahini and pita, olives and baklava.
The NYC-based concept signed a deal with Fransmart known for building other popular concepts such as Five Guys, to bring 50 franchised units to Southern California.
The Halal Guys grew from a modest food cart on the streets of New York City to a globally recognized American Halal street food. The Manhattan-based landmark was created by Mohamed Abouelenein, Ahmed Elsaka and Abdelbaset Elsayed of Egypt who recognized that many Muslim cab drivers in New York wanted a place to buy Middle Eastern street foods, so they created their first food cart and quickly became a destination for American Halal fare.
Open from 11 a.m. to 2 a.m.
1804 Ximeno Ave., Long Beach. 562.986.9038.
Open 11 a.m. to 12 a.m. Sunday through Wednesday; and 11 a.m. to 1 a.m. Friday and Saturday.
3033 Bristol St. in Costa Mesa. 714.850.1080