Dining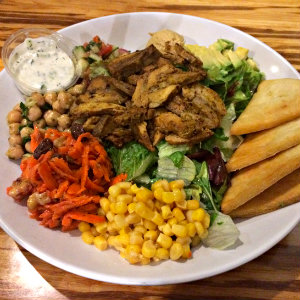 What's New at Daphne's California Greek?
It's no secret that we love Daphne's California Greek, it's healthy, delicious, quick and affordable. It's the go to place for easy and satisfying dining for the whole family. And, there is no shortage of Daphne's in Orange County; we have 14 locations throughout.
Daphne's just rolled out three-limited time Mediterranean influenced, Shawarma menu items. We're huge fans already!
Shawarma is slow roasted chicken seasoned with Mediterranean spice and served three ways. You can choose from the Chicken Shawarma Cobb Salad with fresh greens, corn, cucumber-tomato salad, avocado, Moroccan carrot salad, seasoned garbanzo beans, crispy pita, hummus and Greek dressing ($9.59). There's also a Chicken Shawarma Pita Sandwich, a warm pita filled with greens and cucumber-tomato salad ($6.99); or a Chicken Shawarma Melt with grilled chicken stuffed with hummus, Chermoula sauce, feta cheese, and mozzarella salad. Served with a side Greek salad ($8.99).
Daphne's offers great specials, like Street Pita Wednesdays for $1.69; Kids Eat Free Sundays (inquire within); and after 4 p.m. dinner plate specials with warm pita and tzatziki sauce, plus a beverage for $10.99. We can't get enough of the Street Pita duos, the Lemon Chicken Soup, or the Chicken California salads.
In Orange County you can find Daphne's California Greek here:
3030 Harbor Blvd. Ste H001 in Costa Mesa. 714.885.8945.
1330 Bison Suite L in Newport Beach. 949.729.0671.
2360 Park Ave #9H in Tustin. 714.258.8867.
7801 Edinger Ave., #126 in Hungtington Beach. 714.903.2317.
5643 Alton Parkway in Irvine. 949.296.0188.
3250 Jamboree Rd. Suite #113 in Irvine. 714.832.5855.
26611 Aliso Creek Rd. Suite C, in Aliso Viejo. 949.831.5004.
23706 El Toro Road, Ste S7 Lake Forest. 949.206.0382.
12420 Seal Beach Blvd in Seal Beach. 562.596.4801.
26612 Towne Centre Dr Ste I in Foothill Ranch. 949.206.0049.
1919 W. Malvern Ave. in Fullerton. 714.446.7331.
22245 El Paseo Ste A Rancho Santa Margarita. 949.766.4540.
120 S Brea Blvd #107 in Brea. 714.990.4790.
979 Avenida Pico Ste F in San Clemente. 949.369.4611.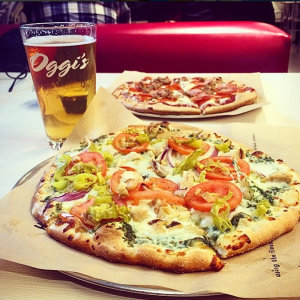 Oggi's Pizza Express Opens in Orange
Oggi's Pizza Express is a new fast-casual build-your-own pizza, salad and craft beer concept that just opened at The Village at Orange by the owners of Oggi's Sports | Brewhouse | Pizza.
The restaurant is the first Oggi's Pizza Express in Orange County where the San Clemente headquartered company operates four restaurants as well as the award-winning Left Coast Brewery. The original Oggi's Pizza Express opened at San Diego State University last spring to rave reviews.
Oggi's Pizza Express offers a build-your-own handcrafted pizza experience for one affordable price. Guests can choose from one of eight Oggi's favorite pizza combinations or create a personal pizza. Oggi's pizzas are fired up in a 510 degree stone fired oven so they are ready in minutes.
You can choose from fresh homemade pizza dough or a tasty gluten-free option. Sauce selections include BBQ; pesto; Garlic herb infused olive oil, balsamic glaze or Killer (Louisiana-style) sauce. The cheeses include feta, gorgonzola, light mozzarella, mozzarella, ricotta or vegan mozzarella cheese. There are also a variety of fresh herbs and vegetables; and all-natural meats with no antibiotics, hormones or nitrates – bacon; grilled chicken; ham; pepperoni; and Italian sausage.
Oggi's Pizza Express also offers hot and tasty "junky wings" in a choice of four seasonings and a selection of four gourmet salads including Asian, Mediterranean, chopped chicken or balsamic chicken as well as build-your-own salads.
You can also enjoy award-winning beers on tap including all 10 of Oggi's own craft beers and 10 rotating favorites from Southern California breweries. The company's beers have won over 50 medals in international, national and regional competitions.
Oggi's Pizza Express in Orange is open daily at 11 a.m.
At the Village at Orange at 1500 East Village Way, Suite 2197, Orange. 714.685.0596.