Dining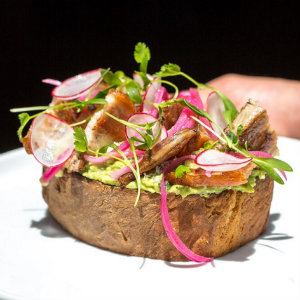 Modern Mexican Cuisine at Anepalco
Chef Danny Godinez at Anepalco is on a major roll—he's elevating Mexican cuisine in Orange County and beyond. He grew up in Acapulco and cooked alongside his mom at her restaurant since he was a young child. She instilled in him that cooking from scratch was the only way to go and her influence stuck.
He's worked at some of the best kitchens in Orange County and already has two thriving restaurants in Orange under his belt: Anepalco Café on Main Street, and Anepalco at the ALO, an Ayres Hotel on W. Chapman Avenue. And, he'll be opening El Mercado in Downtown Santa Ana (restaurant and lounge) this summer and Maestro (Modern Mexican restaurant) in Old Pasadena this fall. (Details on both coming soon.)
At Anepalco Cafe he's been serving award-winning French Mexican fusion breakfast, brunch and lunch since 2008. Fans can't get enough of his famous Chilaquiles, Huevos Divorciados and Guava French Toast, to name just a few.
And, if you are looking for some of the best in Modern Mexican cuisine, you need to try his new menu at Anepalco on W. Chapman Avenue in Orange.
Chef Danny recently replaced the French-Mexican fusion menu with a new modern Mexican menu and cocktail menu that's very Mezcal centric, with Mexican inspried craft cocktails, plus Baja beer and wine. Anepalco could be among the best dinner spots in Orange County.
His culinary talent is apparent in each dish. Favorites from the menu include the Tartine with Hass avocado, pork belly, red radish, onion escabeche, micro cilantro; the Bone Marrow with calabazitas, salpicon, peas and rustic bread (pictured above); and the Holy Mole short ribs with demi glace, mole, and crispy rice. His Lamb Duo, a Barbacoa stew, lamb taco and nixtamal tortilla; as well as the Duck carnitas, green chilaquiles, pepitas, red onion and fried eggs are also incredible.
Open for dinner only 5 to 9 p.m. Tuesday through Thursday; 5 to 10 p.m. Friday and Saturday.
3737 W. Chapman Ave. in Orange. 714.456.9642.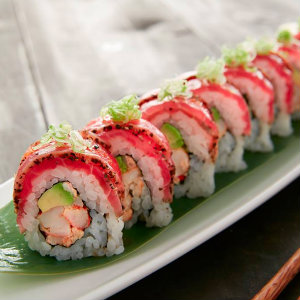 American Grill Meets Sushi
The thriving and award-winning grill concept, Kona Grill just opened its first California location across from the Yard House at Irvine Spectrum Center. The new Kona Grill has a 1980's Vegas lounge-style vibe, lots of blue lighting, an expansive bar and a custom focal point aquarium.
It specializes in made from scratch American cuisine with a modern spin, award-winning sushi with fresh seafood flown in daily, as well as steaks, crafted cocktails and seasonal menus.
Signature dishes include Macadamia Nut Chicken with a pineapple-papaya marmalade, Miso-Sake Sea Bass and a passion fruit crème brûlée. Sushi options include Salmon Wasabi Sashimi, with fresh wasabi root, pickled onions, cucumber salad with a yuzu ponzu, along with specialty rolls such as the Checkerboard Roll, with tuna, habanero tuna mix, yellowtail, avocado, asparagus and spicy motoyaki sauce.
For dads and grads now through June 19, you can purchase a Kona Grill $50 gift card, and receive a $10 bonus card. Available in-restaurant and online.
Open 11 a.m. to 10 p.m. Sunday through Thursday; 11 a.m. to 11 p.m. Friday and Saturday. Happy hours are 3 to 7 p.m. Monday through Friday; 9 to 11 p.m. Sunday through Thursday; 10 p.m. to 2 a.m. Friday and Saturday.
623 Spectrum Center Drive in Irvine. 949.535.1010.