Dining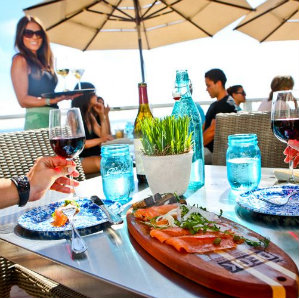 Easter Sunday on The Deck
Enjoy Easter Sunday on one of the most picturesque beaches in SoCal at The Deck in Laguna Beach. Executive Chef Rainer Schwarz will offer Brunch and Dinner items served all day on Sunday, April 20 from 11 a.m. to 7:30 p.m.
Chef Schwarz's menu specializes in "ocean-to-table" favorites, such as Classic Lobster Bisque, Maine Lobster Risotto, and Oysters on the Half Shell, as well as brunch and dinner classics, including Quiche Lorraine, Laguna Cioppino, and Domestic Rack of Lamb Chops.
Reservations are recommended and can be made by calling 949.494.6700.
EASTER BRUNCH MENU ON THE DECK on LAGUNA BEACH
For Every Table
Mini Muffins/ croissants / preserved jams / Vermont creamery butter

Appetizers
Oysters On The Half Shell/ today's catch / grated horseradish / mignonette / lemon
Classic Lobster bisque / Champagne cream / ciabatta croutons / fresh chervil
Grilled Asparagus Bundle / fried quail egg / shaved parmesan / piquillo pepper sauce
Maine Lobster Risotto / basil coulis / fine herb salad
Little Gem Salad / shaved radish / avocado / Point Reyes blue cheese / tomato / bacon / red wine vinaigrette
Roasted Tomatoes on the Vine / Di Stefano burrata / arugula pesto / toasted pine nuts

Entrees
Stack of Stuffed Blueberry Pancakes / caramelized hazelnut butter / Vermont maple syrup
Eggs Benedict / Berkshire ham / blood orange hollandaise
Quiche Lorraine / spinach / sweet cherry tomatoes / asparagus / fine herb salad
Laguna Cioppino / clams / shrimp / scallop / daily fish / tomato broth
Pan-Seared Northern Halibut / roasted fingerling potatoes / Carlsbad mussel – saffron sauce
Domestic Rack of Lamb Chops / goat cheese ratatouille / thyme jus / caramelized cipollini onions
Greater Omaha Filet Mignon / sweet corn and haricot vert succotash / morel mushroom sauce

Dessert
Opera Cake
Pineapple Upside-Down Cake
The Deck on Laguna Beach is at 627 Sleepy Hollow Lane, between the Pacific Edge Hotel and the Pacific Ocean, just off Pacific Coast Highway. 949.494.6700.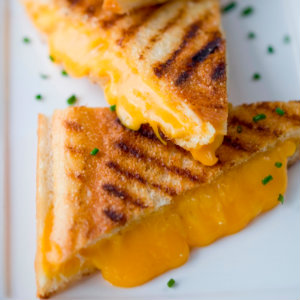 Attention Grilled Cheese Lovers
It's National Grilled Cheese Month in April, and in honor of the occasion, Shuck Oyster Bar at the Mix in Costa Mesa, also known for its delicious rustic-crusted Grilled Cheese will offer four specials to appeal to all grilled cheese enthusiasts! Chef Noah Blom will shift from focusing on incredible seasonal oysters to the following four interpretations of the classic grilled cheese:
April 1 – 6, Lobster Grilled Cheese
April 7 – 13, Chorizo Grilled Cheese
April 14– 20, Not Yo' Grilled Cheese w. cotija, cheddar, peppers and chives
April 21 – 27, Crab Louie-Style Grilled Cheese served open-faced w. crab, cheddar, parmesan and louie sauce

At Shuck, fresh seafood is flown in daily, all ingredients are fresh and sauces are house-made. Chef Blöm's menu includes an Oyster Po' Boy, hearty Clam Chowda', fresh Dungeness Crab Cakes, House-Smoked Salmon, a classic Shrimp and Crab Louie, and a Lobster Roll featuring a full lobster per order. Chef Blom also features a selection of tacos, including Fried Oyster, Bay Shrimp, and Sausage n' Clam tacos.
Open 11 a.m. to 9 p.m. Monday through Thursday; 11 a.m. to 10 p.m. Friday and Saturday; 11 a.m. to 9 p.m. Sunday.
Shuck Oyster Bar is at 3313 Hyland Ave. in Costa Mesa.