Dining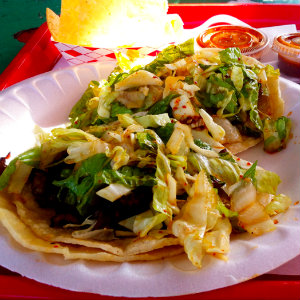 El Granjenal Tacos Por Favor
We're going to go out on a limb and say the best tacos in Costa Mesa, and easily among the best in Orange County are at the little known Taqueria El Granjenal on West 19th Street. Granted, El Granjenal is not fancy, you will feel like you're in the non-touristy parts of Mexico, but its food is tasty, fresh and affordable.
The owners are hardworking and sweet as can be. Part of its charm is the TV that's interminably stuck on a Mexican soap opera with bad audio and reception, the bright red and green tables, and open air ambience.
Do yourself a favor and order their Korean style Kim's Tacos that come in pork or beef. They can easily rival Koji's—with a perfect balance of spicy and sweetness. Or, go for any of their hard or soft shell tacos with carne asada, carnitas, grilled chicken, al pastor, de camaron or de pescado. They come with a small, but perfect bag of chips, salsa, a pile of jalapenos and mildly marinated carrots.
And, you will not find better taquitos—the hearty trio of chicken or beef taquitos are flaky, fresh, and come with guacamole, sour cream and salsa. Other favorite menu items are the super filling nachos served with two melted cheeses, sour cream, refried beans salsa and avocado; their whopping burritos and fresh horchata and orange juice.
For those who love breakfast, it's served all day. Try the breakfast burrito with eggs, bacon, ham and chorizo; or one of six breakfast tortas.
Open 8 a.m. to 11 p.m. daily.
899 W. 19th St. in Costa Mesa. 949.645.4964.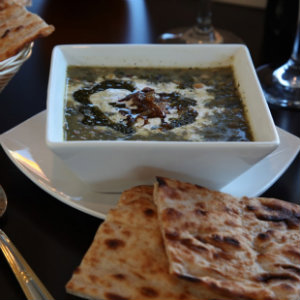 Tasty Persian Cuisine
It was a big win for Costa Mesa, when Darbari Persian Grill opened late last year in the former BC Broiler spot across from the Triangle on Newport Boulevard.
Now, with the help of its eager to please owner, Mehdi and gracious staff, Darbari is a go to lunch and dinner spot for fresh Mediterranean specialties such as falafel, hummus, dolmeh, borani and beef koobideh served with fluffy basmati rice and charbroiled tomatoes, chicken shish kabobs with tender boneless chicken skewered and charbroiled with onions and green peppers, and our favorite ghormeh sabzi with beef, parsley, cilantro, chives, kidney beans and dried lime.
Craving something light? We love the Darbari salad with romaine lettuce, spinach, walnuts, strawberries, and pomegranate sauce; and the chicken koobideh wrap makes the perfect lunch, with chicken, lettuce, tomato and choice of hummus or must o'kheyar.
You can also find great lunch specials online good through July 31, 2015, as well as a family style take out special for just $34.99 that includes two beef koobideh (four skewers) and two boneless chicken kabobs served with basmati saffron rice, charbroiled tomato and garden salad.
Open 11 a.m. to 10 p.m. daily.
1866 Newport Blvd. in Costa Mesa. 949.650.8080