Dining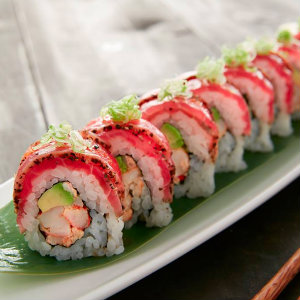 American Grill Meets Sushi
The thriving and award-winning grill concept, Kona Grill just opened its first California location across from the Yard House at Irvine Spectrum Center. The new Kona Grill has a 1980's Vegas lounge-style vibe, lots of blue lighting, an expansive bar and a custom focal point aquarium.
It specializes in made from scratch American cuisine with a modern spin, award-winning sushi with fresh seafood flown in daily, as well as steaks, crafted cocktails and seasonal menus.
Signature dishes include Macadamia Nut Chicken with a pineapple-papaya marmalade, Miso-Sake Sea Bass and a passion fruit crème brûlée. Sushi options include Salmon Wasabi Sashimi, with fresh wasabi root, pickled onions, cucumber salad with a yuzu ponzu, along with specialty rolls such as the Checkerboard Roll, with tuna, habanero tuna mix, yellowtail, avocado, asparagus and spicy motoyaki sauce.
For dads and grads now through June 19, you can purchase a Kona Grill $50 gift card, and receive a $10 bonus card. Available in-restaurant and online.
Open 11 a.m. to 10 p.m. Sunday through Thursday; 11 a.m. to 11 p.m. Friday and Saturday. Happy hours are 3 to 7 p.m. Monday through Friday; 9 to 11 p.m. Sunday through Thursday; 10 p.m. to 2 a.m. Friday and Saturday.
623 Spectrum Center Drive in Irvine. 949.535.1010.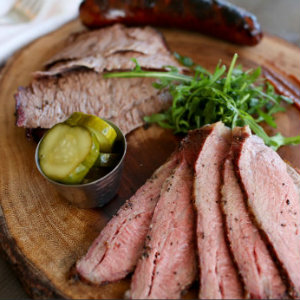 SeaSalt Woodfire Grill 'Farm-to-Fire' Grilling in Huntington Beach
After years of perfecting Santa Maria-style barbecue to her liking, Alicia Whitney, owner of the award-winning SeaLegs Wine Bar and her team just opened SeaSalt Woodfire Grill in Huntington Beach. The fantastic lumberjack breakfast and grilled meat concept specializes in "farm-to-fire" grilling made famous by mid-19th century settlers in Santa Maria Valley on the California central coast.
Thanks to SeaSalt Woodfire Grill, you can enjoy a modern interpretation of the feasts that 19th century California ranches put on for their vaqueros as well as family and friends. It's introducing the tasty, smoky, hearty flavors to Orange County.
"Pitmasters' live-fire grilling of local cuts of meat and seasonal vegetables is a quintessential Old West tradition," Whitney said. "Get ready to indulge in meat slow-grilled alongside seasonally fresh vegetables over an open redwood oak fire and topped with our own sea salt sensations blended in-house. Pair your meal with one of our 'craft rim' libations, and you'll be making California taste history."
Chef Alexander Dale of SeaLegs Wine Bar, also created the SeaSalt Woodfire Grill menu based on the infusion of housemade flavored sea salts, black pepper and other simple seasonings. Chef de Cuisine Tim Maher helps Chef Dale define SeaSalt Woodfire Grill's style.
You can choose from the natural flavors of selected meats, such as the bold-and-robust bone-in ribeye steak, traditional tri-tip and albacore steaks. And start with favorites such as Tri Tip Nachos w/ Manchego Cheese Sauce, Cowboy Cavier and Santa Maria Beans; Filet Mignon Jerky Charcuterie Flight & Pickles; and Smoked Bacon Cobb Salad w/ Blue Cheese. Skilled pitmasters from Santa Maria, will grill the meats over an open fire to capture the seared-in smoke flavor from the red oak wood coals, enlivened by dried sea salt flavors, such as garlic, bacon or lemon.
SeaSalt Woodfire Grill serves wines selected from the Santa Maria region and craft beers brewed in Orange County only.
21214 Beach Blvd. in Huntington Beach, in the same shopping plaza as the wine bar. To learn more, visit seasaltwoodfiregrill.com.