Dining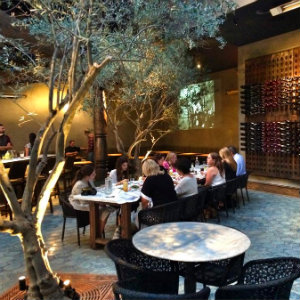 From Naples to Newport
Pizza eateries are continuing to pop up in Orange County. On Friday, Blaze opened in Mission Viejo and Fresh Brothers Pizza opened in Newport Beach and Settebello just opened at Crystal Cove Promenade in Newport Beach.
Named after a revered card in an Italian card game, Settebello could easily be one of the best looking Italian restaurants in Orange County, with its stunning indoor/outdoor space designed by Marshall Projects (who also designed LA hotspots Gjelina and Hinoki and The Bird.) The open-air space boasts a greenhouse like bar area, olive trees, classic Italian black and white films projected on a wall in the dining area, leather lounging sofas and family style tables.
Settebello is on a mission to serve up the best Neapolitan pizzas they can make with ingredients imported from Italy and sourced from the best purveyors they can find.
Settebello serves delectable appetizers such as deviled eggs with cured salami; bacon wrapped dates; duck confit and polenta with asparagus and mushroom sauce, and summer fresh salads like an heirloom tomato salad with Buffalo mozzarella; radicchio salad, and a mixed green insalata with kalamata olives, balsamic vinaigrette, cracked Pepper, and shaved parmigiano reggiano.
We tasted six Neapolitan pizzas and loved each one of them. Favorites include the Settebello pizza with crushed tomatoes, pancetta, wood oven sausage, roasted mushrooms, toasted pine nuts, mozzarella, basil, extra virgin olive oil; the Bianca with prosciutto crudo, arugula, parmigiano reggiano, mozzarella, and extra virgin olive oil; and the Diavola with crushed tomatoes, finnochiona (peppered salame), roasted red bell peppers, crushed red peppers, garlic, mozzarella, and extra virgin olive oil.
Save room for Settebello's desserts, we loved the Torta della Nonna a lemon tart, and Bomboloni, a fried pizza dough with Nutella and sprinkled sugar.
Open 5 to 11 p.m. Monday through Friday, 5 p.m. to 11 p.m. In the next several weeks they will be open for lunch service, too.
7864 E. Coast Highway in Newport Beach. 949.715.2072.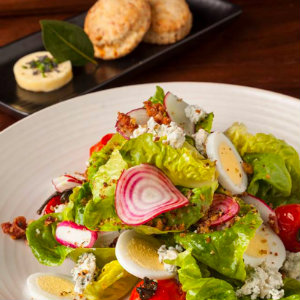 Fireside Tavern's Fresh Summer Menu
Acclaimed Chef Scott Brandon at Fireside Tavern, in the newly renovated Crowne Plaza hotel in Costa Mesa, just unveiled a new summer menu for lunch and dinner that's all about fresh seasonal ingredients.
At the classic American tavern with a modern feel, you can enjoy Chef Brandon's new lunch menu items such as Asparagus on Toast (roasted jumbo asparagus with extra virgin olive oil and lemon zest, served on grilled Rockenwagner raisin-walnut bread spread with Bellwether Farm's ricotta cheese and topped with a soft poached organic egg and shaved Manchego cheese); Heirloom Tomato Bisque (prepared fresh in-house, a rich tomato soup made from Brandywine heirloom tomatoes and aromatic vegetables, finished with a touch of cream and drizzled with basil oil infused with orange zest, and served with a mini grilled Vermont cheddar cheese sandwich for dipping).
There's also a Kale & Brussels Sprout Salad (thinly shaved Tuscan kale and Brussels sprouts, tossed with sliced heirloom apples, Marcona apples, shaved Fiscalini Bandage cheddar and house made peppercorn ranch dressing).
New Dinner selections include Steamed Venus Clams (clams steamed in Reisling wine, Spanish chorizo, roasted garlic, lemon juice, fresh herbs and butter, and served with grilled rustic bread); Jumbo Lump Crab Cake (a 3 oz. crab cake made from all white, jumbo lump crab, sauteed in clarified butter and served on a nest of Tavern Slaw, and topped with house made Sweet 100 tomato relish); Wild Gulf Shrimp Spaghetti (sautéed with fava beans, asparagus, roasted field mushrooms, rainbow carrots and tossed with Rusticella di Abruzzi Italian spaghetti in a sweet Piquillo pepper sauce with hints of Sherry vinegar, honey and cream).
Or, choose from the Grilled Loch Duart Salmon (prime Scottish salmon fillet, grilled and served over chilled yellow tomato gazpacho, roasted asparagus spears, frisee and crispy twice-cooked fingerling potatoes); and Pan Roasted Pacific Halibut (center loin Pacific Halibut served with a Bilbao chorizo, potato hash and a house made preserved lemon salsa verde.)
Fireside also offers a Bar menu from 3 p.m. until midnight, featuring small plates to accompany a signature cocktail, craft beer or glass of wine. A new addition to the Bar menu is Blue Crab Deviled Eggs (with lump crabmeat, smoked bacon breadcrumbs and a radish salad.)
Open for a breakfast buffet from 6 to 9 a.m., lunch from 11 a.m. to 3 p.m., and dinner from 5 to 10 p.m. There are two Happy Hours, from 3 to 7 p.m. and again from 10 p.m. until midnight.
Fireside is in the Crowne Plaza at 3131 Bristol St., off the San Diego Freeway, in Costa Mesa. 714.557.3000.,