Dining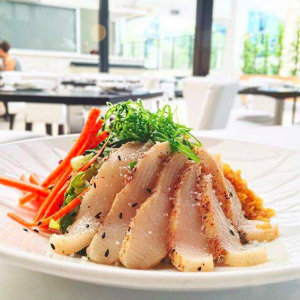 TWENTY EIGHT Brings Modern Chinese Cuisine to OC
Top Chef's Shirley Chung just opened Twenty Eight Restaurant & Lounge in Irvine that brings a refreshing spin on traditional Chinese cuisine with local, seasonal ingredients and bold flavors. Named after an important number to Chef Shirley's partner, seasoned restaurateur Stacie Tran, that signifies positive change and success in traditional Chinese culture.
Born and raised in Beijing, China, Chef Shirley is trained in classic French and Italian cuisine, and has an impressive culinary background including working for and opening restaurants with Thomas Keller, Guy Savoy and Mario Batali.

"I like my cuisine to tell a story," says Chef Shirley, of her innovative menu of sharable plates at Twenty Eight. "My inspiration for this menu is reflective of my childhood years in Beijing, my past experiences, and my travels, all of which have inspired me to push the envelope."

Twenty Eight's menu, which will change seasonally and features daily specials, along with modern Chinese dishes year-round, including Lobster Dumpling with Consommé, House-Cured Head Cheese & Beef Tongue, Singapore-Style Chili Lobster with Hand-Cut Noodles, Steamed Local Black Cod in Banana Leaf, Slow-Braised Ox Tail, Squid Ink Hand-Cut Noodles with Uni, 8 Treasure Rice, and Tofu Panna Cotta with Red Bean Ice Cream.

Chef Shirley is on a mission bring a new Asian experience to the county by offering a fresh, affordable approach to conventional Asian cuisine.

In addition to their menu of modern Chinese specialties, diners can enjoy Dim Sum and Small Plates menu, as well as a full bar with a focus on craft cocktails, and private dining options for both large and small gatherings.
Twenty Eight features seating in a main dining area and an indoor/outdoor Atrium Dining Room, as well as a comfortable bar and lounge. Guests can look forward to special events and wine dinners at soon.
19530 Jamboree Road in Irvine, adjacent to the Google offices. 949.852.2828.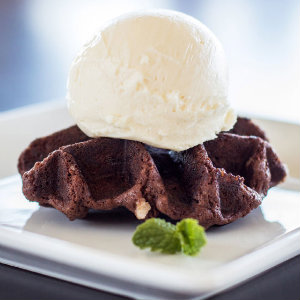 Introducing: The Waffle Affair
The new Waffle Affair in Newport Beach offers more than 21 types of sweet and savory waffles including traditional waffles and daily specialty waffles such as Liége and Madagascar Vanilla Bean. Each waffle is baked fresh-to-order with signature ingredients incorporated into the batter—no toppings required.
The Waffle Affair's co-founders Laury Zetrenne, Julie Tsang, Cindy Dickey and Lisa Favor traveled through Belgium and came home to perfect a batter after years of trial and error—their goal was to create a delicious waffle perfectly crisp on the outside, fluffy on the inside.
In addition to the daily offerings, a menu of rotating specialty waffles such as Lemon Burst, Café Au Lait, Earl Grey Tea, Red Velvet and Toasted Coconut are also available as well as seasonal waffles such as Pumpkin Spice and Gingerbread.
The menu also showcases entrée size savory waffles with premium ingredients mixed into the batter such as Prosciutto di Parma & Gruyere Cheese, Oven Roasted Turkey & Havarti Cheese and Cheddar & Cherry Hardwood Smoked Bacon. Other unique menu offerings include Waffle Bites (Powdered Sugar or Cinnamon Sugar) and Bits & Dips (Breakfast Sausage & Maple Syrup or Hot Dogs & Honey Mustard or Spicy Mayo). Sweet specialty treats include Waffle Crisps, Crispy Cannoli, Chocolate and Caramel Sundaes and Crisps with Berries & Cream.
To complement the waffle menu, you can also order gourmet coffees by illy, including specialty espressos, dark roast coffee, handcrafted hot and blended lattes, along with a selection of Dammann Frères imported teas.
Open 7 a.m. to 6 p.m. Monday through Saturday; 7 a.m. to 5 p.m. Sunday.
1064 Bayside Drive in Newport Beach. 949.720.8155.