Dining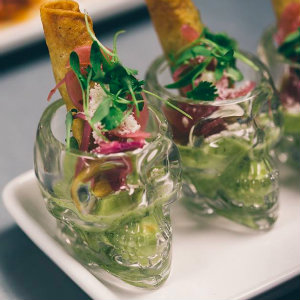 Michoacan Street Food at Urbana
Urbana is the latest artisan eatery to open at the Anaheim Packing House.
Owner Javier Cuadra was born and raised in Zamora, Mexico and grew up with access to delicious, fresh street food. After exporting seasonal organic berries from Mexico, he eventually yearned to open a restaurant and now with Chef Ernie Alvarado's culinary artistry he's bringing hearty and healthy Michoacán street food to the Packing House family.
Urbana offers 100% natural and fresh ingredients including handmade tortillas, gourmet tacos such as tinga tu taco with cotija, pickled red onion, and micro cilantro. Other delicious items include snapper ceviche, nachos libres, enchiladas suizas such as shrimp al mojo de ajo with green tomatillo salsa, crema fresca, oaxaca cheese, and micro cilantro.
Complimenting the menu, Urbana's bar offerings include tequila and Mezcal favorites as well as top shelf agave spirits and a spin on craft cocktails.
Day of the Dead mural walls handmade by graffiti artist Samir Evol pay tribute to Javier's Michoacán upbringing where Dia de los Muertos is celebrated. And calacas are hanging in made by an old man from Michoacán who makes them once a year for 'dia de los muertos' out of paper mache.
Open 11:30 a.m. to 10 p.m. daily; bar open till midnight.
The Anaheim Packing District at 440 S. Anaheim in Anaheim. 714.502.0255.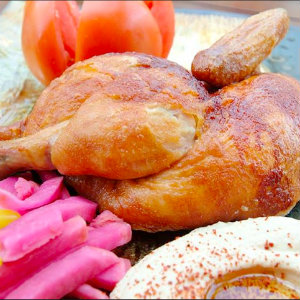 The Best Chicken in OC
Crispy, juicy rotisserie chicken, hummus, famous garlic sauce, and freshly baked pita like no other—this is Zankou Chicken. If you haven't been to Zankou Chicken in Anaheim, you're missing out on some of the best chicken in Orange County.
With roots in Lebanon, the Los Angeles based fast casual eatery with eight locations mostly in the LA area, is affordable, delicious and committed to high quality standards. They do not serve frozen, canned, microwaved or artificial flavored foods. Its famous chicken is delivered fresh every day, beef is high quality USDA and its pita bread is baked fresh daily, too.
Zankou's Mediterranean menu is focused on its famous rotisserie chicken roasted in a vertical oven for more than an hour that can be served whole, or on plates with its signature hummus, fresh pita bread, tomatoes, pickled turnips and house-made garlic sauce. Its fresh pita wraps with your choice of meats, tomatoes and garlic spread are popular meals, as are Zankou's kabob plates. Choose from chicken, tri-tip, or lule (ground beef with minced onion and parsley) served and with basmati rice, spiced onions, pickled turnips, roasted tomato, and hummus.
Sides and salads selections are vegan and include made-to-order falafel with homemade tahini, tabbouleh, tahini salad, basmati rice and mutabbal, a dip of grilled organic eggplant, fresh garlic, and tahini, topped with olive oil and paprika.
One of Zankou's most popular and best deals is the family meal, that includes one whole chicken, only large side, one small pickles, one pita pack and two garlic sauces.
Zankou Chicken is at 2424 W Ball Road in Anaheim. 714.229.2060.