Dining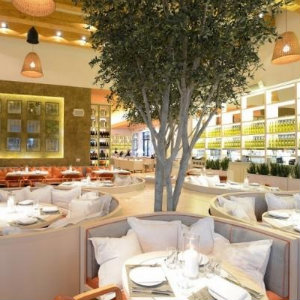 Fig & Olive's Weekend Riviera Brunch
With Fig & Olive's seasonal Mediterranean cuisine, a passion for the best olive oils and a relaxing upscale atmosphere, it's the perfect place to also enjoy weekend brunch. And it just rolled out a new Weekend Riviera Brunch ($24*) buffet available on Saturdays and Sundays from 11 a.m. to 3 p.m.
Fig & Olive's culinary team celebrates Mougins' "Cuisine of the Sun" with menus showcasing seasonal ingredients such as spring peas, figs, and asparagus selected from local farms like Kenter Canyon Farm, Weiser Family Farm, and Babe Farm.
The buffet-style brunch offers a selection of signature dishes from Salmon Crudo with orange, grapefruit, dill, lemon, scallions, and Arbequina olive oil to customizable omelets and whole roasted Provençal style chicken at the carving station.
Families making reservations for the Weekend Riviera Brunch can receive one complimentary kids' meal* per each weekend buffet purchased.
Fig & Olive is at Fashion Island in Newport Beach. 949.877.3005.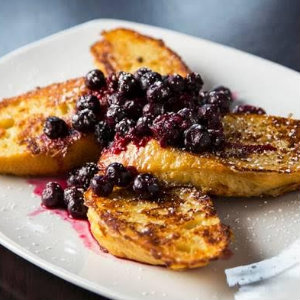 La Vida Cantina Does Brunch Right
Looking for new relaxing al fresco brunch ideas this summer? La Vida Cantina has expanded its popular Sunday brunch to Saturdays. The Costa Mesa restaurant now serves its brunch menu, complete with bottomless Mimosas and Bloody Marys, on Saturdays from 11 a.m. to 2 p.m., and Sundays from 9 a.m. to 2 p.m. For Father's Day on Sunday, the special is steak, egg, chile relleno and a beer for $18.95.
The brunch menu features a range of items including Izzy's French Toast, baguette-style French toast topped with a warm berry mix and served with three crispy jalapeno bacon strips; Pan Crepes, two crepes filled with a warm mixed berry coulis and served with crispy jalapeno bacon strips and two eggs; Burrito de Huevo, scrambled eggs with chorizo, onions, serrano peppers and cheese wrapped in a flour tortilla; Steak and Eggs, Certified Angus skirt steak strips served with two eggs, breakfast potatoes, refried black beans and a choice of flour or corn tortillas; Huevos Rancheros, a crispy tortilla topped with two eggs, covered with ranchera sauce and jack cheese.
Served with breakfast potatoes and refried black beans; Breakfast Tostaditas, two crispy tortillas topped with refried black beans, shredded pork, poached eggs, covered with a tomatillo sauce and topped with avocado, Mexican cream and cotija cheese; Enchiladas con Huevo, two cheese enchiladas in a guajillo sauce, topped with two eggs and served with breakfast potatoes and refried black beans; and the La Vida Omelet, natural smoked ham, jack cheese, onions, poblano peppers, mushrooms and red bell peppers, topped avocado and a drizzle of tomatillo sauce, served with breakfast potatoes and refried black beans.
Brunch dishes start at $11 with a la carte items also available. Bottomless Mimosas and Bloody Marys are an additional $9.
La Vida Cantina's regular menu is available for dinner after 4 p.m. on weekdays, and served for lunch after 11 a.m. on Fridays and Saturdays, and after 2 p.m. on Sundays. Happy Hour is offered Monday through Friday from 4 to 6:30 p.m., and a Late Night Happy Hour is available Thursday through Saturday, from 11 p.m. until 2 a.m.
La Vida is on the entertainment level of The Triangle at 1870 Harbor Blvd., where the 55 Fwy. meets Newport Blvd. in Costa Mesa. 949.612.2349.