Dining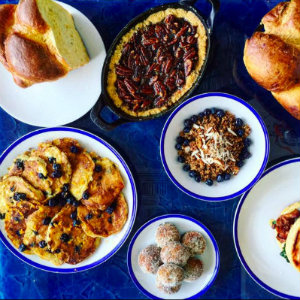 ARC Owners Open New Concept: Restaurant Marin
Restaurant Marin is the latest concept to open from award-wining chef Noah and Marín von Blöm, the same duo who brought us ARC at SOCO in Costa Mesa.
The sophisticated yet casual restaurant is adjacent to ARC, and next month, the von Blöms will unveil, The Guild Club, also at SOCO.
Restaurant Marin serves breakfast all day, lunch, dinner and dessert from 7 a.m. to midnight daily.
Marin created the stunning design of her namesake diner; it features contemporary and vintage elements unlike any other local eateries. She chose antiqued mirrored panels, vintage windows, pressed sea glass tables, handmade Italian tiles, stingray leather booth seating, and French pendant lighting.

Chef Blöm offers classic dishes for breakfast as early as 7 a.m. including fresh-baked Brioche, English Muffin Sandwiches, fluffy Blueberry Pancakes, housemade Classic French Pate, House-Smoked Salmon, Homemade Granola, and a variety of toasts and egg dishes.
The lunch menu features a selection of salads and sandwiches, with options sluch as Grilled Shrimp Louie and Grilled Steak Salads, and Butter-Poached Lobster Rolls and Slow-Roasted Short Rib Dip. The dinner menu offers a "Meat" section featuring Steak Frites and Classic Meatloaf, a "Fish" section with Fish & Chips and Olive Oil Salmon. In addition, the dinner menu features an ambitious Bouillabaisse with halibut, mussels, scallop and grilled shrimp; and a Stroganoff with Filet Mignon.
Also available throughout the day are classic desserts, pies, and crumbles.
Bar Chef Koire Rogers creates cocktails from homemade sodas and fresh craft juice blends that change with the seasons. European wine and beer selections are available, too.
Open daily from 7 a.m. to midnight.
Restaurant Marin is at 3321 Hyland Avenue, Suite G in Costa Mesa. 949.402.3974.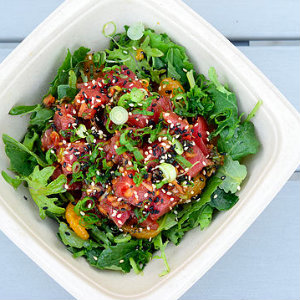 Cubed One Stop Poke Opens at Union Market Tustin
Poke enthusiasts can look forward to the newest poke spot to open in OC---Cubed Poke at Union Market Tustin serving up their signature Poke Bowls and Musubi.
Cubed Poke is the realization of a dream of four friends who love cooking and eating together, so they created a Hawaiian-centric eatery featuring healthy, fast cuisine. They are taking classic Hawaiian recipes, and adding their modern spin.
You can choose from six poke bowls; or build your own poke (start with a base, choose sauce, protein, and add signature or premium add ons); sides and delicious drinks such as Hawaiian sodas, mango black tea, fresh young coconut, Hawaiian beer, Lychee sake and house sake.
Island flavors shine through in items like their Lilo Bowl, featuring tuna, kale, oyster sauce and mandarin oranges; as well as their Musubis made with Portuguese sausage and spam. Cubed's poke will be made with the freshest ingredients possible. For the ultimate Cubed experience, add a side of their signature musubi, malasda and a cold beer on the patio.
Cubed Poke is at Union Market Tustin is at 2493 Park Avenue in Tustin. 714.258.8182.