Dining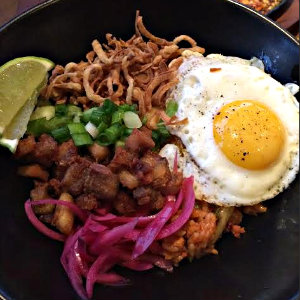 Urban Seoul 2.0 at Irvine Spectrum Center
Urban Seoul, a popular Korean fusion restaurant just opened its second location in Orange County, at Irvine Spectrum Center in Irvine. Its original location opened two years ago at Diamond Jamboree in Irvine.
Local restaurateurs Bronnie Lee and Chef Kacy Jun's are inspired by SoCal's culinary melting pot at Urban Seoul 2.0 with popular dishes blending flavors of Asia and Mexico, and a nod to the street food scene. All dishes cost $10 or less which considering the ingredients, amazing dishes, and modern ambience, is a great deal.
Some of our favorite dishes include the chorizo fried rice; Wagyu Loco Moco Skillet with marinated Wagyu beef patty, mushroom gravy, pickled red onions, fried onions, green onions, sunny side egg, over crispy fried rice; quesadilla, made with a spicy kimchi pancake and stuffed with grilled chicken, melted cheese and a kimchi sour cream dipping sauce; and the Korean pork belly tacos, topped with scallions.
New to the Urban Seoul 2.0 menu includes a make-your-won Korean lettuce wraps called ssam. You can choose from a variety of grilled meats, including grilled marinated short ribs, grilled salmon, spicy pork, or vegetarian-friendly tofu and mushrooms, along with caramelizes onions, kimchi, Korean chili paste and japchae (Korean glass noodles).
You also need to try the only shaved snow available at Irvine Spectrum, with ribbons of strawberry or green tea ice cream topped with condensed milk, lychees and fresh strawberries.
Open for lunch 11:30 a.m. to 2 p.m. Monday through Thursday; open for dinner 5 to 9:30 p.m. Monday through Thursday; Open 11:30 a.m. to 11 p.m. Friday and Saturday; and 11:30 a.m. to 9 p.m. Sunday.
Urban Seoul 2.0 is 414 Spectrum Center Drive in Irvine. 949.727.1900
Open for lunch 11:30 a.m. to 2 p.m. Monday through Saturday; open for dinner 5 to 10 p.m. Monday through Friday; 5 to 11 p.m. for dinner and Friday and Saturday; and open noon to 8 p.m. Sunday.
The original Urban Seoul is at Diamond Jamboree at 2750 Alton Parkway, Ste 131 Irvine. 949.553.0188.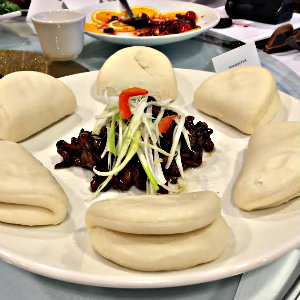 Spiciest City
We just discovered Spicy City in Anaheim Hills, an upscale Chinese restaurant with both American style Chinese foods and traditional Szechuan dishes to satisfy all tastes.
The Anaheim Hills location was formerly Mandarin Taste and is now owned by Tony Xu who hails from Hunan, China. He's bringing a love for his mother's cooking to Spicy City. He also has a location in Irvine on Culver Drive.
Whether you want to stop by for a lunch buffet or order off the lunch and dinner menu, you can dine on Chinese favorites such as egg rolls, hot and sour soup, Kung Pao chicken, fried shrimp, and moo shu pork, or get more adventurous with brotherhood eel, Hunan style lamb hot pot, pork intestines in dried pot, or frog with chili and hot sauce.
A few favorites include the garlic eggplant and cumin lamb, shredded pork with pickled vegetables, honey walnut shrimp, and Mongolian beef.
Both locations feature a full bar, hardwood floors, traditional Chinese decor, cloth linens and family style dishes.
Open 11 a.m. to 9:30 p.m. Monday through Thursday; 11 a.m. to 10 p.m. Friday to Sunday.
5555 E. Santa Ana Canyon Road in Anaheim. 714.974.8889.
Open 11 a.m. to 9:30 p.m. Monday through Saturday; 11 a.m. to 9 p.m. Sunday.
14310 Culver Drive, Ste A-100 in Irvine. 949.733.9200