Dining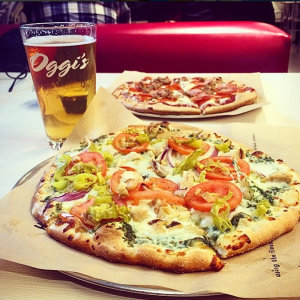 Oggi's Pizza Express Opens in Orange
Oggi's Pizza Express is a new fast-casual build-your-own pizza, salad and craft beer concept that just opened at The Village at Orange by the owners of Oggi's Sports | Brewhouse | Pizza.
The restaurant is the first Oggi's Pizza Express in Orange County where the San Clemente headquartered company operates four restaurants as well as the award-winning Left Coast Brewery. The original Oggi's Pizza Express opened at San Diego State University last spring to rave reviews.
Oggi's Pizza Express offers a build-your-own handcrafted pizza experience for one affordable price. Guests can choose from one of eight Oggi's favorite pizza combinations or create a personal pizza. Oggi's pizzas are fired up in a 510 degree stone fired oven so they are ready in minutes.
You can choose from fresh homemade pizza dough or a tasty gluten-free option. Sauce selections include BBQ; pesto; Garlic herb infused olive oil, balsamic glaze or Killer (Louisiana-style) sauce. The cheeses include feta, gorgonzola, light mozzarella, mozzarella, ricotta or vegan mozzarella cheese. There are also a variety of fresh herbs and vegetables; and all-natural meats with no antibiotics, hormones or nitrates – bacon; grilled chicken; ham; pepperoni; and Italian sausage.
Oggi's Pizza Express also offers hot and tasty "junky wings" in a choice of four seasonings and a selection of four gourmet salads including Asian, Mediterranean, chopped chicken or balsamic chicken as well as build-your-own salads.
You can also enjoy award-winning beers on tap including all 10 of Oggi's own craft beers and 10 rotating favorites from Southern California breweries. The company's beers have won over 50 medals in international, national and regional competitions.
Oggi's Pizza Express in Orange is open daily at 11 a.m.
At the Village at Orange at 1500 East Village Way, Suite 2197, Orange. 714.685.0596.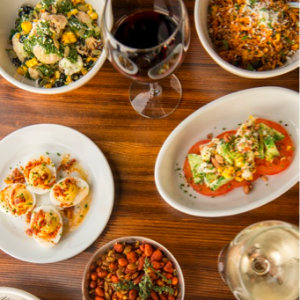 El Amerikano Rustic, Latin Flair
At El Amerikano in Fullerton you can get a taste of Chef Konstantine Marougas' style of blending classic American cooking with non-traditional techniques, and layering each dish with Latin American flavors. He enhances his American cuisine with South American flavors with fresh herbs, house-made rubs, and cheeses.
New dishes on the menu include Warm Mushroom Salad, Cucumber Ceviche, our favorite Brussels Sprouts with House-Made Chorizo and Imported Cotija; Braised-then-Seared Lamb Shoulder paired with Cabbage Escabeche and Crema Fresca; and Slow Roasted Angus Choice Prime Rib Nachos paired with House-Made Red Chipotle Chimichurri.
The grill at El Amerikano is like a Latin American parilla and its asado technique gives dishes a charred and smoky depth. New grilled menu additions include Chef Konstantine's signature Asada Brava – angus choice rib eye seasoned with El Amerikano's own house-made Latin rub. The dish is paired with a take on creamed corn with nuts tossed with cumin, Mexican oregano, and cayenne, and finished with cheese folded in.
The Al Pastor Chop, a char-grilled pork chop with Chef Konstantine's made-from-scratch "al pastor glaze," sizzles off the grill and is paired with a refreshing, yet spicy farro salad with house-made jalapeno vinaigrette with poblano chilies and sweet peppers. The Rib Eye Picado with tender sliced pieces of Rib Eye, boasts a house-blended Latin Spice, a unique combination of ingredients including cayenne, bay leaves, and paprika in lime.
The grill also enhances El Amerikano's Michoacan Caesar, which features crisp heads of romaine, char-grilled then plated with fire-roasted corn, cotija cheese, pepitas and house-made Caesar dressing.

Chef Konstantine also oversees the Kentro Greek Kitchen next door, El Amerikano's sister concept.
Open daily from 11 a.m. to 10 p.m.
El Amerikano is at 100 South Harbor Blvd., Suite D in Fullerton. 714.525.2126.
Image Courtesy of Ann Watson.