Dining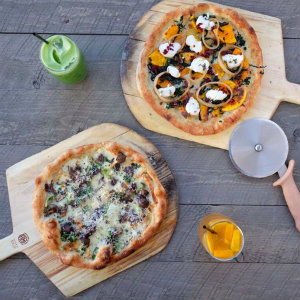 True Food Kitchen Debuts Fall Seasonal Menu
It's so easy to eat healthy and delicious foods at True Food Kitchen at Fashion Island. And, now is a great time to get in to try the fall menu featuring seasonally-driven food and autumn-inspired cocktails and refreshers. Each dish follows the principles of the anti-inflammatory food pyramid, and its commitment to wholesome seasonal ingredient and simple preparations so that you can enjoy the freshness and flavor.
Favorites from the fall menu include Charred Cauliflower, Chioggia Beet Bruschetta and the Vegetarian Garden Scramble featuring organic scrambled eggs with smoked gouda and topped with smoked onions, braised Swiss chard, roasted butternut squash, roasted Brussels sprouts and roasted cauliflower. We loved the housemade vegan Butternut Squash pizza featuring artisan pizza dough baked with garlic puree, roasted butternut squash, kale, smoked onions and topped with thyme, sage, lemon oil, dried cranberries and vegan almond ricotta.
The Pan Roasted Chicken is a must; it's a boneless half chicken served with cannellini beans, maple glazed butternut squash and braised Swiss chard in an apple-rosemary jus with sage leaves and thyme. True Food is also a great place just to stop in for desserts! The new options include guilt-free and gluten free desserts including the famed Squash Pie featuring a graham pie crust filled with butternut squash and topped with whipped coconut cream and the Apple Goji Crisp made with Fuji apples and goji berries tossed with lemon and cinnamon, topped with an almond crumble and then baked and topped with whipped coconut cream.
At True Food Kitchen's scratch bar, you can enjoy a fall-inspired lineup of handcrafted cocktails that are as nutrient-rich as they are ripe with flavor, like the Apple Ginger Mule, Autumn Orchard Sour, Honey & Grapefruit Mimosa and the Cranberry & Pomegranate Mimosa. All-natural seasonal juices, teas and refreshers are also available including the Pressed Apple Soda, Orange Rooibos Tea, Ginger Tulsi Tea and Apple Carrot Ginger Tonic.
True Food Kitchen's seasonal menu will also feature some of its most popular offerings including the Spaghetti Squash Casserole, Edamame Dumplings, Scottish Steelhead, Sustainable Seabass, Kale Guacamole, Turkey Burger, Farmers Market Crudités, and desserts like our favorite Flourless Chocolate Cake, among others.
Open 11 a.m. to 9 p.m. Sunday through Thursday; 10 a.m. to 10 p.m. Saturday; and 10 a.m. to 9 p.m. Sunday.
451 Newport Center Drive in Newport Beach. 949.644.2400.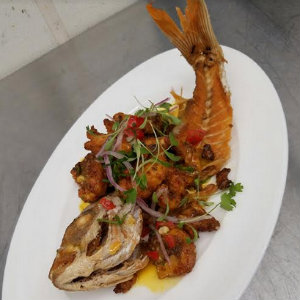 Raya's Fall Pan-Latin Coastal Cuisine
You cannot beat the food and ocean views at Raya at Ritz-Carlton, Laguna Niguel. The resort's signature restaurant is constantly updating its menus and offerings by executive chef Richard Sandoval and chef de cuisine Steve Wan. Their latest fall menu is one of the best we've ever tasted—it showcases the season's best Pan-Latin coastal cuisine and they've debuted delicious hand crafted cocktails.
Raya is doing things differently than any other restaurant in Orange County—they create tastes from ingredients that you find elsewhere: togarashi aioli, yuca, salted kunbo, white pear kimchee, achiote ponzu, morita chiles and chayote slaw. It's latest fall menu favorites include shared starters such as Smoked Swordfish Dip with tomato, onion, cilantro, aioli, pickled jalapeno and corn tortilla chips; and Peruvian Scallop Crudo with cucumber-green apple juice, serrano, red onion and black salt.
Raya's must order small plates include a Crispy Lamb Kalbu with a scallion pancake, butternut "ajo negro" and white pear kimchee; and Piloncillo Shrimp with chayote slaw, candied pepitas, morita chile and cilantro; and the Ceviche de Leche with seabass, Brazil nut milk, sweet potato, red onion, cilantro and sweety pepper.
From the large plates, you must order the Branzino "Chicharron" with aji-orange-butter sauce, potato puree, marinated red onion salad and lime. The Chilean Seabass Poke Bowl is unlike any other poke you'll try, this has brown rice, brussels sprouts slaw, pickled cucumber, aji panka and furikake. We can't get enough of the sides: Sweet Potato with roasted apple, morita chile, pumpkin seed, goat cheese and orange coriander sauce and Roasted Cauliflower with chimichurri and cotija cheese; and Dungeness Crab Mashed Potatoes.
Raya is at The Ritz-Carlton, Laguna Niguel is at One Ritz-Carlton Drive in Dana Point. 949.240.2000.