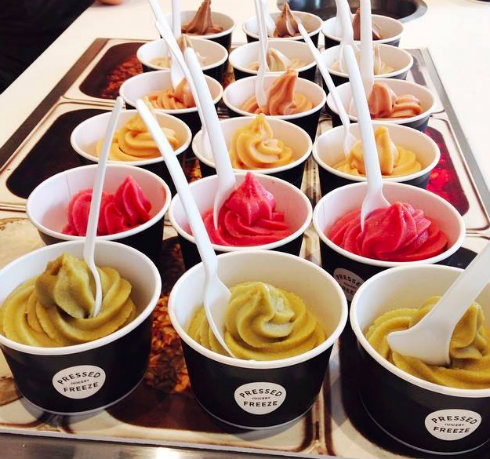 The cold-pressed juice movement is expanding in Orange County with Pressed Juicery's new location at Westcliff Plaza in Newport Beach, and at Fashion Island, opening on Saturday, Dec. 13, next to SoulCycle, a cycling fitness studio with a cult following. This will be the first SoulCycle/Pressed Juicery location to open.
Los Angeles based Pressed Juicery is offering its popular juices and signature as well as Freeze, the company's version of vegan, dairy-free, gluten-free "soft serve." Made from 100% fruits, nuts and vegetables, Freeze is available in six different flavors including greens, citrus, fruits, roots, vanilla almond and chocolate almond, all inspired by Pressed Juicery's juice menu.
Toppings include fresh fruit, chia seeds, goji berries and rose syrup; as well as a chocolate hard shell made from honey, cacao and coconut oil, just to name a few.
Pressed Juicery's custom-made hydraulic press extracts the maximum amount of vitamins and minerals from its fruits and vegetables, creating fresh tasting juice each morning. The company also ships overnight, nationwide. For more information about the new Pressed Juicery locations, visit pressedjuicery.com or call 1855.PJ.JUICE.
Open 7 a.m. to 9 p.m. Monday through Friday; 8 a.m. to 9 p.m. Saturday and Sunday.
1116 Irvine Ave. in Newport Beach, CA 949.650.066.
---
The Latest from greer's oc
Black Friday at Irvine Spectrum
With Black Friday quickly approaching, we wanted to share the hours of Irvine Spectrum Center and specifically the stores you may be interested in as they kick off Black Friday with the hottest deals. To keep the holiday spirit…
Merry Makeover Spa
Too busy during the holidays to focus on looking your best? Prior to a holiday party or event, let the experts at St. Regis Monarch Beach take over and book a Merry Makeover package. The limited-time package starts…
LA Auto Show World Premiere Porsche Panamera Turbo S Exclusive Edition
Who could possibly take in all there is to see and do at the LA Auto Show? It's one of the world's premiere auto shows for serious buyers, industry people, car enthusiasts, media, and lookie loos—up to 900,000 visitors…
Savannah Young 'Road to History'
Newport Beach native Savannah Young, 12, was born 10 weeks early, weighing in at just 3 lbs. 10 oz.. No doubt Savannah was ready to get a jump on performing as soon as possible. She's a professional actress, model for…