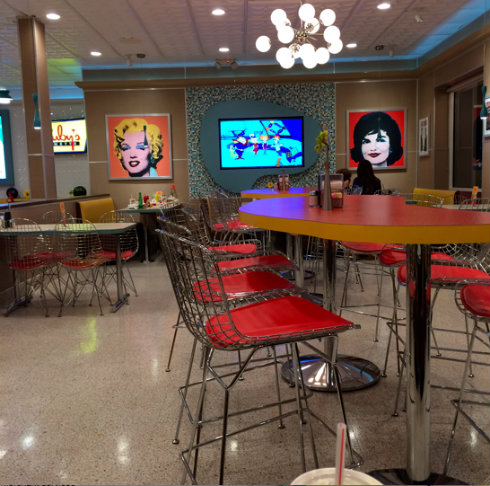 We were the first to lament the transformation of the nostalgic 1940's style Ruby's Diner on East 17th Street in Costa Mesa to a new mid century modern Ruby's Dinette last summer. We wanted to hate it.
Stripped away almost overnight were the nostalgic red vinyl booths, white Formica tables, and swing era theme, and in came a Googie-inspired look complete with light wood tones, lava lamps, and Warhol's "Jackie O" and "Marilyn" prints that reminded us more of "The Jetsons" than the iconic Ruby's Diner that first opened on the Balboa Pier in 1982.
Now we can eat our words. The turning point was when we finally dined there and fell in love with the new upbeat and optimistic interior and edited menu. The new Ruby's Dinette is fast casual, with all of the Ruby's hits like the Classic RubyBurger, five gourmet burgers, salads, sandwiches, and of course, sides like chili fries and our favorite onion rings.
They introduced a dedicated Marianne's Ice Cream counter for scoops, sundaes, and shakes, and you can even take home a pint of the revered Santa Cruz ice cream.
Kids will love the 10 choices of kids meals and 3 breakfast choices. Breakfast is served until 11:30 a.m. daily.
Today only at Ruby's Dinette, you can celebrate Ruby's 32nd anniversary and order a Classic RubyBurger for just $2.35, the original price in 1982.
Open 7 a.m. to 9 p.m. Sunday through Thursday; 7 a.m. to 10 p.m. Friday and Saturday. Ruby's Dinette is at 438 E. 17th St. in Costa Mesa. 949.646.7829.
---
The Latest from greer's oc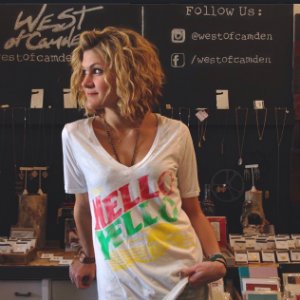 West of Camden Turns One!
It's already been one year since West Of Camden opened in Corona del Mar and they are celebrating in a big way Saturday from 6 to 9 p.m. West Of Camden offers a collection of things its owners and…
Philly's Best Grand Opening in San Clemente
You can get over to Philly's Best restaurant in San Clemente for its Grand Opening celebration on Saturday from 10:30 a.m. to 10 p.m. and feast on $5.95 Philly Cheesesteaks all day long with free fries to the first…
Valentine's Portrait Session with Brystan Studios
Create a stunning photo book or portrait collection that your man won't get enough of with Brystan Studios, Orange County's premier photography studio for 25 years. Book a Valentine's Day session that includes hair and makeup, state-of-art lighting, amazing sets, custom props and accessories.
…
Halth Spa Giveaway
The newest go to spot for natural luxury spa treatments--Hälth Spa, on the second floor of the Eastbluff Professional Building in Newport Beach—is giving one lucky winner and child a free treatment of choice, either manicure or makeup application.…