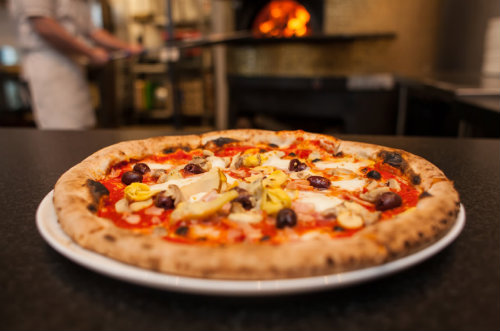 Looks as if the pizza craze is in full force! Five new pizza concepts are popping up at several shopping centers in Orange County, and there are delicious pizza-centric concepts already open. Whether you are craving flavorful thin crust pizzas or heartier versions where you can build your own pie, you will be thrilled by the new offerings in Orange County.
Sapori Ristorante just opened its new Sapori Pizzeria next door at Bayside Center in Newport Beach. Sapori Pizzeria features a custom-built, pure wood-burning brick oven imported from Italy that can fire up authentic Neapolitan-style pies in 90 seconds. Some of its specialties includes Capricciosa pie, with San Marzano tomatoes, artichokes, mushroom, ham, housemade mozzarella, Pecorino Romano, basil and extra virgin olive oil. The signature Sapori pizza will come with grape tomatoes, Sicilian oregano, fresh garlic, basil and extra virgin olive oil.
Sapori Pizzeria is at 1080 Bayside Drive in Newport Beach. 949.644.4200.
Customizable Neopolitan-style pizzas are also brand new to Alton Square in Irvine with Pizza:90. Your pizza (pictured above) will be cooked in a 900-degree wood-fired oven for 90 seconds by certified "pizzaiolos" or pizza-makers who can create authentic pies that taste just like those in Italy. There are 10 signature 12" pizzas to choose from, or you can create your own with more than eight Italian cheeses, and a dozen Italian meats to choose from. You can even pair your pizza with one of Pizza:90's hand-selected craft beers for pizza nirvana. There are also four tasty salads available. Pizza:90 celebrates its grand opening May 7.
Open 11 a.m. to 9 p.m. daily.
Pizza:90 is next to Pick Up Stix at 5365 Alton Parkway in Irvine. 949387.5088.
Johnny's Real New York Pizza recently opened its third location at Quail Hill Shopping Center in Irvine. Owner John Younesi is on a mission to bring Orange County diners a true taste of New York style pizzas. Johnny's makes its dough, sauce, meatballs and Bolognese fresh daily. Younesi says Johnny's pizza is also special since its water filtration system replicates New York's soft water, helping to create the perfect dough. The pizzeria also uses original recipes from New York, which were being made in Sicily just two generations ago.
Open from 11 a.m. to 10 p.m. Sunday through Thursday, and 11 a.m. to 11 p.m. Friday and Saturday.
Johnny's is located between Sharky's Woodfired Mexican Grill and Thai Bamboo Bistro at 6721 Quail Hill Parkway, off Sand Canyon/ Shady Canyon in Irvine. 949.823.1900.
Ugly Pie Co., a build-your-own-pizzeria from El Segundo will be opening its first Orange County location at Orchard Hills Shopping Center in mid-June. Ugly Pie Co. allows you to get creative with an array of sauces, cheeses, meats and other toppings. The dough is made fresh in store daily, so that the pizza is as fresh and delicious as possible. Specialty pizza favorites include the Cheese Burger with BBQ sauce, mozzarella, cheddar cheese, ground beef, bacon, red onion, relish and olive oil.
Square One Pizza Café will be debuting its first location at Oak Creek Shopping Center in mid-June. You will be able to build-your-own, square-shaped pizzas from chef Kyle Gillies, a former chef de cuisine at Hobbit Restaurant in Orange. Signature pizzas include: the charred skirt steak, with roasted corn, Manchego cheese, peppers and sour cream and the grilled portabella with smoked mozzarella. The dinner service will also include a chef-driven Mediterranean cuisine, as well as a carefully curated wine list and craft microbrews. Square One will be located next to McVean's American Grill.
Other notable and recent pizzeria openings include:
Blaze Fast Fire'd Pizza at Fashion Island in Newport Beach.
Pieology at The Market Place in Irvine and multiple locations in OC.
Fresh Brothers at Harbor View Shopping Center in Newport Beach.
First Class Pizza at Newport Coast Shopping Center and multiple locations in OC.
MOD at Westpark Plaza Shopping Center in Irvine.
Settebello Pizzeria Napoletana at Crystal Cove Shopping Center in Newport Beach.
Aree's Yoga Retreat at the Island Hotel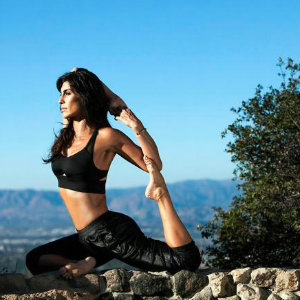 Escape on a local yoga retreat that will leave you feeling rejuvenated and relaxed with Aree Khodai, the founder of Aree's Army who is leading a three-day, two-night yoga retreat at the Island Hotel in Newport Beach on May 1 – 3. The weekend will feature a welcome reception, two daily practices, breakfast and workshops. Pricing is from $575 - $975 per person and includes all activities and lodging, with a special Locals Pass for OC residents available for Saturday's activities.
Schedule of Events
Friday, May 1
3 p.m. Guest check-in begins at the hotel
6:30 p.m. Welcome and evening yoga in Suite 218 (60 minute practice)

Saturday, May 2
7:45 a.m. Morning yoga in Suite 218 (75 minute practice)
9:30 a.m. Breakfast provided in Suite 218
Morning break to relax and enjoy the day
Lunch on your own, with nearby lunch recommendations.
2 p.m. Yoga workshop in Suite 218 (2 hour practice)
4 p.m. Late afternoon break
5:30 p.m. Meditation and Yoga (75 minute practice)
6:45 p.m. Break for the day
8:30 p.m. Dinner on your own, with nearby recommendations.
Sunday, May 3
7:45 a.m. Morning yoga in Suite 218 (75 minute practice)
9:30 a.m. Breakfast provided in Suite 218
10:45 a.m. Aree's Army SoulCycle class at Fashion Island (45 minute class)
11:30 a.m. Retreat ends
For anyone wishing to continue the weekend fun, they will head to Balboa Island to rent bikes, enjoy the Fun Zone and relax. Meeting for lunch at Bear Flag Fish Company in Newport Beach.
Pricing for the weekend starts at $575 per person for a triple or quad, $675 per person for double and $975 per person for a single room. All activities are included and a 50% deposit is due within 72 hours of reservation.To reserve a limited space, please contact Lauran Huff at LPA Events – lauran@lpaevents.com.
Island Hotel is at 690 Newport Center Drive in Newport Beach.
---
The Latest from greer's oc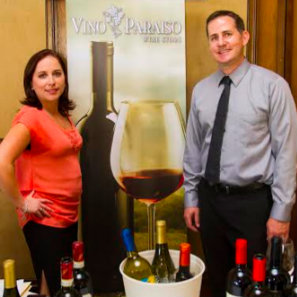 Fourth Annual "Wine & Dine" Benefit
Laura's House, a nonprofit dedicated to the prevention and education of domestic violence, will host its fourth annual "Wine & Dine" event at a private residence in Irvine on Sunday, May 3 at 2 p.m. The event, hosted by Laura's House…
European Showcase Films and After Party Tonight
Tonight, the Newport Beach Film Fest celebrates its European Showcase films at The Triangle and after party at SOCO in Costa Mesa. The Swedish spotlight film, "Blowfly Park (Flugparken)" starts at 7:45 p.m. at The Triangle (repeat…
Pacific Rim Showcase Films and After Party
Tonight, the Newport Beach Film Fest continues with its Pacific Rim Showcase films at Edwards Big Newport and after party at SOCO. The three films include the Korean Spotlight film, "A Hard Day" at 7:45 p.m. at…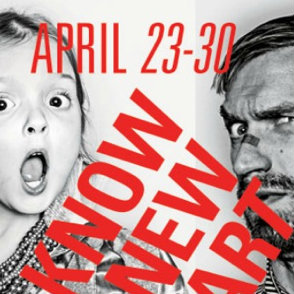 Made in California Shorts
This year, the Newport Beach Film Festival introduces its inaugural "Made in California" shorts program screening on Monday, April 27 at 5 p.m. at Edwards Big Newport. It's a collection of films under 40 minutes that celebrate California, its communities and…