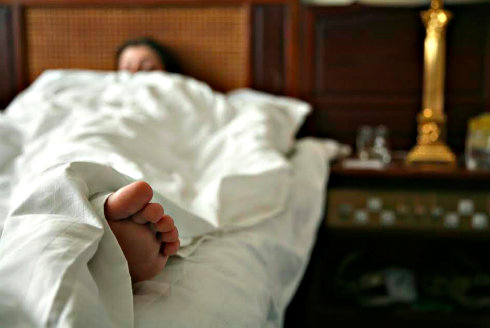 Sleep means everything. And if you're not getting enough, there's help nearby. Orange County is home to one of the premiere sleep centers in the country, the Judy & Richard Voltmer Sleep Center at Hoag Hospital in Newport Beach. The center boasts the most advanced technologies and techniques to diagnose and treat people suffering with sleep disorders, including insomnia, snoring, sleep apnea, narcolepsy and more.
Turns out there are more than 100 types of sleep disorders, and they're all damaging both physically and psychologically.
During the current National Sleep Awareness Week, the center is hosting an open house of Saturday from 10 a.m. to 1 p.m. so you can take a tour and "Ask the Doctor" with Jay Puangco, M.D., and Paul Selecky, M.D. You can register here.
There are is also an upcoming education class: Women and Sleep on Tuesday, April 22 at 6 p.m. at Hoag Hospital Conference Center at 3900 W. Coast Highway in Newport Beach. Register here.
And a six-week Insomnia Program designed to break the pattern of insomnia through cognitive-behavioral therapy and teach participants coping techniques to alleviate their insomnia and improve quality of life. The course meets for six consecutive Mondays from 5-7 p.m. Enrollment is $100. March 3 – April 7; April 14 – May 19; June 2 – July 7. Register here.
The Judy & Richard Voltmer Sleep Center at Hoag Health Center is at 510 Superior Ave., Suite 200A in
Newport Beach. 949.764.8070 or sleepcenter@hoag.org.
---
The Latest from greer's oc
Celebrate Good Taste Restaurant Specials
In honor of Celebrate Good Taste in Laguna Beach, the following restaurants will be offering specials all three days from Friday to Sunday.
230 Forest Avenue Restaurant & Bar
In honor of Celebrate Good Taste, 230 Forest Avenue Restaurant &…
Jewelry With a Purpose
In honor of International Women's Day, Senhoa will launch its latest jewelry line, the Solidarity Collection, at Jo Malone London Boutique at South Coast Plaza on Saturday from 3 to 6 pm. Guests will get a first look…
40 Day Sacrifice
Whether you're one of the 1.2 million Catholics living in Orange County who observes Lent (March 5 to April 17), or a non-Catholic who is giving up something you love as a personal challenge, during the next 40 days, many…
OC Music Awards Ticket Giveaway
We are giving away a pair of tickets to the biggest night on local muisc, the 13th annual OC Music Awards on Saturday, March 8 at City National Grove of Anaheim. Just share this on your Facebook page…