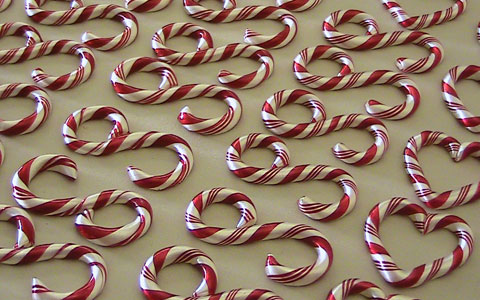 As soon as we find out someone is a [slightly obsessive] candy-making expert, we're happy. And isn't this timely? Right here in OC, a candy cane maker lives among us!  You could call Robin Reichelt an overachiever [perfect]. She is a full-time consultant to giant food brands, she creates pottery and three months out of the year, she smells like candy canes.
At her nostalgia-filled site, you can get a feel for her mission to revive old school-style holiday spirit. Robin hand makes peppermint candy garlands for your home or Christmas tree. With an old fashioned candy cane recipe and a traditional copper kettle, she creates peppermint "doodles" that can be linked together to form a garland, or candy chain. She sells garland in boxed trays, and a box holds 7 feet of candy chain! In keeping with the "retro" spirit, each garland is packed on a reproduction of a vintage holiday card. Each box costs $45. Free delivery in OC.
Smallness Matters!
Is bigger or smaller better? The Miniature Show, an exhibit of very small proportion at Art Cube Gallery in Laguna Beach, debuts at First Thursday Art Walk from 6 to 9 p.m. and runs through December. The exhibition will feature small works from a variety of renowned artists, such as Christopher Schultz, Michael Kessler and Dennis Hare.
In addition to the professional artists, the show will include small paintings from the kindergarten class at Anneliese's School in Laguna Beach. The student's pieces will be sold with proceeds going to the Laguna Beach Friendship Shelter to help assist homeless adults regain self-sufficiency, and Seeds Arts and Education Inc, a non-profit dedicated to the advancement of children's education by funding programs in the arts, sciences, and humanities. Open 10 a.m. to 6 p.m. Sunday through Thursday; 10 a.m. to 6 p.m. Friday and Saturday. The Art Cube Gallery is at 266 Forest Ave. in Laguna Beach. 949.376.8800. Admission is free.
---
The Latest from greer's oc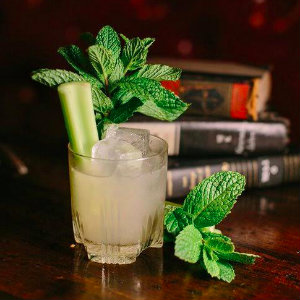 Tiki Nights at Blind Rabbit
This summer, you can enjoy a new lineup of Tiki Night events at one of the coolest speakeasies in the OC, The Blind Rabbit in the ground floor of the Anaheim Packing House. And, you can join the…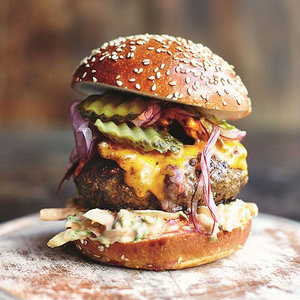 Postmates Free Burgers on Sunday for LA Residents
On Sunday, May 28, it's National Hamburger Day and Los Angeles is ranked #16 as the most burger-loving U.S. city! In celebration, Postmates will be rewarding 10,000 Los Angeles residents free burgers all day. The offer is for the first 10,000 Los Angeles dwellers who download Postmates and order on May 28.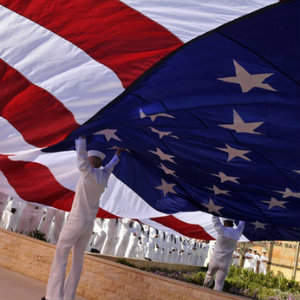 Memorial Day Celebrations in OC
Memorial Day is almost here, and with it, a time of remembrance, tradition, and the unofficial beginning of summer. Here are some local events and observances that you can join.
59th Annual Garden Grove Strawberry Festival
The 59th annual…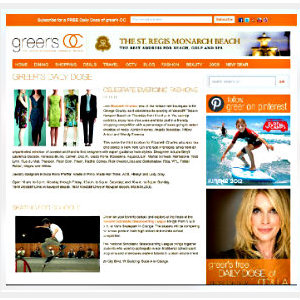 Grow With Us, Partner with us
For the past eleven years, the devoted readers of Greer's OC have provided advertisers with a lucrative target market of highly motivated shoppers, diners and trendsetters.
The devotees trust Greer's OC to give them the latest information about Orange County's…