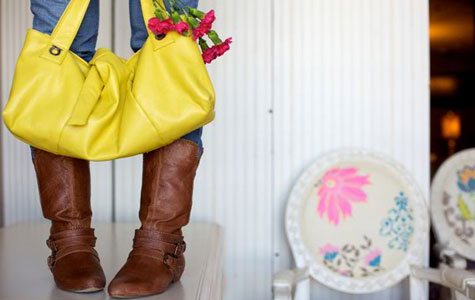 The OC Mart in Costa Mesa, a one-stop shopping experience that's hip and happening, is opening Thursday from 5 to 8 p.m. for a shopping/wine event. The hidden gem that features a group of unique vendors that offer chic jewelry, home accessories, children's apparel, custom stationery, gifts and more.
All boutiques will be open and most will offer discounts. Participating merchants include The Paper House (discounted letterpress custom stationery—a great Easter and Mother's Day gift); Timree (discounted art classes); Heather Pullis designs;(chic and affordable jewelry); Aria Collection (high-end jewelry, catering to a lot of celebs in LA); MerMade Designs (beach décor, bottle art, seashell accessories) and more. And it's newest boutique is Laura Matthews Designs (handbags and purses in leather, gold, pink, metal, and patent leathers!).
The first 25 guests to RSVP here will receive a canvas Simple Peace bag, courtesy of Greer's OC.
The OC Mart at 485 E. 17th St., second floor, in Costa Mesa. 949.333.0893.
---
The Latest from greer's oc
Daniel Patterson celebrates The Art of Flavor at Taco María
On Saturday, Sept. 23, Taco María welcomes one of chef/owner Carlos Salgado's greatest mentors, Daniel Patterson, for his first guest chef event in Orange County. Salgado and Patterson will collaborate on a five-course menu inspired by Daniel Patterson's newly released…
Evening of Excellence for Youth Employment Services
Join An Evening of Excellence for Youth Employment Service (YES) on Thursday, Sept. 28 from 6 to 10 p.m. at the Promenade & Gardens in Costa Mesa. The event raises funds that directly support our community's youth. YES's mission is…
The Dirty Cookie BOGO for Bracken's Kitchen
Stop by our favorite The Dirty Cookie at Union Market at The District in Tustin on Friday, Sept. 22 and Saturday, Sept. 23 for a special BOGO, buy-one-get-one on Chocolate Chip Cookie Shots. All profits will go to Bracken's Kitchen—to…
Hurricane Relief Brunch at Andrei's Conscious Cuisine & Cocktails
Andrei's Conscious Cuisine & Cocktails
is giving back this Saturday, Sept. 23 by donating 100% of bottomless mimosa sales as well as 25% of proceeds from brunch and dinner sales to The American Red Cross Hurricane Relief fund. Andrei's is…