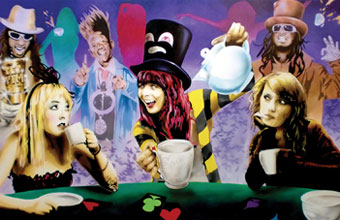 One of our all-time favorite OC based artists, the incredibly talented Zoey Stevens, is debuting his latest works, the Alice in Wunderland (Out of the Shadows) series at m modern in Palm Springs Friday from 7:30 to 10 p.m. The show runs through April 18.
Zoey is big time. His high profile clients include Tom Hanks, Snoop Dogg, Steven Spielberg, Howard Stern, and Kanye West. He just returned from Las Vegas where he commissioned three large pieces for the Hard Rock Hotel. And Zoey has raised more than $500,000 for JDRF and other select charity events through live painting demonstrations and donating art works. At events, he's appeared alongside Jay Leno, Warren G, The Black Eyed Peas, Dana Carvey and many more.
The females who posed as characters in Alice in Wunderland (Out of the Shadows) include his favorite model, his beautiful wife, Jennifer and for Alice, he chose friend Kit Pistol, a "Project Runway" designer. Zoey's portrays the story from Alice's perspective, a modern girl, enhanced with pop culture images as metaphors and characters. Zoey incorporated at few notorious Rappers to "Tea Time" to "add a bit of madness to the piece." His inspiration for the series came from Salvador Dali's interpretation of Lewis Carroll's classic story. One piece for each chapter of the story, 12 pieces total.
The showing is free and open to the public. Complimentary cocktails too! 2500 N. Palm Canyon Dr., # B5, Palm Springs. 760.416-3611.
Get Your Irish Up!
Still looking for St. Patrick's Day celebrations? Join The Friends of Dorothy Guild, which has raised more than $300,000 for AIDS Services Foundation OC in just three years, at its annual free Friend-Raiser at Lexus Newport Beach on Wednesday from 6 to 9 p.m. The event includes free food, wine tasting, informal modeling from John Varvatos South Coast Plaza, and two raffle items (a South Coast Plaza shopping spree and one-year valet parking pass). You'll hear the great plans for this year, meet its 2010 steering committee, and all money raised goes to AID Services Foundation OC! Lexus Newport Beach is located at 3901 MacArthur Boulevard in Newport Beach.
---
The Latest from greer's oc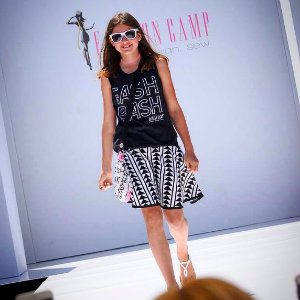 Fash Bash Annual End-of-Summer Celebration and Fashion Show
Join the District at Tustin Legacy for FASH BASH - Fashion Camp's annual end-of-summer celebration & fashion show in the AMC Courtyard on Saturday, Aug. 18 from 11 a.m. to 2 p.m.
Enjoy fashion-themed games & challenges, creation…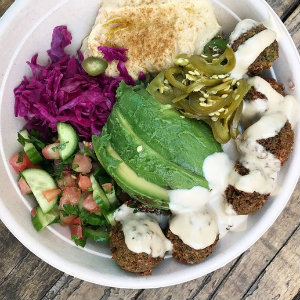 Falasophy Soft Opening at Irvine Spectrum
Santa Ana-based Falasophy will be bringing its popular and modernized Lebanese menu to the Irvine Spectrum Center. During the center's expansion celebration on Saturday, August 18, Falasophy will be hosting a soft opening.
They'll be offering a limited…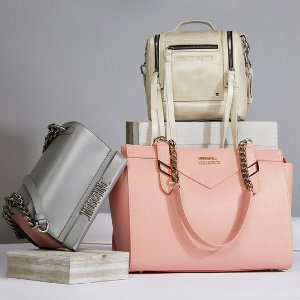 MADALUXE VAULT NOW OPEN AT OUTLETS AT SAN CLEMENTE
MadaLuxe just opened MadaLuxe Vault at Outlets at San Clemente, its first luxury off-price boutique in Orange County. MadaLuxe Vault offers today's savvy consumers the most premier luxury brands in a boutique shopping environment that is exclusive, yet also accessible, high-quality…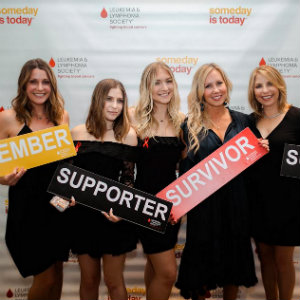 Calling all Orange County High School Leaders!
Do you know a student(s) who is enthusiastic and excels in volunteerism, philanthropy, community outreach, and leadership?
In recognition of the excellence of high school students and the impact they bring to our communities as young adults, the Leukemia…