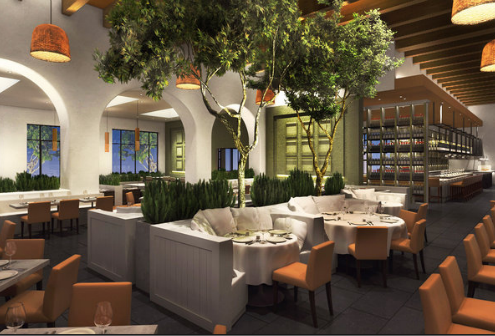 Fashion Island will be opening Fig & Olive's second West Coast location on Friday, Dec. 20, joining its Melrose Place/West Hollywood and New York City locations. Owner and founder Laurent Halasz created Fig & Olive Newport Beach as an inspiration from the coastal regions in the South of France where he hails from.
Executive Chef Pascal Lorange's menu is focused on optimum ingredients from hand-select farmers and its signature ingredient of olive oil. Lorange and Halasz traveled throughout Italy, Spain, and the South of France to discover premium olive oils and recipes for Fig & Olive.
At Fig & Olive guests can enjoy the crostini station for shareable small plates such as the zucchini carpaccio with fresh lemon juice, pine nut, parmesan, and picholine olive oil; octopus a la gallega, a thinly sliced braised octopus with marinated bell pepper, fingerling potato, black olive, basil, arugula, pimenton lemon dressing, and cobrancosa olive oil; a fig gorgonzola tartlet with melted gorgonzola, prosciutto, fig, walnut, arugula, and tomato on a fine puff pastry, manchego, fig spread, and almond crostini; tuna crudo with cucumber, chive, cilantro, lemon sesame dressing, and picual olive oil.
At dinner, you can choose from entrées like Chilean sea bass marinated in lemon thyme with carrot, asparagus, celery root purée, fingerling potato confit, charmoula, and mascarpone harissa olive oil emulsion; grilled Branzino glazed with a fig and 18-year balsamic vinegar, figs, snow peas, and a sweet picholine olive oil; and Provence rosemary grilled lamb chops marinated with rosemary, garlic smoked with a bouquet of herbes de Provence, finished with a rosemary garlic olive oil, and served with goat cheese gnocchi and eggplant roasted with thyme and honey.
Desserts include specialties such as the paper-thin warm caramelized apple tart—a family recipe handed down by Halasz's mother; chocolate pot de crème with crunchy praline financiers; and fig cake with olive oil ice cream.
The restaurant features three main dining rooms: the Wine Room, the White Room, and the Orchard Room, as well as a Garden Lounge with a retractable roof.
Open for dinner daily from 5 – 11 p.m. Lunch and brunch will begin in January.
401 Newport Center Dr., Suite 151 at Fashion Island, Newport Beach. 949.877.3005.
MaxMara's Fall Wear/Ready to Wear Sale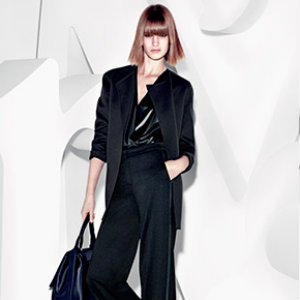 Take advantage of some chic and relaxed fashion buys at Max Mara's fall wear/ready-to-wear sale going on at the Max Mara boutique at South Coast Plaza.
MaxMara's fall collection is reduced 30% and it includes coats, jackets, blouses, trousers, knitwear, skirts, dresses, tops and t-shirts and even accessories.
Open 10 a.m. to 9 p.m. Monday to Friday; 10 a.m. to 8 p.m. Saturday; 11 a.m. to 6:30 p.m. Sunday.
MaxMara South Coast Plaza is at 1st level, Jewel court in Costa Mesa. 714.754.7900.
---
The Latest from greer's oc
Breakfast w/Santa at Whole Foods Market Newport Beach
Santa is stopping by Whole Foods Market Newport Beach to enjoy a breakfast on Saturday from 9 a.m. to 11 a.m. Join this beloved holiday tradition and create memories with your family and friends. Santa, Mrs. Claus, and their elf…
Speakeasy Days at the Back Bay Tavern
Come out and celebrate the history of the 1920's bar with Rising Sun & Co pop-up shop event and vintage car show on Friday, Dec. 13 from 5 to 9 p.m. and Saturday, Dec. 14 from noon to 9 p.m.…
Jewelry For the Soul by Rock of Eden
There is jewelry that is admired casually and then there is jewelry one dreams about. It's that gotta-have-it, it-speaks-to-me feeling that can't be shaken.
OC based Rock of Eden, original, fine jewelry is that kind of jewelry. This modern and antique…
Crispa Crepes Expands Menu
Craving made-to-order sweet or savory crepes? At Crispa Crepes in Northpark Plaza in Irvine you can choose from more than a dozen delicious sweet and savory crepes, or try new items that include "The Kick", a savory crepe with…