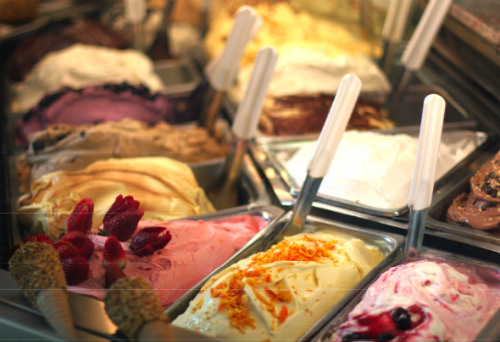 The best things in life are free! And today through Sunday you can enjoy a free cup of premium gelato at the new 33Degrees Gelato | Frozen Yogurt in Huntington Beach. The offer has two minor restrictions—time limits and they're asking for a $1 donation to your favorite Huntington Beach school.
Simply stop by for a free-regular sized, cup of Italian gelato, (valued at $2.75) today from 4 to 6 p.m. or 9 to 11 p.m.; or Saturday and Sunday noon to 2 p.m., 4 to 6 p.m. or 9 p.m. to closing.
33Degrees formerly (YoYumYum Frozen Yogurt) offers a new menu that includes fresh handmade crepes (maple cured bacon, creamy peanut butter, banana, and shaved dark chocolate) smoothies, and 18 freshly made Italian gelatos.
We love the new look, created by the design talents of Rick Thompson of Keir Interior Design, in Newport Beach, a sort of mid-mod (Eames chairs, Bridget Riley inspired OpArt, and great Nelson Bubble lamps) with a big dash of traditional and rich colors and finish.
Open 11 a.m. to 10 p.m. Sunday through Thursday; 11 a.m. to 11 p.m. Friday and Saturday. 10061 Adams Ave., Suite #101, (corner of Brookhurst and Adams) in Huntington Beach.
---
The Latest from greer's oc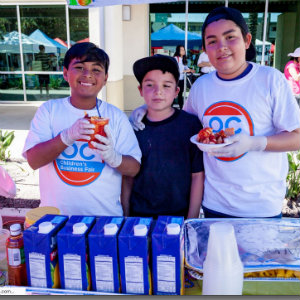 OC Children's Business Fair
Join Orange County Rescue Mission on Saturday, April 27 from 11 a.m. – 1 p.m. for the inspiring Kids on a Mission, OC Children's Business Fair.
The Fair will feature 50 unique booths that showcase the business ideas and…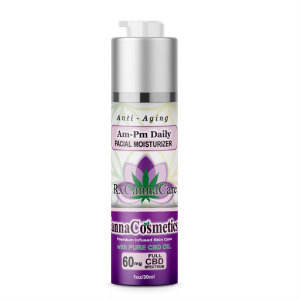 Rx Canna Care CBD infused skin solutions
CBD Oil has become one of the most sought-after plant medicines and supplements in the natural health and beauty industries. For many people, CBD has been instrumental in dramatically improving their lives.
Rx Canna Care founder Twompson Prater…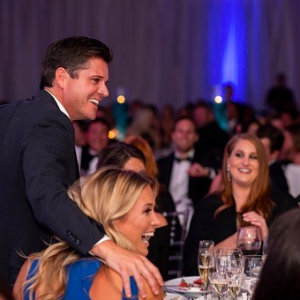 CHOC Guild's 25th anniversary "A Night in Havana" gala
The Glass Slipper Guild, dedicated to supporting the efforts of CHOC Children's, will host a festive evening in honor of the Guild's 25th anniversary with "A Night in Havana" gala, on Saturday, May 4th at the Balboa Bay…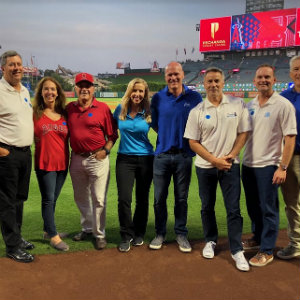 2nd ANNUAL HOME RUNS For Kids
Miracles for Kids, an Orange County-based nonprofit organization benefiting critically-ill children and their families in need by providing financial and emotional support, has partnered with Perricone Juices and Angels Baseball for the 2nd Annual Home Runs for…