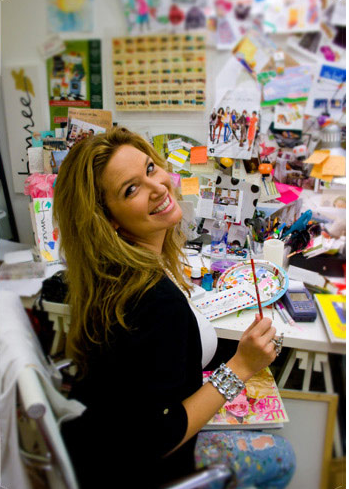 One of the most talented artists we know, Timree Gold, recently moved to a new Newport Beach studio where you can stop by to shop, order a custom designed gift, sign up for a painting class or enjoy a private painting party.
It's a great opportunity to meet the beautiful Timree who, just like her art, is fun, charming and enviably creative. Her motto, "You name it; I can paint it!"
She's creates one-of-a-kind gifts that you will cherish, and her heart of gold personality shows through with each piece of art she masters. She's world renowned for her whimsical personalized creations: dishes, clothing, murals, fine art, and live event paintings.
She likes to think of her new space as a New York art studio with a beach town view. We know Timree is a multi-talented artist with or without a celebrity clientele, but just so you know she's painted for George Clooney, Rod Stewart, Snoop Dog, Charlize Theron, Usher, Gwen Stefani, Tim Burton, Johnny Depp, Kobe Bryant and many more.
Timree's art has been featured at the American Music Awards, Emmy's and even internationally at the Venice Film Festival in Italy. 365 North Old Newport Boulevard, Newport Beach. timree@timree.com. 949.723.1300.
Give Love to the OC Rescue Mission!
Share your love with time, food or donations on Valentine's Day by helping those less fortunate at the Orange County Rescue Mission.
Items needed right away at the OC Rescue Mission's Village of Hope in Tustin include laundry detergent, bleach, fabric softener, bulk foods, diapers, baby wipes, children's socks and underwear, feminine hygiene products, plus-size women's clothing; OCTA one-day and 30-day bus passes; napkins, sandwich paper bags, 55 gallon trash bags Ziplock sandwich baggies, canned vegetables, and boxed cake mixes.
Last year, The Orange County Rescue Mission provided over 1.7 million units of service and a million meals to those in need.
To give monetary donations, please visit www.RescueMission.org. All urgent need item donations can be dropped off at the Orange County Rescue Mission's Village of Hope donation warehouse at 1 Hope drive, in Tustin, Open 9 a.m. to 5 p.m. 714.247.4300 or log on to www.rescuemission.org.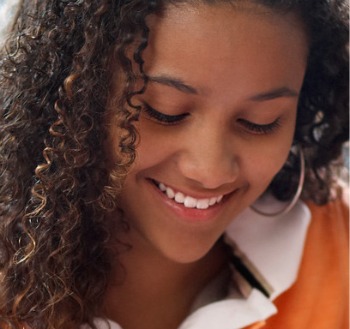 ---
The Latest from greer's oc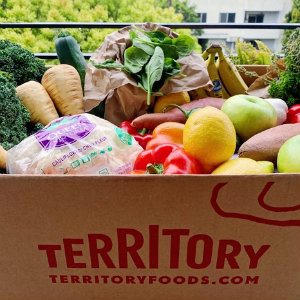 Territory Groceries Delivered to You
Chef-made, nutritionist-designed meal delivery service Territory Foods' recently launched Territory Grocery offerings. It includes 15+ pounds of fresh produce and grains, ideal for a family of four.
Options to choose from a Produce Box ($60) featuring a 15+lb mix of garden veggies,…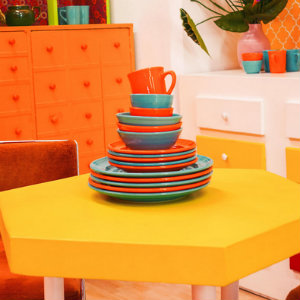 Timeless Kitchen Essentials from Tuxton Home
Whether you're planning to spend more time in the backyard this summer due to COVID-19 guidelines, or you're simply in the market for top-grade kitchenware, Tuxton Home offers a variety of timeless culinary essentials for at-home cooking and…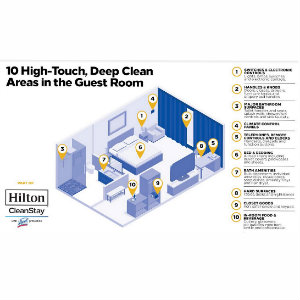 Hotel Maya: 'Hilton Defining a New Standard of Hotel Cleanliness
Hilton rolled out a new program to deliver an industry-defining standard of cleanliness and disinfection in Hilton properties around the world. In a first for the hospitality business, Hilton will collaborate with RB, maker of Lysol and Dettol, and consult…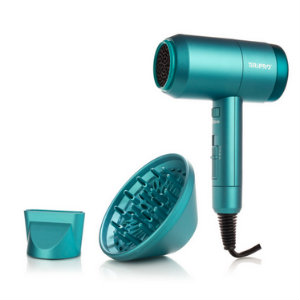 Upgrade Your Hair Drying Beauty Routine
Save precious time while experiencing salon-worthy hair with the next-generation Prisma Ionic Dryer from Tiri Pro. It's a luxury hairdryer that offers adjustable airflow with an advanced Infrared ceramic heater.
The adjustable airflow seems to be the norm for…