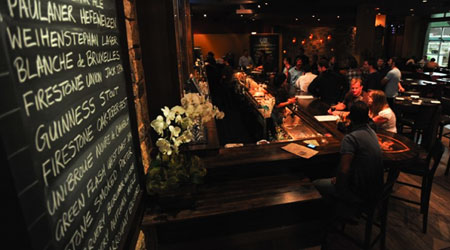 When's the last time you read about a gastropub opening in central OC? How about never? The foodie/pub crowd is celebrating with a corned beef slider, a pint of ale, and watching a game on two 50-inch plasma screens at the new Haven Gastropub in Old Towne Orange. Gastropubs hail from London, where you can enjoy the best of both worlds: a relaxing pub-like environment and upscale, gourmet cuisine. Haven Gastropub's comfort foods are prepared from scratch (even ketchup) in an ambiance of cobblestone-covered walls, copper, candle light and dark woodworking.
Choose from well-edited contemporary classics by Le Cordon Bleu-trained Executive Chef Greg Daniels: house-cured corned-beef sliders with garlic aioli and warm cabbage slaw, mac n'cheese with black truffles, and braised short ribs, slow-cooked with Firestone Union Jack IPA and served with roasted garlic-carrot puree. You have to try the housemade potato chips, soaked in ale and fresh seasonal herbs and served with aioli dipping sauce. Affordably priced entrées range from $5 to $20.
And we can't leave out the handcrafted microbrews and hard-to-find beers, including the world's oldest Weihenstephaner Original Lager (est.1040), boutique wines and, of course, single malt Scotch and whiskey.
Open daily for lunch and dinner, as well as late night: 11 a.m. to 2 a.m. 190 South Glassell Street, Old Towne Orange. 714.221.0680.
Crystal clear designs!
Dolly Mama Designs, is a mother-daughter owned, Newport Beach-based company that features a collection of high-quality visors and lifestyle accessories embellished with Swarovski crystals. Available online and locally at The Montage Resort & Spa, Newport Beach Country Club and Santa Ana Country Club. Prices range from $36 to $80. Dolly Mama Designs is offering a fall special for online purchases: receive free shipping on all retail orders over $100 during the month of October. Just use promotional code: GreersOC.
---
The Latest from greer's oc
SOCO + The OC Mix Tag Sale!
Don't miss this spectacular event (and seasonal launch) featuring your favorite SOCO home + interior design showrooms! On Saturday, October 3 and Sunday, October 4, you'll find discounts on the best brands in home furnishings, accessories and décor during this Designer…
Improv Live Comedy Drive In: Hot Nights, Cool Comics
Experience live comedy like never before at Improv Live Comedy Drive-In --- Hot Nights, Cool Comics featuring Mitch Burrow, Lara Beitz, David Gborie, Kellen Erskine, Fahim Anwar & Chris Porter on Saturday, Oct. 3 at 8 p.m.
Head to…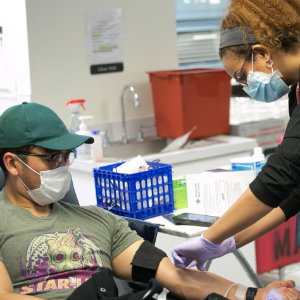 Red Cross blood donors Can Help patients fighting COVID-19
American Red Cross blood donors have a new opportunity to help patients battling this coronavirus. The plasma from whole blood donations made at any Red Cross blood drive or blood donation center that test positive for COVID-19 antibodies may…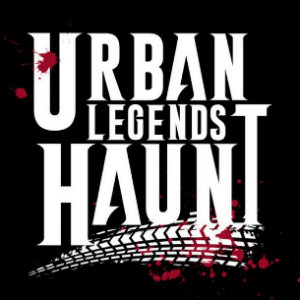 Urban Legends Haunt – Oct. 1-Nov. 1
In the safety of their own vehicle, guests at Urban Legends Haunt at the OC Fair & Event Center starting Oct. 1 to Nov. 1 will enjoy a drive-thru where scare seekers will experience immersive storytelling and terrifying scenes.…