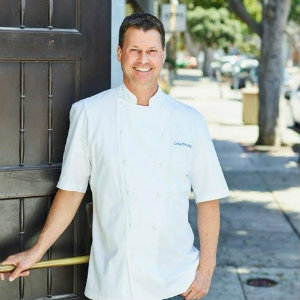 After serving nine years as executive chef at award-winning Studio restaurant at Montage Laguna, Chef Craig Strong is opening his own restaurant, Ocean at Main, in downtown Laguna Beach in the former Taverna location. It's expected to open by October.
Ocean at Main is located in the early 1940s iconic building that housed the Laguna Beach financial institution, Laguna Federal Savings, whose motto was, "We're local, and we love it." Strong, envisions Ocean at Main as a welcoming establishment in his hometown. To help achieve his goal, the restaurant, will undergo a physical refresh by Laguna-based Laurie Alter of Tuvalu Home and a rebranding spearheaded by Strong. Dylan Cloughen, who worked with Strong previously and was most recently with the Mina Group, will serve as general manager.
The historic building's structure and existing Mission Craftsman-style will remain like the prominent wooden beams, trim and cabinets. And Tuvalu, known for its use of coastal-centric design, will introduce new tables and upholstered and cushioned chairs and ocean blue, sea glass and sea foam hues to the indoor dining area, bar and lounge and outdoor patio with its stunning focal point – an existing tiled mural and fountain.
Strong's commitment to providing a warm, approachable Southern California dining experience is a culmination of his years at top-level fine dining establishments, including Studio at Montage Laguna Beach, The Langham Huntington Hotel and Spa, Hotel Arts Barcelona and The Ritz-Carlton Buckhead, Georgia.
Strong will continue to support the local agricultural community and regional purveyors he has worked with over the years. He will serve chef-driven, seasonally changing dishes for lunch and dinner that highlight pristine ingredients – paying tribute to his French mentors like Paul Bocuse, with a slightly "lighter hand."
California's diverse, fresh products and healthy lifestyle choices will be reflected on the menu, offering just-caught seafood and other mains, along with an emphasis on straight-from-the-farm vegetables. The menu will include flatbreads – making use of the kitchen's existing pizza oven. Crafted cocktail, beer, and wine lists will celebrate local talents and resources.
Ocean at Main is at 222 Ocean Avenue in Laguna Beach.
---
The Latest from greer's oc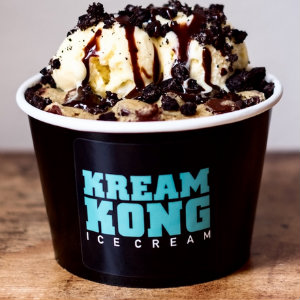 Kream Kong Ice Cream Returns to OC Night Market
Kream Kong Ice Cream always handcrafted, organic and made from locally sourced ingredients just launched their ice cream truck, and will be appearing at OC Night Market Aug. 24-26.
Launched in January 2018 by husband-wife founders Stephen & Diane…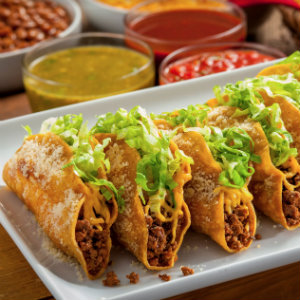 BACK-TO-SCHOOL Deals from Jimboy's Tacos
Jimboy's Tacos wants to make back-to-school easy. From Monday, August 20 through Friday, August 31, Jimboy's Tacos is offering $2 off a 6-Pack of Original Ground Beef Tacos at both Orange County locations in Anaheim and Huntington Beach.
…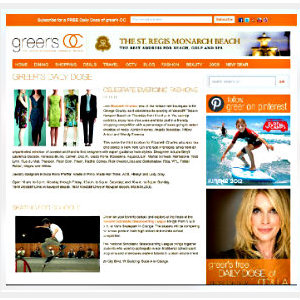 Grow With Us, Partner with us
For the past 12 years, the devoted readers of Greer's OC have provided advertisers with a lucrative target market of highly motivated shoppers, diners, and trendsetters.
The devotees trust Greer's OC to give them the latest information about Orange County's…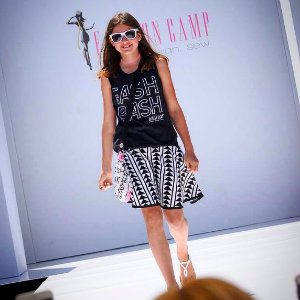 Fash Bash Annual End-of-Summer Celebration and Fashion Show
Join the District at Tustin Legacy for FASH BASH - Fashion Camp's annual end-of-summer celebration & fashion show in the AMC Courtyard on Saturday, Aug. 18 from 11 a.m. to 2 p.m.
Enjoy fashion-themed games & challenges, creation…