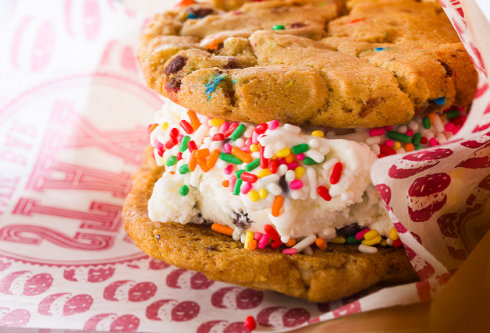 Cookie and ice cream lovers can indulge in even more flavors at our favorite Stax Cookie Bar in Irvine. It just expanded its menu of sweet treats., as well as new desserts such as ice cream sandwiches made with cream buns, similar to brioche. Stax will soon add waffle and cupcake ice cream sandwiches to the menu. Stax desserts are made with the finest ingredients and all cookies and cream buns are baked fresh in-house daily.
Stax offers a dozen flavors of cookies daily, including snickerdoodle, red velvet with white chocolate chips, black and white, and white chocolate macadamia. One gluten free vegan cookie is also available daily, with rotating flavors including coconut chocolate, double chocolate almond and sesame mango.
You'll want to try signature Sweet Stax, hand-crafted ice cream sandwiches made with fresh-baked cookies. Soon Stax will make waffle ice cream sandwiches to order. Any of the ice cream sandwiches can be rolled in a variety of toppings, such as sprinkles, candy pieces, nuts or cookie crumbles, for an extra charge.
Stax has also expanded its 16 rotating ice cream flavors to include Birthday Cake, Blueberry Cheesecake, Cotton Candy, Caramel Praline, Death by Chocolate, Espresso Almond Fudge, Hazelnut Toffee, Kona Coffee, Lemon Meringue Pie, Maui Waui Sherbet, Moose Tracks Denali and more. Dairy-free vanilla is also available.
Other ice cream treats include sundaes, cookie crumble sundaes, milk shakes, malts, ice cream floats, and specialty desserts such as affogatos (freshly brewed espresso poured over ice cream) and a Smookie (a warm, gooey cookie topped with ice cream and hot fudge or caramel.)
Open from 11 a.m. to midnight daily.
Stax is in University Center, across from UC Irvine, at 4187 Campus Drive, Suite M174, in Irvine.
949.861.2055 or visit StaxCookieBar.com.
Dine NB Restaurant Week 2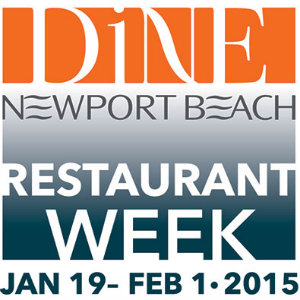 Newport Beach Restaurant Week, the city-wide culinary celebration continues through Sunday, February 1. Your choices range from international cuisine, locally sourced seafood, grilled steaks, vegetarian specialties and much more.
You can map out your Dine Newport Beach course and reserve your next culinary experience.
Participating restaurants are serving up special prix-fixe menus, with lunches available for just $10, $15, $20 or $25 and dinners for $20, $30, $40 or $50.
The full list of participating restaurants are available online here. You can search for cuisine, neighborhood, lunch and dinner prices and even menus.
---
The Latest from greer's oc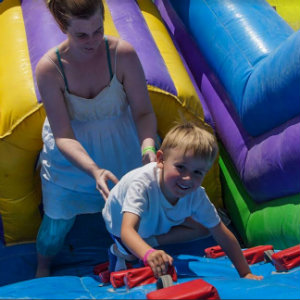 The Inflatable Run & Festival
The Inflatable Run & Festival on Saturday, April 21 at the OC Fair & Event Center could be the greatest family event that offers non-stop entertainment for all ages! The Inflatable Run features a kid-friendly one mile/5k inflatable obstacle course, free family activities, live entertainment, exciting inflatable attractions, delicious…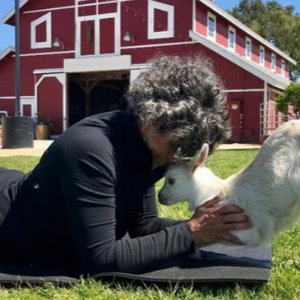 OC's ONly Goat Yoga Event
The cutest baby goats will take over Centennial Farm at OC Fair & Event Center this Saturday as Orange County's only goat yoga event kicks off.
The Goat Yoga Experience & Fun Farm Day offers a unique opportunity…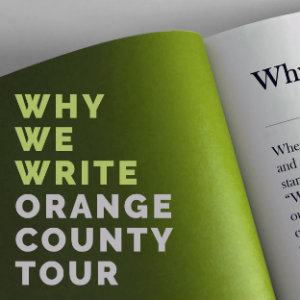 New Podcast Tour Unites Orange County Creativity
1888's Why We Write: Orange County Roadshow highlights creative purpose and necessity in Orange County. Taking submissions from across the globe, this essay series stands as a manifesto to why writers put pen to paper. Each essay is less…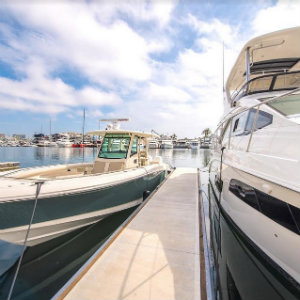 VUENewport offerS FREE parking and shuttle For Newport Boat Show
Spring has sprung and that means the 45th Annual Newport Boat Show is right around the corner! As the premier yacht show in the west, this year's show will feature more than 200 boats including the newest vessels to…