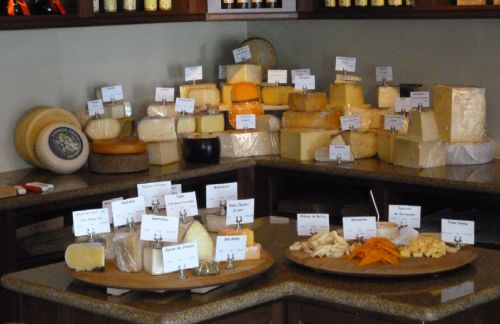 Orange County just landed a fantastic cheese shop that's making cheese connoisseurs and foodies swoon. Taste Abbaye de Belloc made by Benedictine Monks at the abbey of Notre-Dame from French Pyrenees sheep's milk; the famed cow's milk cheese Époisses de Bourgogne, referred to as the "king of all cheeses"; and one of the country's finest goat milk cheeses, Humboldt Fog.
Vin Goat in Corona del Mar fills a void in the market—no more driving to Beverly Hills or Silver Lake to find a one-stop boutique filled with the world's finest artisan cheeses.

Co-owners Erich Vogel and John Bennett left the world of high-tech marketing and advertising to live out their dream of owning a cheese boutique—and both absorbed themselves in culinary education first: Vogel attended the Cheese School of San Francisco; and Bennett enrolled in the Culinary Institute of America in Napa Valley.
Vin Goat stocks 90 fresh cheeses from all over the world, and will soon carry up to 200. There are also fresh artisan breads delivered daily from Sadie Rose in San Diego plus mustards, honeys, olive oils, vinegars, crackers and gourmet finishing salts including vintage merlot, Spanish rosemary, Thai ginger and black truffle. In the works are cheese tastings as well as wines arriving in the next few months.
Open 10 a.m. to 6 p.m. Tuesday through Friday; 9 a.m. to 6 p.m. Saturday; 11 a.m. to 4 p.m.
3326 E. Coast Highway in Corona del Mar. 949.673.2200.
Wine, Women & Shoes!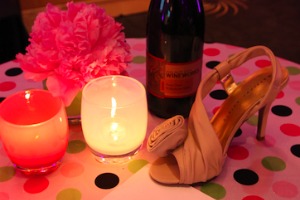 The inaugural Wine, Women, & Shoes event is coming to Orange County Thursday from 6 to 9 p.m. to benefit the YWCA Central Orange County that's empowering and supporting women in transition.

At the event, held in an exclusive Crystal Cove estate, you can enjoy wines, food tasting, boutique shopping and informal modeling. Three fun hours filled of shopping for a great cause: vendors will be donating 20% proceeds to YWCA. Participating vendors include Swimspot, Traditional Jewelers, Jo Malone, David August and Novecento Fashions, Silpada and many more.

You can also purchase a raffle ticket for a chance to win a designer closet filled with designer clothes, or a wine cellar with domestic and international wines. Cost $150 per person.
21 High Water at Crystal Cove. 714.633.4950, Ext. 3.
Intellect and Passion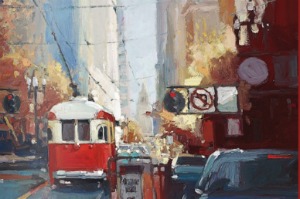 Laguna Beach artist Ken Auster captures the beauty of San Francisco's sights with spectacular plein air paintings in his new coffee table book "Intellect and Passion." You can meet Auster and see his visual story, 68 paintings, of the city by the bay at a book signing Sunday at 4 p.m. at Laguna Beach Books.
Laguna Beach Books is the Old Pottery Place is at 1200 S. Coast Highway. 949.494.4779.
---
The Latest from greer's oc
Give Thanks for Holiday Help from A Market
You can simplify your holiday and spend more time with loved ones than in the kitchen? Let Chef Shelly Register from A Market in Newport Beach help make your holiday feast delicious and easy with her Thanksgiving to Go…
Sassoon Holiday Exclusive!
Witth the holidays quickly approaching and all the parties the season brings, keep your hair looking gorgeous at Sassoon Salon. Any of the talented Sassoon Stylists or Color Specialists at South Coast Plaza can suggest a haircut and color to…
Gucci for Charity Shopping Event
Join Gucci at South Coast Plaza on Thursday from 6 to 8 pm. for a private cocktail party to benefit JDRF. During the Dream Guild event, you can shop and view the new Cruise 2015 Collections for…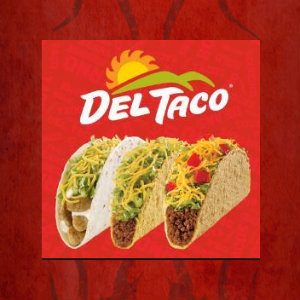 Give the Gift of Del Taco
The tastiest no-brainer holiday gift? Consider a Del Taco gift card with a special bonus program for you now through Dec. 29.
At any Del Taco, you can purchase $15 in gift cards and receive one coupon* good for 2…