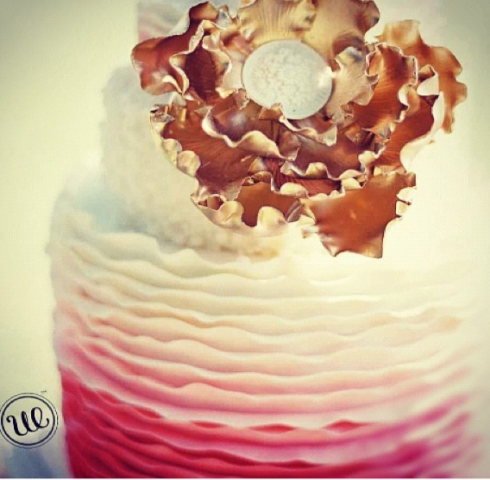 Brides with style rely on Utterly Engaged, an online bridal magazine, to find inspiration and resources to plan the perfect wedding. And it was at Utterly Engaged that we discovered Costa Mesa based cake studio, A Wish and a Whisk who designed the most beautiful cake we've ever seen on its current issue. (Pictured above)

A Wish and a Whisk is a custom cake studio owned by Lindsey Sinatra, formerly with Christopher Garren's in Costa Mesa. She left Garren's two years ago to branch out on her own with a Wish and a Whisk and is now a sought after cake designer in her own right, as a regular on
"Amazing Wedding Cakes", and seen on the "Food Network Challenge."
She's also created 300 individual birthday cakes for Betty Whites 90th birthday gala; designed the cake for the New York City premiere of "Harry Potter and the Deathly Hallows"; and was honored to make a replica of the Paris Opera House for the closing of the 20 year world tour of The Phantom Of The Opera in Los Angeles. A Wish And A Whisk is open by appointment only, and the sky's the limit as to what Sinatra can create in the form of an edible masterpiece.
She's made 3-D cakes of life-like trucks, fantasy castles, hat boxes, perfume bottles, beautiful flowers, and fanciful gifts boxes. Choose from 22 cake flavors including Thin Mint, Black n' White, Jamoca Almond Fudge, Pumpkin Pie, Carrot Crunch, Chocolatey Goodness, Berry Bliss and Red Velvet.
To find out more about A Wish and a Whisk visit http://www.awishandawhisk.com/ online or call 949.648.3458.
Photo courtesy Caroline Tran.
Try Bruxie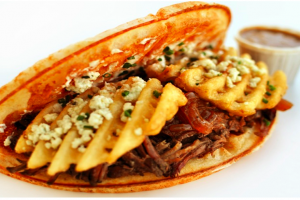 Bruxie's Old Town Orange flagship location turns two this week, and in honor of the occasion it will hold a "birthday fundraiser" Thursday benefiting the Make-A-Wish Orange County and the Inland Empire and the Wounded Warrior Project.
Stop by and savor Bruxie's signature gourmet waffle sandwiches seasonal shakes and floats made with real Wisconsin frozen custard and Bruxie will donate 10% of all sales from its locations in Old Towne Orange, Brea Downtown and Rancho Santa Margarita to the designated charities.
Bruxie specializes in authentic Belgian waffles, as well as salads, locally produced old-fashioned cane sugar sodas, real Wisconsin frozen custard, shakes, sundaes and floats. Bruxie also serves Peet's Coffee & Tea, and menu items are affordable, nothing costs more than $10.
Open 9 a.m. to 9 p.m. Sunday to Wednesday; 9 a.m. to 10 p.m. Thursday to Saturday. 292 North Glassell St. in Orange. 714.633.3900.

Open 9 a.m. to 9 p.m. Sunday through Wednesday; 9 a.m. to 10 p.m. Thursday to Saturday. 215 W. Birch Street in Brea.
714.255.1188.
Open 9 a.m. to 9 p.m. Monday to Thursday; 9 a.m. to 10 p.m. Friday; 8 a.m. to 10 p.m. Saturday; 8 a.m. to 9 p.m. Sunday. 22205 El Paseo, Suite A in Rancho Santa Margarita. 949.207.6570.
---
The Latest from greer's oc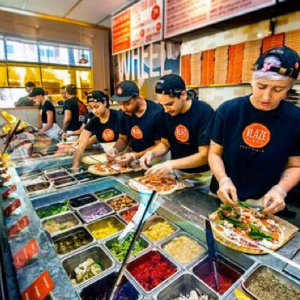 Opening Day Blaze Pizza in San Clemente
Blaze Fast-Fire'd Pizza, the LeBron James-backed fast-casual artisanal pizza concept, is opening a new location at the Outlets in San Clemente on Thursday, May 5. To celebrate the grand opening, the restaurant will offer FREE build-your-own artisanal pizzas…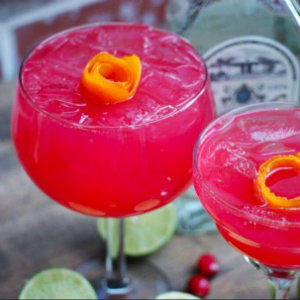 Cinco de Mayo at Cha Cha's Latin Kitchen
You can celebrate Cinco de Mayo at Brea Downtown's popular dining spot, Cha Cha's Latin Kitchen. Starting at 11 a.m., enjoy all-day drink specials, live Latin bands and tequila girls! Fiesta goers will love the award-winning margaritas that reflect…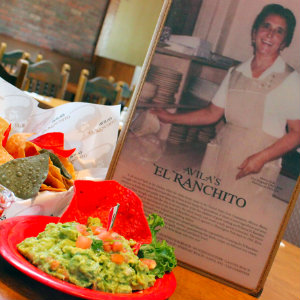 Cinco De Mayo at Avila's El Ranchito
Avila's El Ranchito knows how to celebrate Cinco de Mayo like no other--they've been in business for 50 years, with 13 locations throughout SoCal—12 are in OC and the original location is in Huntington Park.
All locations will be…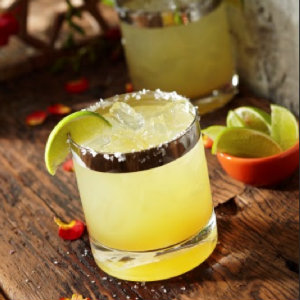 Classic Margaritas Done Right at Tommy Bahama
Tommy Bahama Restaurant and Bar in Laguna Beach celebrates Cinco de Mayo by offering its Classic Margarita for $6 all day throughout the restaurant and bar.
The Classic Margarita is carefully crafted with Sauza Gold Tequila and a house-made…