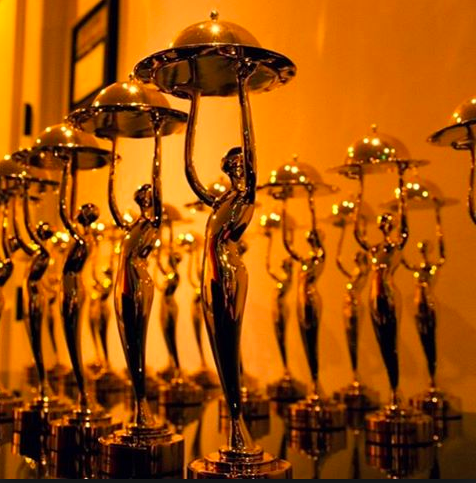 The month-long Golden Dine Out has come to a close, more than 100,000 votes were counted, and the 2013 Golden Foodie Awards will be celebrated on Sunday, Sept. 29, during a sold out show at The Fairmont Newport Beach. The spectacular event shines a light and honors the talented culinary pros in Orange County.
Guests in attendance include Heather Dubrow and Vicki Gunvalson from The Real Housewives of Orange County, Wing Lam of Wahoo's Fish Taco, Tim Ryan COO of the Anaheim Ducks and more. Everyone will be greeted on the red carpet with Patron and Chambord cocktails that lead to the outdoor garden full of 25 delicious food stations and other libations such as La Crema and Jackson Estates wines, and Ritual Brewing will unveil the Golden Foodie Ale created for the event. Enjoy live jazz by Nancy Sanchez, and magic by Kiyan before the show.
During the Awards ceremony in the Fairmont Newport Beach ballroom guests will indulge in a cornucopia of desserts as well as Kean Coffee, Patron XO, Chambord and Prosecco while enjoying the lively host and comedian Frances Dilorinzo.
As soon as the show is over, there will be an after party full of energetic tunes from DJ Cre-8 and extravagant libations including a Patron muddle bar and igloo with Patron-infused ice cream sandwiches.
The Votes are In! The Golden Dine-Out Nominees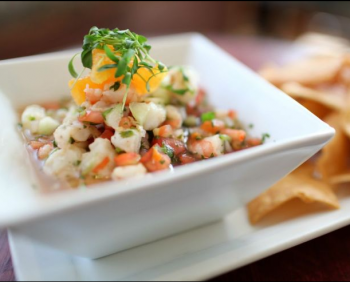 The Nominees for the 2013 Golden Foodie Awards are:
Mexican - Where do you get the best Mexican food?
Cha Cha's Latin Kitchen
Matador Cantina
Sol Cocina
Vegetarian - Where do you go to get your favorite vegetarian cuisine?
118 Degrees
Seabirds
True Food Kitchen
Pizza - An all time favorite. What restaurant or chef makes the best pizza?
Il Dolce
Fuoco Pizzeria Napoletana
Pizzeria Ortica
Beer - What restaurant or bar offers the best beer line up?
Hopscotch
Provisions Market
Slater's 50/50
American Cuisine - Whether it's Classic or New American Cuisine, who makes the best?
Bistango
The Ranch
Savannah Chop House
Cocktail - What eatery, bar or restaurant offers the BEST in libations?
320 Main
Hopscotch
Uva Bar
Italian - What restaurant or chef serves the most scrumptious Italian food?
Anaheim White House
Antonello's
Bruno's Trattoria
French - What restaurant/chef makes the most divine French cuisine?
Brasserie Pascal
Marche Moderne
Pinot Provence
Steak - Who makes the best?
Maro Wood Grill
Steakhouse 55
The Ranch
Wine List - What establishment or restaurant offers the most superb vino selection?
Sea Legs
The Ranch
The Winery Restaurant and Wine Bar
Mixologist - Whether you call it; Bartender, Bar Chef, Cocktologist or Mixologist it really does not matter. All we want to know is, who is your favorite?
Dave Castillo
Forrest Taylor
Koire Rogers
Indian Cuisine - Where do you go to get your favorite Indian Cuisine?
Clay Oven
Royal Khyber
Tamarind of London
Burger - Possibly the most iconic dish in America. Who makes your favorite burger?
Deemers
Mick's Karma Bar
Slater's 50/50
Asian - The best Asian Cuisine in Orange County is ? Tell us your favorite.
Anqi
Bluefin
Bamboo Bistro
Mediterranean - Tell us who you think makes the most delish Mediterranean food.
Kentro Greek Kitchen
Lucca
Zov's
Californian - It's fresh and colorful! Who makes the best?
Sea Legs
Tabu Grill
Two40South
Superior Service Award - You know it when you receive it. What eatery consistently offers Superior Service?
Anaheim White House
Mesa
Villa Roma
Seafood - What restaurant/chef serves the most fantastic seafood?
Slapfish
House of Big Fish and Ice Cold Beer
Wildfish Seafood Grille
Sushi - Who has the best sushi in town? We need to know!
Bluefin Sushi
Riptide Rockin' Sushi
Sushi Noguchi
Tacos - These tacos are so great, they have serious cravability. Where do you get them?
Javier's
Mi Casa
Sol Cocina
Most DELICIOUS Dessert - Sweet endings, who has the best?
Maro Wood Grill - Banana Bread Pudding
Ralph Brennan's Jazz Kitchen - Beignets
LUCCA - S'mores in a Jar
Happy Hour - Where is your favorite place to get happy? What eatery offers the best Happy Hour menu?
Mozambique Restaurant
Wildfish Seafood Grille
The Winery Restaurant & Wine Bar
Best OC Food Writer - You just can't get enough of reading this food writer's articles.
Anita Lau
Cathy Thomas
Minerva Thai
---
The 2013 Golden Chef Award
Chef Yvon Goetz - The Winery Restaurant & Wine Bar
Chef Alan Greeley – The Golden Truffle
Chef Michael Rossi - The Ranch Restaurant in Anaheim's
The 2013 Golden Pastry Chef Award
Chef Rachel Marie Klemek of Blackmarket Bakery
Chef David Rossi of The Ranch Restaurant
Chef Amelia Marneau of Marche Moderne
Best New Restaurant Award
Bruno's Trattoria in Brea
SeaLegs Wine Bar in Huntington Beach
Arc Restaurant in Costa Mesa
---
The Latest from greer's oc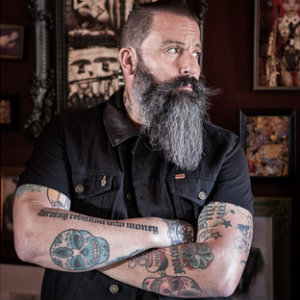 The Boat Co. Talk Show with Danny Thompson
The Boathouse Collective, a creative space that mixes up arts, community, culture and music, as well as culinary excellence continues the Boat Co Talk Show (BCTS) series with guest, punk rock drummer, and entrepreneur Danny Thompson.
The BCTS is…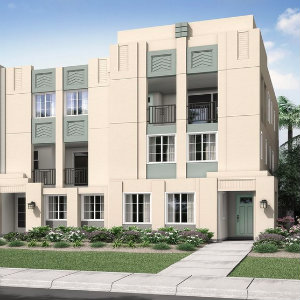 Celadon at Parasol Park Grand Opening Celebration
The place to be on Saturday, January 21 from 10 a.m. to 8 p.m. for anyone looking for a fantastic community to live in is the celebration of Celadon, William Lyon Homes newest townhome community at Irvine's Great…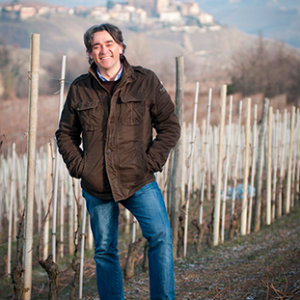 Michael's On Naples Inaugural Winemaker Dinner of the Year
Our favorite Italian restaurant outside of Italy, the award-winning Michael's On Naples will host its first Winemaker Dinner of the year with Luca Currado Vietti of Vietti Winery on Monday, January 23 at 6:30 p.m. The six-course menu, which…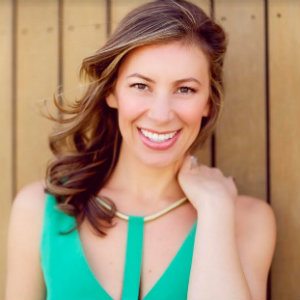 Talia Goldstein, founder Three Day Rule
1. How did you create the idea of Three Day Rule?
I was working as a producer at E! Entertainment and noticed that my co-workers were all having trouble finding love. In my spare time, I would set…