Beauty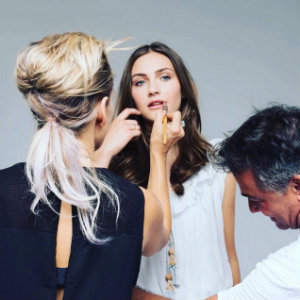 Yvette Beebe, OC Based Celeb Makeup Artist
10.26.16
If you're looking for an excellent makeup artist for any occasion, or want to learn makeup tips and tricks with a pro lesson, look no further. Yvette Beebe is an OC based celebrity makeup artist with more than 20 years experience and her work is so impressive. She's worked on music tours, movie sets, T.V., music videos and print media campaigns.
She's available for appointments at Holiday Salon In Costa Mesa and she also tours with rock stars such as PINK, Janet Jackson, Tina Turner, Cher and most recently Bruce Springsteen. Yvette did the cover of this month's Vanity Fair with Bruce Springsteen, shot by Annie Leibovitz. She also has the cover of Rolling Stones with Bruce Springsteen.
"I love what I do and Holiday Salon is a perfect fit for me," said Yvette. "I travel at times for my clients and I love having this salon as my home base here in OC." Her services also include eyebrow shaping, brow and lash tinting, personalized makeup lessons, bridal and event makeup.
You can get in touch with Yvette Beebe to book an appointment at 415.244.0830. You can also check out her works on Facebook @Yvette Beebe Beauty, and Instagram @yvettebeebe_beauty
Holiday Salon is at the Westport Square Shopping Center at 369 E. 17th St #5 in Costa Mesa. 949.642.4040.
---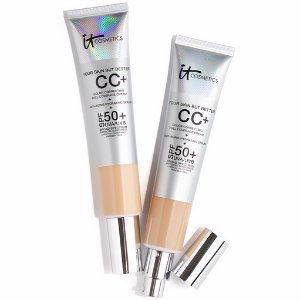 My Top Three Favorite Sunscreens
09.27.16
I'm always on the hunt for a great sunscreen and feel like there's nothing I haven't tried. I'm a 365 day a year sunscreen wearer to avoid sun damage and unnecessary aging. I just discovered three very different sunscreens that I just love for different reasons. I found a great full coverage cream from IT Cosmetics CC+ at SPF 50+; Kiehl's new tinted Super Fluid Broad Spectrum SPF 50+ is great for everyday wear; and for workouts and beach days, I love MD SolarSciences Quick Dry Body Spray SPF 40 and their Mineral Lotion for the face and body at SPF 50 Broad Spectrum UVA-UVB.
I found IT Cosmetics, "Your Skin But Better" CC+ Cream with SPF 50+ at Ulta Beauty on East 17th Street in Costa Mesa. You can even wear it as a foundation for full coverage and it comes in a variety of tints to match your skin tone. It even has an anti-aging technology that they claim is clinically shown to improve skin texture, brightness and increase skin hydration by 79%. I've been using it for at least six months and I think it's making my skin look and feel better. The hydrating formula is infused with Peptides, Niacin, Algae, Vitamins A, C, B, E, Hyaluronic Acid and Hydrolyzed Collagen along with Antioxidants and exotic natural botanicals for long-term brightening and color-correcting benefits. ($38 for 1.08 fl. oz.).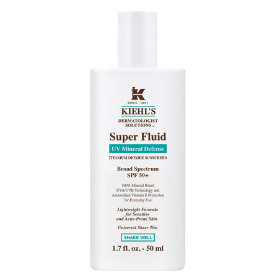 Kiehl's recently developed a new, non-irritating, broad-spectrum lotion specifically formulated with sensitive and acne-prone skin. I've been testing the new Dermatologist Solutions Super Fluid UV Mineral Defense Broad Spectrum SPF 50+ for about a month and I love how lightweight it is and its sheer universal tint. It has Titanium Dioxide - a naturally occurring mineral that physically blocks UV rays due to its high refractive index. And, it's formula features it is combined with the antioxidant power and conditioning benefits of Vitamin E offering additional defense against damage. If you have sensitive skin and normally find mineral products to be to be irritating or chalky, you are going to love the new Kiehl's Super Fluid sunscreen.. ($38 / 1.7 oz).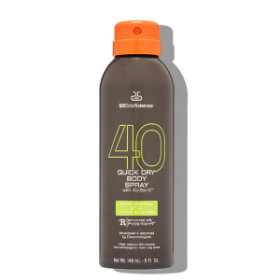 At Beauty Collection in Corona del Mar Plaza I picked up MDSolarSciences' Quick Dry Body Spray for all skin types. It's not greasy, it's fast-drying and will leave your skin feeling silky smooth. If you love to spend time outdoors, it's a great go-to-body spray! ($20 for 5 fl. oz.). MDSolarSciences' sunscreen line features SPF mineral crème, lotion and body spray, which all contain non comodegenic components that does not clog pores, water resistant up to 80 minutes and natural and safe UV protection.
---