Beauty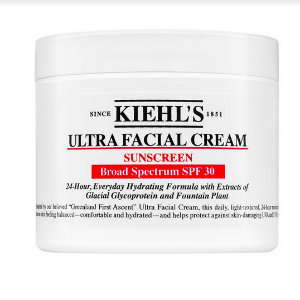 Kiehl's Ultra Facial Cream, now a Sunscreen
04.10.17
I've been using Kiehl's Ultra Facial Cream for as long as I can remember. It's one of my favorite hydrating creams and I couldn't be more excited that it's now available in a sunscreen formula, offering 24-hour hydration with SPF 30.
Kiehl's Ultra Facial Cream Sunscreen SPF 30 was inspired by its sister product, Ultra Facial Cream, that can keep skin moisturized and comfortable for 24 hours.
Kiehl's says like its original formula it also contains Antarcticine, sourced in Antarctica that's known to withstand extreme cold, and Squalane, a lipid derived from olives that has emollient characteristics that coat the surface of the skin and help hold on to moisture, as well as "Fountain Plant" (also known as Ophiopogon Japonicus Root Extract), a plant native to Asia known to resist drought.
This new formula leaves skin soft, smooth and healthy-looking, and protected with broad-spectrum SPF30 protection. I love it since it's fast-absorbing, non-greasy, a fresh aroma, and paraben free. And, I feel confident that it's protecting my skin from harmful UVA/UVB rays. It's available in store now and on kiehls.com
---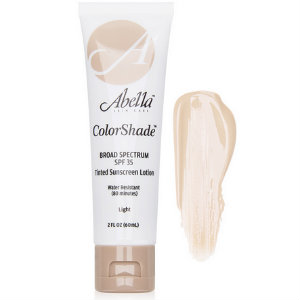 Your Sun Defense, Abella ColorShade SPF 35
02.23.17
Experts say daily use of sunscreen is the number one defense against skin aging from UVA and UVB damage. We wear sunscreen every day—rain or shine—so we are looking out for new lines to try.
Our latest favorite find is Abella ColorShade SPF 35, a line of broad-spectrum sun protection that's really a multi-purpose collection. It provides an SPF 35 Broad Spectrum UVA/UVB Protection, plus color, moisture and vitamins and antioxidants to help protect and restore your skin.
The Abella ColorShade SPF 35 comes in four shades-- light/ medium/ dark/ ebony to complement any skin type. We're using the light and medium coverage that can be used alone or blended with your favorite foundation to give you ideal coverage.
The line is formulated for sensitive skins and the pigments are silicone coated to prevent clogged pores.
It's also Paba Free, hypoallergenic, non-migrating and water-resistant (80 minutes).
You can shop for the line here.
---