Beauty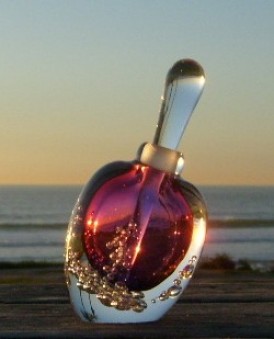 JOANNE BASSETT FINE PERFUMES FOR SWEET ROMANCE
02.05.11
Review by Sheryll Alexander
Show your woman (or yourself) that you chose a Valentine's Day gift with care by giving her handcrafted perfumes created with the world's finest ingredients and magically mixed by botanical couture perfumer, JoAnne Bassett.
JoAnne Bassett, who lives in north San Diego's Cardiff-by-the-Sea, describes herself as a spiritual alchemist as well as a fragrance therapist, botanical expert and artisanal perfume teacher. After smelling her masterful perfumes, I definitely agree.
Her fragrance collections do seem to contain what she calls "high energy essential oils and absolutes." Plus, all of her perfumes and body care products are organic and vegan.
I tested out several of her signature perfumes for about a week and I'm hooked. Why? Because JoAnne uses only the most exquisite and costly aromatic oils rather than synthetic fragrances from a chemical lab.
As someone who is sensitive to synthetic fragrances from the department store, my nose and body felt supported – even elevated. And, my husband loved that I was wearing perfume again (meow!).
For example, JoAnne uses some of the world's most rare (and in some cases extinct) ingredients such as Bulgarian white rose oil, vintage Mysore sandalwood oil, vintage jasmine sambac, osmanthus, mimosa and tuberose.
After using these natural perfumes for a week, I no longer smell like soap (or worse). Yes, after a little spray of Marie Antoinette, I feel more sweet and more sensuous. And Mother Earth's goodness keeps coming at your nose hour after hour. Wonderful!
For Valentine's Day, JoAnne Bassett is offering one of her Reflections Parfun ($350 for one-half ounce or 15 mls.) in an absolutely gorgeous handmade bottle. I was impressed at the beauty of this hand-blown "sunset" bottle with its glass stopper and sunset-colored bottle with unique bubble accents. JoAnne says her Reflections Parum has citrus and floral notes with a hint of sandalwood and spice, including centifolia rose otto, rare oud, costly boronia, tuberose, neroli (orange blossoms), vanilla absolute and vintage Mysore sandalwood.
JoAnne also teaches classes where you can learn about scent nuances, color energy and aromatherapy properties for body, mind and spirit. Classes start at $50 and include a custom-made bottle of perfume.
To learn more, visit http://www.JoAnneBassett.com or call 760.309.2571. To buy products on Etsy, visit http://www.joannebassett.etsy.com.
Subscribe to her blog at http://AromaticJourneys.blogspot.com
Follow her on Facebook http://www.facebook.com/joannebassett.perfumer

Sheryll Alexander is a lifestyles writer based in Costa Mesa, California.
---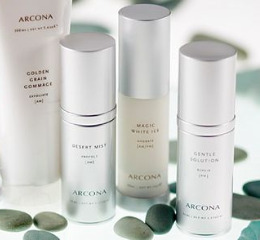 New Years 'Must Have' Products
01.19.11
By Lori Brystan
1. Vidal Sassoon Perfect Poof Hair Accessory
A little snap in comb that has a satin foam cushion around a one inch long comb – perfect for that volume 60's look. Think volume in a clip and they come in different colors to blend in with your hair.
"Great invention!"
Wallgreens

2. Starry Eyed Liner by Too Faced – Stalkerazzi
Line your pretty peepers with all the glitz and glamour of the stars in the Hollywood sky. Starry Eyed Liquid Eyeliners are incredibly daring liquid eyeliners packed with sparkling micro-glitter to add impact and edge to any outfit. With pampering ingredients like peach and cucumber Starry Eyed Liquid Eyeliners are long-lasting fast-drying and oh-so-good for your skin and lashes.
Too Faced

3. Oxygen Mask
Planet Beauty

4. Spray & Stay by Sexy Hair
Use the "All Nighter" hairspray on all hair types to resist humidity and provide long-lasting maximum hold and instense shine. Perfect for keeping up dos and elaborate styles in place.
"Perfect for those nights you want your hair to stay sexy all night!"
Planet Beauty.

5. CHI
Oil free powder instantly gives your skin a red carpet glow. Optimizing the effects of light.
"This unique powder helps diminish the appearance of imperfections and is a perfect subtle highlight."
Sephora

Share your thoughts with us at info@brystanstudios.com attn: Lori Brystan/Greer's OC Beauty Editor. All submissions become the property of Brystan Studios and Greer's OC.
---