Beauty
For Your Eyes Only
10.01.10
Owner: Julie Bishop
For Your Eyes Only is an eyelash extension salon and studio, specializing in the fine art and precision application of Semi Permanent Eyelash Extensions. Julie Bishop is the owner & operator, specializing in expert application techniques and training. The Salon has been open for four years, and has been in the industry for 15 years, and now 5 years in lashes.
Lashes truly are a remarkable and beautiful renewal to the eyes and face.
We invite you to try our lashes at 50% off any new service. You may just be addicted....
For Your Eyes Only
27001 Moulton Pkwy., A-116, Laguna Hills, CA 92656
5 & 73 FWY close
949-831-3800
Lori's Words:
Julie is truly one of the best in Orange County. Her attention to detail and the professional atmosphere says it all. Perfect for the Holiday season or for woman who likes to wake up looking beautiful.
Massage By Lila
Relax and let the spa come to you!
Lila Rauch has been a licensed massage therapist serving Orange County for the past 15 years. While working with local spas, she encountered many requests for those who enjoy the health benefits and relaxation of a resort quality massage in their home or place of business. She now exclusively works on location where every massage is a custom session. From gentle relaxation to deep therapy, Lila's approach combines several techniques tailored specifically for the individual.
To increase overall wellness, every massage includes aromatherapy with pure therapeutic grade essential oils. Oils not only provide a more luxurious experience but offer many holistic benefits such as pain relief, emotional, and immune support. The goal is to provide a complete experience that nourishes the mind, body and spirit.
Call for an appointment (949) 433-1369 Available Monday-Friday 9am-7pm
For a limited time Lila is offering Greers members a special day time rate of $65 an hour. When booking your appointment before 3:00pm. Appointments booked after 3:00pm resume the regular rate of $120 an hour.
Lori's Words:
Lila is by far the best massage therapist I have had work on me. Her healing touch and good energy rejuvenates your mind, body and spirit.
It's Not a Fad…..But the Cosmetic Line of the Future
Permanent Cosmetic Make-up
Spavanti International, is a Permanent Make-up Center located in Aliso Viejo, CA. Marsha Benson, owner and founder is a Certified Intradermal Cosmetic Specialist with over 20 years in the beauty industry. She is the expert among experts in the field of Permanent Make-up application. Her dedication in helping women of all age's feel and look their best extends beyond a profession. She offers an alternative, not for change itself, but to bring out the reflection of the best inner and outer image of an individual. She also specializes in color and design correction and custom blends the perfect color for each individual client. She uses organic pigments that contain no oxide. She has established her reputation as being one of the best in this industry and has many clients travel from around the world to have their permanent make-up done personally by Marsha.
Call Spavanti International to find out more about their services and schedule your personalized appointment (949) 443-4877.
WHEN IT'S PERMANENT, INSIST ON THE BEST!!
Lori's Words:
I had one eyebrow that was thinner and shorter than the other and Marsha fixed it for me so no more eye pencil for me! So easy and almost painless
---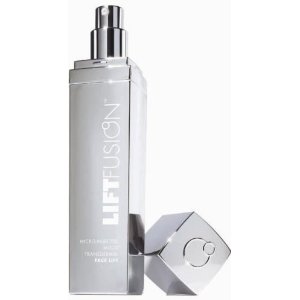 Top Ten 'Must Have' Products
08.31.10
By Lori Brystan
1. Fusion Beauty Lip Treatment
Lip Fusion XL Advance Lip Plumping
"This is the best of the lip plumpers. Put on before bed for am full lips or one hour before applying lipstick."
Planet Beauty

2. CHANEL Les 4 Ombres De CHANEL Quadra Eye Shadow
One essential compact offers unlimited eye looks, with shade combinations ranging from matte to frost to satin for multiple looks, contrasting or complementary.
"This quad is perfect to update your fall smoky eye – plum, khaki, grey and a highlighter."
Nordstrom

3. Rene Kiss my Face Body Lotion – Peaches & Cream
"Refreshing, smells like a ripe peach. So yummy you will want to eat it."
Mother's Market

4. Estee Lauder Double Wear Stay-in-Place Concealer SPF10
For a flawless look with fifteen-hour staying power. Long-wearing, lightweight concealer with easy-to-use wand applicator creates the perfected look of flawless skin all day.
"This concealer stays all day without being dry."
Nordstrom's

5. Color Science – Sun Forgettable
Is a lightweight mineral powder with a barely there feel. Avaiable in SPF 30 and SPF 50.
"This portable all in one brush, loose powder is great to use after your make-up and anytime you need to re-apply sunscreen without messing up your make-up with a lotion sunscreen. Keep in your purse or car."
Planet Beauty

6. Phytophanere Dietary Supplement
FOR HAIR AND NAILS Phytophanere is a dietary supplement for lifeless hair and weak, brittle nails. Super nutrients like carotene, wheat germ oil, and brewer's yeast nourish, protect, and help maintain healthy hair and build strong nails.
"My hair doesn't grow fast or past a certain length, but after 2 months of taking these I noticed it's longer – Finally! "
Planet Beauty

7. Almay Makeup Remover Pads
Soft, thick towelettes instantly lift away even the most stubborn makeup in one quick, easy step.
"A easy, fast way to take off eye make-up. No more excuses ladies… Do it every night, whether your tired or not."
Target

8. Ben Nye Fireworks Pencil in Silver
Apply the Fireworks Pencils as a lip accent or anywhere on the skin. Sharpen with either the single or dual pencil sharpener.
"Line the inner eye and it will make your eyes look brighter and whiter."
Stage Makeup Online

9. Bobbi Brown Long Wear Cream Shadow – Beach Bronze
This cream eye shadow stays on and doesn't crease, plus it maintains its true color. Soft-blending formula goes on comfortably and has a soft, velvety finish
"Is the perfect shade and is easy to apply and bring out blue eyes."
Nordstrom

10. Renee Furterer VOLUMEA Leave-In Volumizing Foam
VOLUMEA Volumizing – no rinse brings body and structure to fine and limp hair.
"I have tried a lot of volumizers, but this one made my hair full and kept my style for 2 days".
To all Greer's subscribers receive a 25% discount at all Planet Beauty locations on October 9th, 2010
Planet Beauty

Tip of the Month…
"For an instant eye lift, curl your lashes before mascara. It only takes a minute, but really makes a difference. I recommend Mehaz Brand by Planet Beauty."
Share your thoughts with us at info@brystanstudios.com attn: Lori Brystan/Greer's OC Beauty Editor. All submissions become the property of Brystan Studios and Greer's OC.
---