Greer's Daily Dose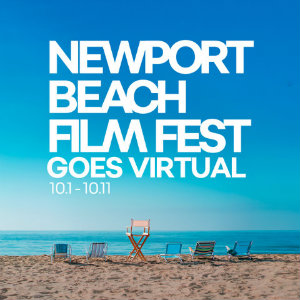 21st Annual Newport Beach Film Festival Goes Virtual
09.29.20
For the first time in its 21-year history, The Newport Beach Film Festival will go virtual October 1st – 11th on NewportBeachFilmFest.com.
The virtual Festival will showcase an international slate of 40 feature-length narrative and documentary films and 231 short films. The Festival will host virtual filmmaker conversations and 'Industry Talks'.
Festival highlights include virtual screenings of Fully Realized Humans which tells the story of Jackie and Elliot who embark on a madcap odyssey of self-discovery before their first child arrives in attempt to rid themselves of the inherited dysfunction of their own upbringings; Little Fish (IFC) starring Olivia Cooke (Ready Player One) and Jack O'Connell (Unbroken), follows a couple who fights to hold their relationship together as a memory loss virus spreads and threatens to erase the history of their love and courtship; the family comedy Breaking Them Up in which 15-year-old Damien decides that his parents are all wrong for each other, he enlists best friend Erin to help him set them up with other people; and the highly anticipated film Stardust (IFC) which tells the story of a young David Bowie's first visit to the US in 1971 - a trip that inspired the invention of his iconic alter ego Ziggy Stardust.
The Festival will present 'Industry Talks', a series of virtual conversations with film industry leaders. Cinematography From Set to Screen presented by Panavision will feature Cinematographer Don Burgess ASC (Forrest Gump, Contact, Cast Away, Spider-Man, Allied, Wonder and The Christmas Chronicles Light Iron) and Light Iron Senior Colorist Corinne Bogdanowicz (Allied, Wonder and The Christmas Chronicles). A Conversation with Cinematographer Robert McLachlan, ASC presented by Zeiss will feature the Director of Photography who is known for Lovecraft Country, Game of Thrones, Westworld and Ray Donovan.
Additional 'Industry Talks' will be released prior to the Festival. 'Industry Talks' are free and open to the public. Participants can RSVP on the Festival's website.
Tickets and passes are on sale at NewportBeachFilmFest.com.
All-Access Pass are available for $75. Tickets to screenings are $10.
---
More Daily Doses