Greer's Daily Dose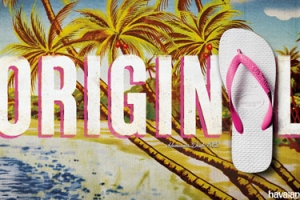 A flip-flop we like!
06.28.10
Havaianas, easily the most stylish and comfortable flip-flops in the world, can now call Huntington Beach home—the first Havaianas store in the U.S. opened on Main Street yesterday.
At this exclusive shop you'll be in Havaiana heaven—choose from more than 150 styles for men, women, and children. You can even make your own Havaianas at a custom station. And now you pick up a pair of World Cup 2010 Havaianas ($24). The limited edition collection features 17 soccer teams so you and your feet can show support for your favorite nation.
Relax on flip-flop shaped furniture and check out a chandelier made out of thousands of mini sandals. Nobody does it better Havaianas. The flip-flops as soft as marshmallows by adding a secret rubber cushion that no one else can duplicate. Since 1962, the affordable and luxurious Havaianas designed and manufactured in Brazil offering hundreds of unique colors and patterns to fit every fashion need!
Open 10 a.m. to 9 p.m. Monday through Sunday. 300 Pacific Coast Highway in Huntington Beach. 714.536.0001.
Get Your Daily Supply of Vitamin A
One of our favorite swimwear designers, Amahlia Stevens of Vitamin A, answers our 20 Q's! She shares her favorite drink (fresh coconut water); her dream day in OC (includes a visit to the Montage Laguna); and her biggest professional accomplishment (a Vitamin A collection made from 100% recycled nylon yarns!).
---
More Daily Doses