Greer's Daily Dose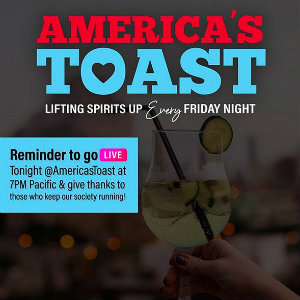 #AmericasToast to Support Local Restaurants
05.01.20
Since the "Safer at Home" mandate went into effect nearly seven weeks ago, the Friday night end-of-the-work week ritual of gathering with friends to enjoy "dinner and drinks" at a local restaurant was immediately halted.
As the nation continues to observe social distancing, Friday night makes its return with #AmericasToast, a grassroots movement to guide our nation back to a sense of normalcy by encouraging people to order dinner and drinks, non-alcoholic beverages included, from their favorite restaurant on Friday nights, find their happy place at home, and raise a glass in unison at 7 p.m. to restaurant workers nationwide. #AmericasToast will go live every Friday at 7 p.m. (PST) on Instagram at @AmericasToast.
#AmericasToast is a simple call to action for people to show their support to the restaurant industry, which has been hit particularly hard by the COVID-19 crisis and is also an industry with some of the smallest profit margins.
With many states temporarily loosening the laws to allow restaurants to sell alcohol beverages for takeout and delivery, it has helped these small businesses make up some of their losses by offering cocktail kits, growlers of beer, and bottles of wine to enjoy at home. And, of course, it's just as meaningful to order a milkshake, soft drink or iced tea and partake in #AmericasToast on Friday night, too.
Join #AmericasToast every Friday night at 7 p.m. (PST) live on Instagram at @AmericasToast to raise a glass for restaurant workers coast-to-coast, from chefs and restaurateurs to bartenders and dishwashers. Participants are encouraged to order dinner and drinks from their favorite eatery and join in by sharing images.
Organizers are currently working with industry partners to identify and support restaurant and bar employee relief funds. For more information on #AmericasToast, visit americastoast.org. To connect on social media, search @AmericasToast.
---
More Daily Doses