Greer's Daily Dose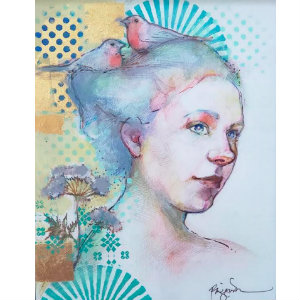 An Artistic Life, Paige Oden
07.23.19
Orange County-based artist Paige Oden is showing her newest mixed media pieces this summer at the Festival of Arts of Laguna Beach through August 31.
Oden grew up in Newport Beach with artist parents and a houseful of incredible art, treasured collectibles, and many pets. Art and nature were everywhere in her childhood and all of these things have reappeared in Oden's present-day artworks.
Oden is also the Director of Visual Arts at the Orange County School of the Arts (aka OCSA), where she has been mentoring young high school fine artists for the past 25 years. Her goal at OCSA is to guide students to reach their own college goals and career aspirations and help them become professionals in today's competitive art world.
Oden draws or paints every day, and feels incomplete when she doesn't.
She can be reached online at paigeoden.fineartstudioonline.com or you can stop by to see her at the Festival of Arts. All of her pieces are mixed media on wood; Acrylic paint, transparent inks, sepia and India inks, pencil and gold or silver leaf. All pieces are explorations of her current theme: Nature is Still Thriving.
I was fortunate to be able to catch up with Oden to find out more about her artistic life and inspirations here.
Festival of Arts at 650 Laguna Canyon Road in Laguna Beach.

---
More Daily Doses