Greer's Daily Dose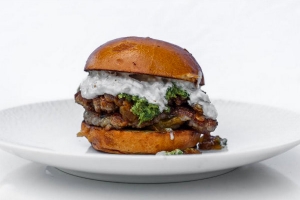 BELLO Debuts Brunch Italian Style
07.24.20
Brunch fans rejoice! B​ELLO by Sandro Nardone​ will debut its brunch menu on Saturday, July 25. It's available on two beautiful patios, they also offer delivery and takeout.
Since opening, BELLO has become known for its blend of traditional authentic and modern Italian food. The brunch won't be Bello's traditional Italian fare found at dinner. Chef/Owner Sandro Nardone is combining traditional brunch fare with Italian ingredients and techniques to create something familiar but a bit different.
"The Morty and Eggs is a great example. We have traditional Southern Red Eye Gravy but we combine it with grilled Mortadella, which is a common street food in Italy. Our version of a B.L.T. is made in the style of pancetta," said Nardone, who is Italian born and trained.
BELLO's brunch menu is divided into six sections: small plates, eggs, pizza, sandwiches, salads and sweets. BELLO Chef de Cuisine Frank DeLoach has added a few lunchtime favorites, including a Fried Chicken Sandwich with sweet and spicy Calabrian peppers and house-made pickles. Bello will also continue to offer the OC Burger Week Mare e Monti burger with its savory toppings, due to popular demand.
"I'm really proud of the Mare en Monti hamburger," noted DeLoach. "We take two pork smash burgers and add caramelized onions, salsa verde and tuna mayonnaise on top of a brioche bun. You get the flavors of the land and the ocean all in one bite with some freshness from the salsa verde."
Other creative brunch dishes include ricotta pancakes with apricot jam, the Colazione sandwich with house-made sausage, mortadella, Calabrian aioli, cheddar and eggs as well as French toast with amaretto custard and espresso gelato.
Brunch will be served on weekends from 10 a.m. to 2:30 p.m., beginning on Saturday, July 25. More information, including menu and reservations, can be found at bellobysandronardone.com​.
BELLO by Sandro Nardone is located at 1200 Bison (at MacArthur) in Newport Beach. For more information about the restaurant menu, hours and reservations, please visit bellobysandronardone.com​.

---
More Daily Doses