Greer's Daily Dose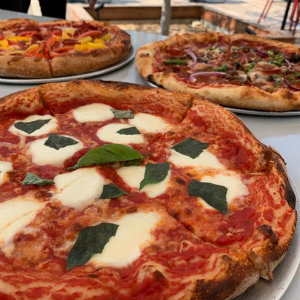 Big Parm in Tustin Offers $1 Slices for National Pizza Month
10.27.20
Orange County pizza lovers can celebrate National Pizza Month through the end of October with $1 slices of select pizza at Big Parm at Mess Hall Market in Tustin. The popular New Jersey-style pizzeria will also offer two-for-one pies on Halloween, Saturday, Oct. 31.
In addition to classics such as Margherita, pepperoni, and veggie, Big Parm serves specialty pizzas such as Lobster (with tomato sauce, Maine lobster, drawn butter, mozzarella), Spicy Garlic Shrimp Pizza (with tomato sauce, shrimp, roasted garlic, chiles, mozzarella), Pastrami (tomato sauce, pastrami, Thousand Island, chopped tomato, mozzarella), White Pizza (Alfredo sauce, parm, bacon, mozzarella), and a Greek Pie (chicken tomato, feta, olives, capers, pepperoncini, tomato sauce, mozzarella.)
All pies are available in small or large, along with a build-your-own pizza option, and Cauliflower crust can be substituted upon request.
In addition to its mouth-watering pies, Big Parm also has fresh tossed Salads, Baked Hot Wings, Meatball Parm, and Chicken Parm Sandwiches, and a Pizzarito, a New Jersey-style take on a calzone.
Big Parm was founded by Chef Andrew Gruel of Slapfish fame. A Jersey boy with a passion for pizza, Chef Gruel wanted to bring the flavors of his childhood favorites to Orange County with house-made dough, red sauce, and quality toppings to create mouth-watering Parmesan-dusted pizzas.
Open from 11 a.m. to 8 p.m. daily, Big Parm is located in Mess Hall Market at 1705 Flight Way in Tustin. For more information or to place an order, visit bigparm.com or call 714. 941.5423.
---
More Daily Doses