Greer's Daily Dose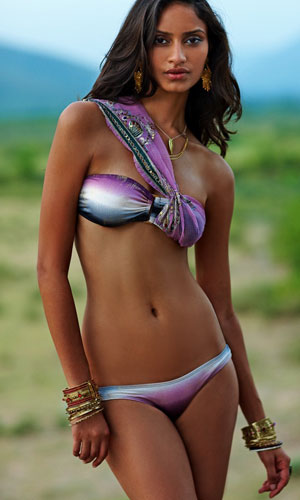 Bikinis Gone Wildly Fashionable
03.29.10
OC-based Tyler Rose Swimwear is one of the hottest bikini lines on the market, being featured for the second year in a row in Sports Illustrated's swimsuit issue; a spread in SURFING Magazine's swimsuit issue and in April you can find Tyler Rose at Victoria's Secret's top 20 stores and in its catalog!
The latest Spring 2010 collection, Haute Indian Summer, is out in local boutiques (exclusively at Patina in Costa Mesa), and online at Shopbop, Intermix and Scoop. You can get a glimpse of the perfect fit (think modern day Woodstock-inspired bikinis) at www.tylerroseswimwear.com.
Each Tyler Rose suit is like sharing a part of designer Nichole Carroll's life. They are sweet, sexy, and fun, just like Carroll. And she names suits after her girlfriends, places, or people she's influenced by. Haute Indian Summer is influenced by her love of music. It's all about bright colors, tie-dye, fringe and crochet. And each Tyler Rose bikini is sold as separates for ideal fits.
Surf's Up for Spring Break
OC's No. 1 surf camp, Quiksilver/Roxy Surf Camp, is offering a spring recess surf camp April 5 to 9 ideal for kids ages five to 14. Campers will learn basic surfing skills on gentle waves—soft surfboards, wetsuits and tents are provided. Student to instructor ratio is four to one for safety. Kids will compete in surf contests and enjoy beach activities including relay races, tug of war, beach flags and other junior lifeguard games. Class meets at West Newport Park on Seashore Drive in Newport Beach. Costs $350. 949.464.0077.
---
More Daily Doses