Greer's Daily Dose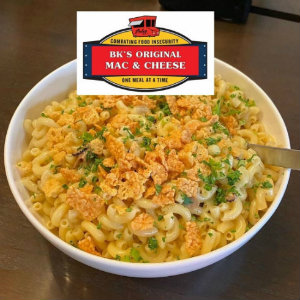 BK's Original Mac & Cheese Benefits The Hungry in SoCal
09.28.20
Today is the official launch of BK's Original Mac & Cheese! While Chef Bill Bracken was at the Peninsula Beverly Hills more than 20 years ago he created the recipe that caused quite a stir at the hotel since it was unheard of for a Five Star, Five Diamond Hotel to offer Mac n Cheese on the menu.
"I put it on the menu and boom a trend was born. It wasn't exactly my plan to be famous for macaroni and cheese but everyone loved it and before you knew it, Mac n Cheese was popping up on menus in the trendiest places in LA.
The Taleggio cheese is what makes it so good. It has quite a history, worth researching and comes from the Val Taleggio region of Italy. While the aroma is very pungent the flavor is quite unique and mild. Combined in my sauce and mixed with truffles it makes this dish fabulous."
Each order of BK's Mac & Cheese will go towards Bracken's Kitchen mission to feed more people in need.
BK's Mac & Cheese kit will contain 8-10 appetizer portions or 4-5 entrees depending on how you'd like to serve it.
The kit costs $40
Three locations for pick up.
Bracken's Kitchen will have a pick-up Friday, Oct. 9 from 9 a.m. to 1 p.m. 13941 Nautilus Drive in Garden Grove
Parking lot of Seabreeze Church at 18162 Gothard St in Huntington Beach on Friday, Oct. 9 from 3 p.m to 5 p.m.
Lion & Lamb Roaster at 3186 Pullman St. in Costa Mesa on Thursday, Oct. 8 from 10 a.m. to 12 p.m.
Purchases can be made at brackenskitchen.com/macaroni-and-cheese.
---
More Daily Doses