Greer's Daily Dose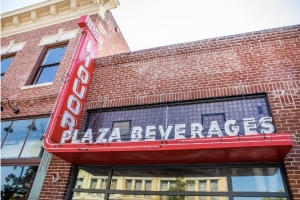 Bosscat Kitchen Opening at The Orange Circle
03.18.21
Orange County restaurateurs Leslie Nguyen and John Reed of Bosscat Kitchen and Libations are opening their third location on the corner of Chapman Avenue and Olive Street in Old Towne Orange at the previous Rod's Liquor location.
Despite all of the challenges from 2020, they're looking forward to providing the Orange community a place to enjoy positive, happy moments.
For nearly a year, Bosscat Kitchen has been working closely with the City of Orange, local architect firm, AO Architects and longtime partners, Platinum X Construction to ensure that the design of the 5,000 square foot space paid homage to the history of the 100 year old building it sits in. They're preserved every detail and are keeping the charm of the past.
The result is a beautifully modern space that is as authentic and nostalgic to Old Towne Orange as it is bold and eye-catching to fit Bosscat Kitchen's brand.
Leslie Nguyen, Chief Designer, has drawn her inspiration from the century old pre-prohibition style building, making certain every detail is on brand for Bosscat's rustic industrial aesthetic but also throwing back to the auto repair shop and the beloved neighborhood liquor store that had decades of commerce and stories before it.
Many of Rods Liquor's relics hang proudly on the walls in an effort to make the community feel right at home while dining at Bosscat Kitchens Orange.
A main focal piece is the large iconic ICE Machine door hanging on the dining room wall. The ICE Machine, dating back over 70 years, was an important part of Rods Liquor's history and Leslie knew she needed to incorporate this into the design. Leslie went one step further and repurposed the original oak wood that previously lined the ICE machine floor for the community table located in the whiskey room, next to a bright Rod's neon sign.
Open at 11 a.m. 7 days a week with their popular brunch on Saturdays and Sundays. For more information please visit ​bosscatkitchen.com
B​osscat Kitchen & Libations Orange​ is located at 118 W Chapman Ave, Orange.
---
More Daily Doses