Greer's Daily Dose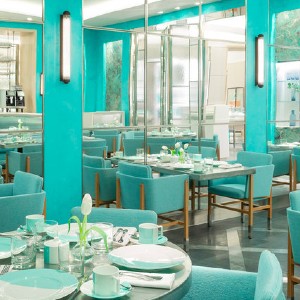 Breakfast at Tiffany's?
01.20.21
Have you ever dreamed of having breakfast at Tiffany's? Soon, it's possible. Not only is Tiffany's celebrating a new location and redesign of its store at South Coast Plaza, it just added the second Tiffany Blue Box Cafe in North America after the original, The Blue Box Cafe at Tiffany's Fifth Avenue Flagship store in New York City.
Currently, The Tiffany Blue Box Cafe at South Coast Plaza is offering curated menu packages to enjoy at home.
Packages can be picked up from the Purple SCP2GO pick up area (in the North Parking Structure near Nordstrom). Purple signs will direct you to the pick-up area once you are near the parking structure.
Pickup hours: Mon-Sat: 11 a.m. – 6 p.m.; Sun 12 p.m. – 6 p.m. | For order inquiries: 714.540.5330 ext. 311
In celebration of the store opening and to coincide with the recent launch of new styles from the Tiffany T1 collection, South Coast Plaza is the first North American store to exclusively preview the Tiffany T1 bangle and ring in 18k rose gold with baguette diamonds for a limited time.
The prominently relocated store boasts a total retail area of approximately 12,000 square feet, nearly double its previous store footprint within the center.
Located on the main level of South Coast Plaza, the interior store façade includes a custom Wheat Leaf feature wall crafted in carved stone. Each element of the store is designed to be captivating and unexpected, yet inviting and evocative of the brand's rich heritage. The grand entrance creates a luxurious atmosphere – immediately immersing guests into the world of Tiffany and its modern aesthetic.
Upon entry, you're greeted with a hand-painted mural by Artist Yoon Hyup. The custom design and soft color palette are inspired by the store's surrounding Southern California topography that visually suggests water, waves, clouds and wind.
A custom chandelier made of hand-cast crystal cylinders, hand-embroidered murals and unique uses of Tiffany Blue® Amazonite, fluted wood, custom-cut stone, cast glass with a distinct texture, and metal all create a cohesive and elevated feel in an open space.
An oversized portrait of Tiffany's founder, Charles Lewis Tiffany – crafted by local Orange County artist Andrew Myers, a wall inspired by the famous Tiffany Blue Box® and Wheat Leaf detailing throughout the store create a mix of the traditional and the modern.
3333 Bristol St., in Costa Mesa. 714.540.5330.
---
More Daily Doses