Greer's Daily Dose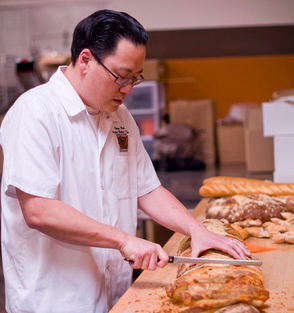 Breaking Bread With Dean Kim
08.23.13
Who is the man behind Orange County's premier artisan bakery? We finally met up with owner and Executive Baker, Dean Kim, of OC Baking Company who founded the wholesale bakery in 2009 that provides an array of fresh breads to 100 restaurants, ten top hotels, country clubs and caterers in Orange County. On average, Kim sleeps about four hours a night, lives five minutes away from his 15,000 sq. ft. bakery in Orange, which is in operation 24 hours a day, seven days a week, and is tireless and passionate about bread like no other.
"I find baking so rewarding, just last night I was at the bakery at three in the morning watching the first loaf come out of the oven, smelling the freshness, listening to the cracking and sounds of the bread," said Kim, with the excitement of a kid on Christmas morning. His passion for baking isn't waning even after 20 plus years in a bakery.
Becoming the "it" baker of Orange County didn't happen overnight. Kim, 42, a poli sci major at UC Berkeley, took a job in a kitchen after graduation in his early 20s and worked his way up from washing potatoes eight hours a day, to eventually being allowed to bake a potato. He cleaned, observed, listened and learned.
"I was trained that first you have to learn how to clean," Kim said. "It was a privilege to work on the line." It was at the Metropolitan Bakery in Berkeley that he caught the "baking bug." He's classically trained too, he went to culinary school in Napa, the Baking Institute in San Francisco, and moved to Rome to learn more baking skills.
He eventually moved to Orange County, became Executive Baker at Breads N Spreads and says he finally knew he arrived when he landed the Disneyland Hotel account 16 years ago. He's thankful he took a risk four years ago, and opened OC Baking Company, today his breads are sought after in every top restaurant and hotel in Orange County.
His motivation has always been that he doesn't want to fail, and bread provides an intense fascination that grows each day. He studies baking books, Jeffrey Hamelman's "Bread," Nancy Silverton's books, and "The Village Baker"are just a few favorites; he craves being at his bakery; and he's fortunate enough to pick and choose his clients.
The award-winning Lark Creek restaurant that just opened at Fashion Island is the latest eatery to carry OC Baking Company's breads. "We tasted everything before we settled on OC Baking Company," said Lark Creek Restaurant Group's co-founder Michael Dellar, "Their breads just tasted the best." Fanboys and close friends of Dean Kim's include Chef Noah Blom of ARC and Shuck Oyster Bar at SOCO and the Mix in Costa Mesa and Chef Greg Daniels of Haven Collective (Haven Gastropub, Provisions Market and taco asylum).
"I love the burger bun we collaborated on, but my favorite are the baby baguettes with a touch of sour for the chowda at Shuck," Chef Blom said. "I have to eat two every morning they arrive."
"I love the pretzel bun he does for Linx, his squaw, brioche, and sourdough," Chef Daniels said. "You know - I really dig anything he throws olives or rosemary in too. The coolest part about Dean is that he'll make anything happen, if you ask. He loves a challenge; he really thrives on it."
At this point the only retail shops where you can find OC Baking Company breads are at Provisions Market in Orange, and the Cheese Shop at the Mix in Costa Mesa. "I don't want my breads everywhere, they should be eaten the same day they're baked." The OC Baking Company also sells breads at the Orange Home Grown Farmers Market from 9 a.m. to 1 p.m. on Saturdays. "Most of the time I'm there, or one of my bakers so we can talk and educate people about our breads, the textures, flavors, and what we do."
"Baking is all about trial and error, it's dynamic," Kim said. "I'm always trying new things, testing and retesting. I'm fascinated by bread, what can happen when you add a little more starter; it's all about methods." The company bakes about 24 mixes of breads including sourdough, focaccia, ciabatta, whole wheat, multi grain, French, potato, rye, pumpernickel, hot dog and hamburger buns, even lavosh.
"I take my employees to restaurants that serve our breads, and I just like to watch and observe people taking their first bite," Kim said. "I say, 'look our bread is given out for free, it's gratis, but it's the first thing people are enjoying at a meal," We pour our hearts into that moment."
After all of his success, even calling the top culinary masters in Orange County his friends and mentors, his world drastically changed several years ago when he was diagnosed with type 2 diabetes. "My doctor basically said, 'look if you want to stay alive, you've got to stop doing what you're doing," Kim said. "My focus now is my health and it's hard. To be around bread and food, chefs wanting to spoil me with culinary creations, sometimes I want to hide at restaurants for fear I'll be given so much good food and dessert. Most of the time I just want a salad, and a piece of fish."
He's working out with a personal trainer three times a week (which he dreads) and his wife Ming Chun Hu is on a crusade to encourages his healthy lifestyle. The plan is to have children, which he feels will be the ultimate to complete his life now that his career is on track. He's private, but says he's happy to share his struggle with diabetes. "Diabetes should be thought of more in our industry," Kim said.
Dean Kim is a treasure, the ultimate artisan. We are so fortunate that he chose Orange County to settle in. "He's constantly trying to outdo himself, " Chef Daniels said. "True artisans are skilled, creative, inspiring, and inventive; Dean embodies all of these characteristics. Just being good at what you do is one thing; Dean's breads just keep getting better."

photo courtesy of Anne Watson
---
More Daily Doses