Greer's Daily Dose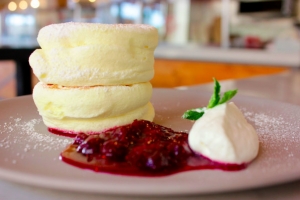 Japanese Souffle Pancakes Are All The Rage
01.14.20
Japanese-style soufflé pancakes are still hard to come by in the U.S. – and for good reason. They're notoriously finicky with so many variables involved to achieve the desired results of thick, fluffy discs that eat like golden airy clouds. For those small handful of cafes that do serve them, it takes anywhere from 30 minutes to an hour to get an order out to awaiting customers.
And so it was that Burnt Crumbs' Chef Paul Cao, the former sous chef of Michael Mina set upon a never-ending quest to find out what the soufflé pancake hype was all about and of course, the maddening process of how to make to them. He spent hours scouring online for information, poring through more than 60 recipes and videos detailing the pancakes in all their mesmerizing, jiggly glory.
He attempted to make soufflé pancakes every day for nearly two months trying to figure out how to make them properly. How much egg white is enough? Should one have to use a stabilizer? Does it matter if you pipe the batter onto the griddle versus using an ice cream scoop? Do you need a custom griddle or special lid to cover them? What's the right temperature and cook time? There were many failures. You could say stacks and stacks of failures.
Then, an epiphany, he finally figured out how to perfect these difficult and coveted pancakes.
So, what's the right recipe? Chef Paul isn't telling. But you can save yourself all the soufflé-making trouble by coming to Burnt Crumbs in Irvine when the new brunch menu launches on Saturday, Jan. 18 from 8:30 a.m. to 2 p.m. There will be three soufflé pancake options on deck: Original (whipped butter and syrup), Berry Compote (with house whipped cream) and Strawberry Cream (with fresh strawberries).
Soufflés aside, early morning diners can also look forward to savory A.M. favorites such as an array of eggy breakfast sandwiches on either a housemade biscuit or warm brioche bun, as well as a breakfast burrito with your choice of sausage, bacon, pastrami hash or carne asada – or eggs any style and even a breakfast salad. Coffee (cold brew, hot coffee and, Vietnamese coffee), along with breakfast sangria and mimosas will round out the new brunch menu.
Brunch will be served only at the Irvine location at Los Olivos Shopping Center – for now.
The first 25 customers will receive a free breakfast item.
Brunch service expands to both Saturday and Sunday beginning Jan. 25.
Burnt Crumbs is located at Los Olivos Shopping Center (same center as Whole Foods Market) at 8549 Irvine Center Drive, Irvine. 949.502.5998.

---
More Daily Doses