Greer's Daily Dose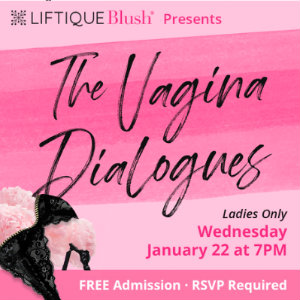 Calling All Women: The Vagina Dialogues
01.16.20
Orange County's premier anti-aging institute and women's sexual wellness clinic, Liftique in Newport Beach presents a ladies' night on Wednesday, January 22 from 7 p.m. to 8:30 p.m. Come out and experience an honest discussion for women by women about the relationship between intimacy, sexuality, and vaginal rejuvenation.
It's a women's evening to open the discussion about vaginal health, rejuvenation, and tightening plus their impact on sexuality, intimacy, and pelvic floor wellness. The medical discussion about vaginal rejuvenation will be led by Nurse Practitioner Elaine Kopinga.
It's a great opportunity for you to learn, ask questions, and find out more about treatments for vaginal rejuvenation and incontinence that affects 1 in 3 women. The causes can be from childbirth, menopause, weight fluctuations and a shift in hormones.
And, there will also be an open discussion about men, dating, sexuality, and intimacy led by LiftiqueBlush Founder and Breast Cancer Survivor Meryl Kern.
Attendees will have a raffle opportunity for $10,000 in procedure, treatment and product giveaways!
Enjoy wine, cheese and hors d'oeuvres upon registration.
No admission fee and free parking.
Visit LiftiqueBlush.com to register, RSVP required!
Liftique Blush Women's Room is at 3701 Birch Street in Newport Beach. Call 800-344-BLUSH 800-344-2587.
---
More Daily Doses