Greer's Daily Dose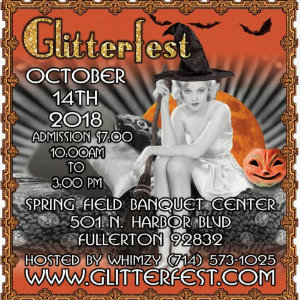 Celebrate the season with Glitterfest
10.11.18
Now in its 10th year, Glitterfest is settling into its new vintage venue-Spring Field Banquet Center in Fullerton. Select artisans and home decor vendors from all over the California area will gather together on Sunday, Oct. 14 from 10 a.m. to 3 p.m.
Art is all handmade mixed media wonderfulness featuring Halloween and Christmas decor. The event includes jewelry, sculpture, painting, collage, boutique sweets, and much more. They strive to always have something that will make you look twice! It is not just about the glitter, although they have that too. Glitterfest is about the artful inspiration and the creative folks that give it. Celebrate the season and bring a friend for a fun and unique shopping experience in a beautiful historical building in downtown. Admission is $7.
For more information, visit Glitterfest.com or call 714.573.1025.
The Spring Field Banquet Center is at 501 N. Harbor Blvd., in Fullerton.
---
More Daily Doses