Greer's Daily Dose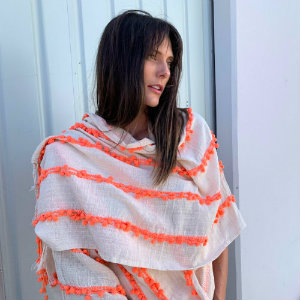 Charlie Loves Coco and So Will You
10.13.20
Located across from Volcom in the heart of Costa Mesa's constantly emerging industrial area, Charlie Loves Coco is truly a hidden gem inspired by the romance of travel. A global fashion and local furniture collective by California native Nicole McLain, the name Charlie Loves Coco is derived from Nicole's love of animals, passion for animal rescue, and extensive journeys all over the world.
Charlie and Coco are actually the names of Nicole's beloved cats, serving as her muses in the launch of her collective, inspired by the idea that if Charlie and Coco were people, the goods in Nicole's collection would be the result of Charlie's many worldly travels and the lavish gifts he has bestowed upon his sweet Coco. And if that isn't poetic enough, the overall essence of the store has a certain nonchalance and effortlessness beneath the artistry of it all. By definition, the Italian word sprezzatura truly defines what Nicole has accomplished with the launch of Charlie Loves Coco.
The collective is set amongst a variety of local artisanal businesses that truly complement one another. Among locally sourced artwork and antiques sits a stunning array of European clothing, beautifully crafted linens, handcrafted bags, curated jewelry pieces, and eclectic European eyeglass frames and sunglasses.
Nicole took possession of her space in early 2020 but has taken the time sense to carefully select goods and clothing that truly convey the essence of her story.
"It is important that my space reflects my personal style, and that the one-size silhouettes provide an effortless style to my customers that I've grown accustomed to through my access to such beautifully crafted clothing. Think of it as comfortable clothing that can be dressed up or down depending on your accessories and shoes, that is ideal for lounging, parties, travel, boating, and much more."
Save the date for two upcoming events: Private Shopping Event by Appointment Only on Saturday, October 24 from 11 a.m. to 6 p.m. RSVP to kimberly@creativeclarityinc.com while spots are available. The event will feature new fall items and accessories, and locally curated furniture, antiques, and paintings, music by Sabrina Rose, and small bites and refreshments. Social distancing and limited capacity. And, Black Friday Sale November 27, 9 a.m. - 5 p.m. 20 percent off all clothing, jewelry, and accessories - excludes furniture.

Charlie Loves Coco shopping is available by appointment only, and masks and social distancing are required in order to maintain a safe and enjoyable shopping experience for customers. Select items are also available at Seaside Gallery and Goods 7 days a week, 10 a.m. to 5 p.m. 124 Tustin Ave. in Newport Beach.
For more information and to join Nicole's email list: visit charlielovescoco, and follow @charlielovescocoofficial on Instagram for new arrivals and events.
1733 Monrovia Ave Ste O, in Costa Mesa. 949.293.6705
Pictured: Pom Pom Poncho in Cotton Gauze by A & B brand. Stunning jewelry selections. Eclectic Bohemian. On-trend. It's all in the details in this stunning hand-beaded Kimono by T Party. With only one left in stock, you'll want to grab it before it's gone!

---
More Daily Doses