Greer's Daily Dose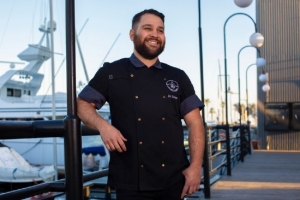 Lido Bottle Works Welcomes Executive Chef Joel Gutierrez
02.23.21
Lido Bottle Works—one of O.C's premier harborside dining establishments at Lido Marina Village—has promoted Joel Gutierrez of Costa Mesa to be the restaurant's Executive Chef. He has worked at LBW since 2018, under both original Executive Chef Joel Harrington and his successor, Executive Chef Amy Lebrun.
Gutierrez reflects the restaurant's hyper-seasonal style of cuisine and will continue with Lido Bottle Work's commitment to seasonal food with perfectly-paired local craft beers and California wines. He also maintains a strong focus on 100% utilization of his products, which gives him "the drive to be creative and find new and exciting ways to present certain ingredients."
Prior to joining Lido Bottle Works, Gutierrez was Sous Chef at SeaSalt, a Santa Maria-style BBQ and burger joint formerly in Huntington Beach. He was promoted in 2017 to Chef de Cuisine, writing the menu and doing wine dinners at SeaLegs, the concept's sister restaurant.
"I came because of original Chef Joel Harrington's food. I worked with him for a year. He was a rising star, and I thought it would be beneficial to learn from someone like him." Gutierrez said. "When Chef Amy Lebrun became Executive Chef, I became her Sous Chef."
"While working at LBW, I was able to expand my flavor prowess. I was used to a gastropub-style plating or clean-cut plating technique. At LBW, we had the freedom to be creative with our flavor profiles and eccentric styles of plating. The idea of being super local and super seasonal enabled me to hone my food voice. It was pretty big for me to witness the love and care that farmers and purveyors put into their product. I wanted to continue that same vision onto every plate of food."
"There's a lot of creativity for cooks that come through here that isn't seen at other restaurants, from the line up to the top," Gutierrez said. "They're always helping with the Lido Catch, and our rotating tacos. If they can have our same passion as chefs as line cooks, that's great because that means everyone in the kitchen is now working with that same passion and mindset."
He'll put a few dishes on the menu now, including the recent Monkey Bread addition at brunch, and a new citrus salad featuring Sunny Cal Farm's fruit, but his real menu swap will come in the Spring with an overhaul that will highlight "proteins we haven't used here before, handmade pasta and seasonal produce."
"From the beginning, this is what I've wanted to do," Gutierrez said. "It's always been my end goal, to be an executive chef, and to be able to present my food through my own voice. It's a great opportunity and I think I couldn't be at a better restaurant to do so."
For extensive information about Lido Bottle Works partners, bar program, and more, visit LBWmoreinfo.
Lido Bottle Works is at 3408 Via Oporto #103 in Newport Beach. 949.529.2784

---
More Daily Doses