Greer's Daily Dose
Chef Noah's ARC
02.15.13
Costa Mesa's South Coast Collection is making its mark on Orange County's culinary scene by continuing to add it to its roster of innovative eateries including Waiiha Sushi, The Iron Press, Shuck Oyster Bar, and just last week the opening of ARC, an American Roast House and Classic Cocktail Bar focused on scratch cooking, sourced from local artisan producers.
ARC's owners Marin Howarth and Chef Noah Blom are on a mission to serve original flavors in every dish and fresh cocktail at ARC. "Every item is crafted over an open fire in a kitchen where there is nowhere to hide," Blom said. ARC is a place to enjoy hearty, rustic, oven-to-table food ideal for sharing, along with classically crafted cocktails where all bitters, infusions, syrups and sodas are made in house.
Blom's open kitchen gives guests a peak into the use of quality, whole ingredients and tried techniques where simple, fresh and global flavors make the dish, not a particular cuisine. Dishes include savory meatballs with garlic and whiskey, served with toast; a hearty chicken casserole with broccoli and cheddar; and steak and potatoes with citrus and cream.
The menu couldn't be more straightforward and mysterious, with dishes such as the vegetarian option described as being made from/with farm, fire, and love; as well as pig with black beans, maple and herbs, allowing the chef to improvise with the freshest ingredients available. Cocktails to savor include the Little White Lie with white whiskey, grapefruit and lemon basil; or Collective with rye, vermouth di torno, black walnut bitters; and Up In Smoke, anejo tequila, mescal, and cynar.
ARC's kitchen and bar menus can be founded online here.
Open 11 a.m. to 11 p.m. daily.
ARC is in Costa Mesa's South Coast Collection at 3321 Hyland Avenue, Suite F. 949.500.5561.
Party No More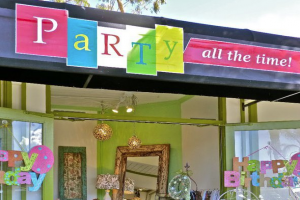 We're not sure what happened to Party All the Time in Corona del Mar, but we found out this morning that the owners' hearts are broken as they are closing the store.
"We had an amazing two years and it was a pleasure getting to know all of you. You brought daily smiles to our faces. It was a pleasure serving you and helping you with your celebrations," the announcement from Kimberly Larkin and Kathleen Nielsen said.

"Our store is 20% off of everything. Now is the time to get that piece of furniture you have been eyeing."
The popular seasonal holiday theme store carries seaside-themed gifts, princess-inspired items, baby gifts, Oprah's favorite Lafca candles, Caspari paper products, festive jewelry and scarves; as well as shatterproof and recyclable wine glasses, solar powered patio lanterns, and fun succulent balls, wreaths, turtles, even giant clam-filled containers.
Open 10 a.m. to 6 p.m. Monday through Friday; and 9 a.m. to 5 p.m. Saturday; 9 a.m. to 2 p.m. Sunday.
2747 East Coast Highway in Corona del Mar. 949.675.2506.
---
More Daily Doses