Greer's Daily Dose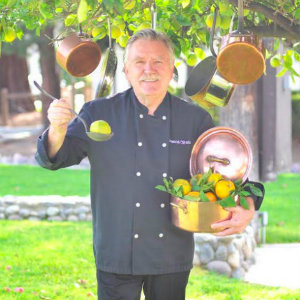 Chef Pascal Olhats Celebrates 30 Years in OC
03.14.18
We're so lucky to have the talented and wonderful Chef Pascal Olhats cooking fantastic meals in OC for the last 30 years! He's celebrating his 30th year since he signed his first restaurant lease for Pascal Restaurant in Newport Beach all month. In honor of this milestone, he's offering a special "Pascal's patrons favorites" dinner menu at Pascal in San Juan Capistrano at a 30% discount every Thursday, Friday and Saturday: three courses, $50 including a Champagne cocktail toast.
The menu features Salade Lyonnaise, Thyme crusted seabass or Duck a l'orange, and lemon tart…
Every day, all day in the casual dining Pascal will offer a traditional French bistro menu: Farm vegetable soup du jour, half a roasted chicken, mix green salad, homemade fries for just $15.
And on Wednesday, March 21 at 6 p.m. you can enjoy Pascal's celebration dinner at Cafe Jardin inside Sherman Library and Gardens in Corona del Mar.
Dinner will include live entertainment, a Pascal cooking demo and special award celebration: employees awards, purveyor and thank you awards. The special five-course menu at $85 includes a Champagne toast. Part of the proceeds will go to a student grant at Saddleback College.
Open 7:30 am. to 8 p.m. Monday to Wednesday; 7:30 a.m. to 9 p.m. Thursday and Friday; 8 a.m. to 9 p.m. Saturday.
Pascal is at 31451 Rancho Viejo Rd 103 in San Juan Capistrano. 949.488.0031.
Open 11 a.m. to 2 p.m. Monday through Friday; Sunday Brunch from 10:30 a.m. to 2 p.m.
Pascal's Experience formal prix fixe dinner starts at 6 p.m. Thursday to Saturday.
Café Jardin is at 2647 East Coast Highway in Corona Del Mar. 949.673.0033.
---
More Daily Doses