Greer's Daily Dose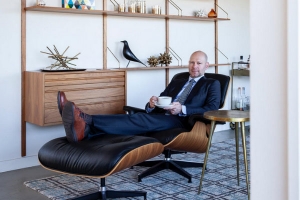 Coffee + Beer = Chapman Crafted Beverage Company
01.30.20
Chapman Crafted Beverage Company just added Chapman Crafted Coffee to its lineup of specialty beverages. Like its sister company, Chapman Crafted Beer, the brand is inspired by the history, craftsmanship, and community to produce craft coffee that is focused on flavor and freshness. The goal is to deliver a unique experience that is a throwback to a simpler time – one cup at a time.
The origin of Chapman Crafted Beverage Company begins with its founding partners Wil Dee and Randy Nelson, two long-time entrepreneurial collaborators with extensive experience in real estate, hospitality, restaurant operations, and business development as well as a mutual appreciation for craft beverages, including beer, coffee and spirits.
"While Chapman Crafted Beverage Company was born with the introduction of beer, it was always meant to be more – and our specialty coffee launch is just the next in a line of beverages we intend to bring to market," said Dee, who is also the Founder & CEO of Old Towne Orange-based Haven Craft Kitchen+Bar. "What makes the launch of Chapman Crafted Coffee so exciting is that we are able to do it alongside Chapman Crafted Beer with the release of First Roast, a coffee porter."

Chapman Crafted Beer's First Roast coffee porter will feature Chapman Crafted Coffee's premier limited release Single Origin coffee. The public will be able to enjoy the coffee porter at the Chapman Crafted Tasting Room in Old Towne Orange, where the beer will also be available for purchase in cans.

"The creation of coffee beers has actually contributed to our passion for coffee as an independent beverage. The passion behind specialty coffee is something I hope everyone will be able to taste, and we couldn't be more excited to share it with the world," added Dee.

In addition to the First Roast coffee porter, Chapman Crafted Coffee will launch with the release of a signature House Blend, as well as a limited release Single Origin coffee. Each is roasted locally and will be available in 12-ounce bags online on Chapman Crafted Coffee's website, as well as select retail locations, including the Chapman Crafted Coffee Tasting Room, Haven Craft Kitchen and Windsor Homebrew Supply Co.

Plans for Chapman Crafted Coffee in the immediate future include the wholesale of beans in 12-ounce and 5-pound bags to specialty coffee retailers and restaurants, as well as the eventual introduction of cold brew in both kegs and cans.

Chapman Crafted Coffee launched in conjunction with the release of First Roast coffee porter at the Chapman Crafted Beer Tasting Room in Old Towne Orange. For more information on Chapman Crafted Coffee, please visit chapmancrafted.coffee.
---
More Daily Doses