Greer's Daily Dose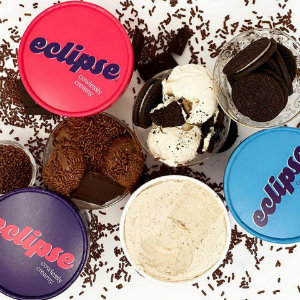 Cowlessly Creamy Ice Cream, Now at Your Doorstep
07.16.20
Eclipse Foods, the creator of the first plant-based dairy products that are indistinguishable from conventional dairy, debuted their groundbreaking plant-based ice cream to much acclaim late last year through partnerships with beloved ice cream brands OddFellows in New York City and Mitchell's Homemade Ice Cream in San Francisco.
Now for the first time, Eclipse is shipping their ice cream nationally, and partnering with a diverse group of notable chefs and restaurateurs — from established Michelin star winners to rising star talents — to create new limited-time collaboration flavors.
All proceeds benefit the chefs' charities of choice, which include their own local efforts to feed their communities, as well as other grassroots organizations that are advocating for causes they are passionate about.
The first round of collaborations include:
Greg Baxtrom Olmsted and Maison Yaki (Brooklyn): Blackberry tarragon ice cream with proceeds benefiting Olmsted's food bank to feed people in need in Brooklyn.
Moonlynn Tsai, co-owner of Kopitiam and chef of Heart of Dinner (NYC) - Honey Phoenix Oolong milk tea ice cream with proceeds benefiting Moonlynn Tsai's Heart of Dinner organization that provides culturally appropriate emergency meal assistance for the elderly and underserved in the Asian immigrant population affected by COVID-19.
Trigg Brown of Win Son (Brooklyn): Sweet potato and salty black sugar caramel ice cream with proceeds benefiting Street Soccer USA, which uses sports to improve the health, education and employment outcomes for the most disadvantaged Americans.
Joanne Chang of Flour Bakery (Boston): Sticky sticky bun ice cream with proceeds benefiting Flour Bakery's Feed a Bostonian in Need program.
Nicole Krasinski of State Bird Provisions and The Progress (San Francisco): Toasted almond thyme ice cream with proceeds benefiting Black Earth Farms, a grassroots Pan African and Pan Indigenous Farming Collective growing food in the East Bay.
Each month through the summer and early fall, Eclipse will launch a new round of limited edition chef collaboration flavors, with future chefs including Chef JJ of Fieldtrip, Michael Tusk and Jennifer Felton of Cotogna in San Francisco; Maya-Camille Broussard from Justice of the Pies in Chicago; Heather Sperling of Botanica in LA; Abra Berens of Granor Farm in Three Oaks, Michigan; Carolina Santos-Neves of American Bar in NYC; Leah Cohen from Pig & Khao of NYC; Taka Sakaeda, Jihan Lee and Lisa Limb of Nami Nori in NYC; Sam Smith of Tusk in Portland; Tom Naumsuwan of Wayla in NYC; Ken Oringer and Jamie Bissonnette of Coppa, Toro and Little Donkey in Boston; Ben Daitz of Num Pang in NYC; Michael Zaro from Zaro's Family Bakery in NYC; Suzanne Cupps of 232 Bleecker in NYC; and others.
Eclipse 100% plant-based ice creams are available for nationwide shipping on www.EclipseFoods.com/shop, which includes Eclipse's signature vanilla, chocolate, and cookie butter flavors and the first round of limited edition chef collaboration flavors. Each Eclipse signature pint is $11.99, with a minimum order of six pints. Each chef collaboration pint is $17.99.
---
More Daily Doses