Greer's Daily Dose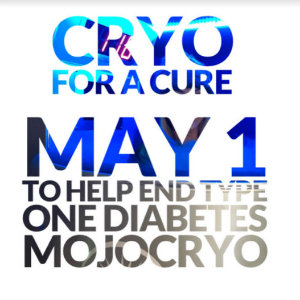 Cryo for A Cure For Type One Diabetes at MojoCryo
04.27.17
Newport Beach's premier cryotherapy spa studio, MojoCryo provides services to maximize health, performance and wellness utilizing state of the art technology and recovery modalities all from their relaxing lounge in the beautiful Fashion Island area. MojoCryo is hosting a Cryo For a Cure for Type One Diabetes fundraiser on Monday, May 1 to benefit JDRF.
Mention JDRF and you can get a Cryotherapy session at a special price of just $20 through April, with 50% to benefit JDRF. You'll also receive a raffle ticket to win one month unlimited cryotherapy for JDRF and they'll will pick the winner on Monday, May 1 from 10 a.m. to 6 p.m. during their Open House. They're offering introductory cryotherapy sessions at just $20, light refreshments, and giveaways to all attendees.
Additionally, you can learn about their services including Localized Cryotherapy, Cryofacials, & NormaTec Compression Therapy Boot and Light Therapy.

Be sure to reserve your spot today by sending an email to jill@mojocryo.com or by calling 949.877.6956. Walk-Ins welcome, too!
MojoCryo is just steps away from Fashion Island at 2091 San Joaquin Hills Road in Newport Beach. 949.877.6956.
---
More Daily Doses