Greer's Daily Dose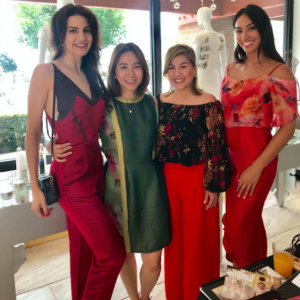 Award-Winning Fashion Designer Now at Newport Center
09.03.18
With the holidays, charity galas and special occasions around the corner, it's a great time to discover Dawn Sunflower Atelier that just opened at Newport Center in Newport Beach.
Award-winning fashion designer, Dawn Nguyen as featured in Vogue, Elle, Bazaar, Glamour, Hollywood Weekly and other fashion magazines, just relocated from Corona del Mar to a new intimate showroom where you can find modern, feminine and elegant designs that Dawn created with heart and emotion in mind.
At her new showroom, Dawn can create one-of-a-kind designs, custom wedding gowns, bridesmaid dresses, flower girl dresses, red carpet dresses, as well as ready-to-wear and evening gowns. As a special for those in wedding parties, Dawn has partnered with Bos Beauty Spa to offer bridal beauty and spa packages.
She can transform a woman's body into art with a simple piece of delicate fabric. Her heartfelt boutique's name was chosen in part from her American name "Dawn," and "Sunflower" comes from her translated Vietnamese name meaning "dedicated," and always seeing the sunshine when times are tough.
Dawn's collections are known for their feminine and classic, elegant styles and luxurious cuts. Dawn's collections are proudly made in the U.S.A. with carefully sourced materials and sustainability in mind. Dawn Sunflower carefully researches the raw materials to give the brand a soft, luxurious, sexy, and a modern look.
Grand Opening Specials available now through December 2018 include 20% off the custom bridal package (bridal, bridesmaid and wedding guest); 10% off custom made evening gowns, and 15% off ready-to-wear designs. At Bos Beauty Spa, 20% off all services; 15% off Babor products; 60 min. $135; 50-minutes $80 (mani and pedi); brow waxing $25. And, mobile home spa services promotion (per request). With the packages, you can also enjoy vacation specials with DreamVacationsbyDiane.com
You can connect with Dawn Sunflower Atelier on Facebook: @dawnsunflower14, Twitter: @dawnsunflower14 and Instagram: @duong20us
Dawn Sunflower Atelier is at 250 Newport Center Drive, Suite 100 in Newport Beach. dawn@dawnsunflower.com 949.531.8824 or 714.908.6371.
Photo credit Scotty Moson:
Models Allison Cox, Lindsey Hope Rummings and Anastasia Muravyeva

---
More Daily Doses