Greer's Daily Dose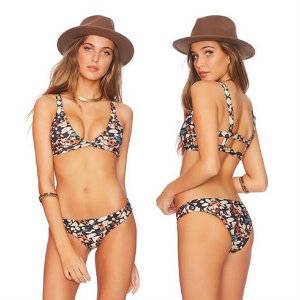 Dead Set on Deadstock
03.28.17
The most exciting news out of the swimwear industry? It's not surprising that it comes from RAJ Swim launching its eco-friendly swim brand, VYB made entirely from deadstock.
With little corporate involvement, co-CEOs Alex Bhathal and Lisa Vogel gave full reign to the VYB Tribe of twelve women to develop a new brand based on deadstock fabric from start to finish. Since RAJ makes a significant portion of its production in California, it also has luxurious stock fabrics that have never been bought, used or sold.
Repurposing excess fabric from the RAJ Swim factory in Orange County is not a norm for industry. VYB is using rescued fabrics destined to end up in landfills to produce limited edition suits. It also eliminates excess production, that creates waste and uses up more water and chemicals to treat and dye. And, as an added bonus, wearing a VYB bikini is more affordable.
Lead designer Holly Swope says, "While we were brainstorming price points, it became very apparent our VYB tribe likes to mix and match high end bikinis with affordable pieces. We felt strongly about making sure that the DNA of our line was built around this concept. We want her to come to us for our top and bottom styles, and love her completed look without having to integrate any other high end brands, or price point suits into the mix."
Because VYB is made from deadstock, import costs are eliminated. The collection will be categorized into two buckets: the premium assortment broken down into five vibes (edgy, romantic, beachy, boho, and sassy) which has innovative and elevated styles with clean finish and soft touch fabrication ($60-$120) and the core assortment, which offers solids in key bodies with clean and simple finishes ($30-$50).
VYB will officially launch during Spring Break 2017 and can be found online at vybswim.com.
---
More Daily Doses