Greer's Daily Dose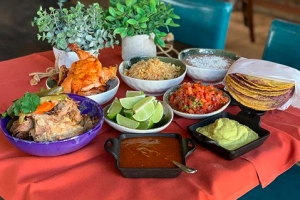 Descanso Serving Curbside Take Out!
03.20.20
Through this difficult time, Descanso's thoughts are with the community, their employees and local businesses. They have temporarily ceased DINE-IN service, and are now focusing on TAKE-OUT.

They have put together a TAKE OUT menu that features many of their favorite Items. Plus, they have added a FAMILY TACO MEAL package and we are offering Beer & Wine.
Their FAMILY TACO MEAL includes two pounds of meat (your choice), 1 pint of Refried Pinto Beans, 1 pint of Mexican Fried Rice, 15 Tortillas, 1 pint of Salsa Frita, 1 pint of salsa verde, 1 pint of pico de Gallo and 1 pint of Lime wedges. TAKE OUT SPECIAL: For every $20 spent on call-in take out, receive one roll of complimentary Toilet Paper!
CLICK HERE To view their new Take Out Menu!
They will be serving this Take Out Menu Daily from 4 p.m.- 8 p.m.

Please call them ANYTIME at 714.486.3798 or email them at info@descansorestaurant.com to place your order.

They really appreciate the support and they thank you for continuing to let us feed you through all of this. The more business they receive, the more hours they are able to provide to our amazing employees!
They have every intention to reopen our doors for Dine-In Service on April 1st (unless this changes of course). Please take a moment to view some specials we are offering below.

1555 Adams Ave. Ste. 103, Costa Mesa. Corner of Harbor Blvd. & Adams Ave. 714.486.3798.
---
More Daily Doses