Greer's Daily Dose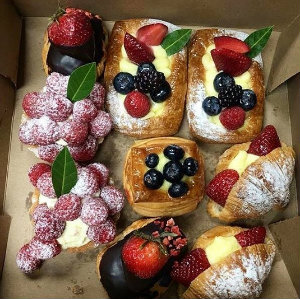 Did Someone Say Free Pastries?
09.06.18
Paris Baguette, a fast-casual Parisian-inspired bakery, is celebrating its newest location on East 17th Street in Costa Mesa on Friday, Sept. 7 and Saturday, Sept. 8 starting at 9 a.m. Be one of the first 100 guests in line and receive a complimentary buttery croissant, and a Paris Baguette insulated bag or mug.

Known for its delectable cakes, pastries, sandwiches and signature beverages, Paris Baguette also offers a self-service feature where customers can pick and choose their favorite delicacies that are brought directly to the counter.
Choose from an array of Parisian and Asian-infused treats such as Sweet Red Bean Donuts, colorful Macarons or a traditional Pain au Chocolat, all made with locally sourced ingredients and quality products.
The new location marks Paris Baguette's fifth Orange County restaurant and is located at 350 E 17th street, Costa Mesa.
Other OC locations include:
Irvine Crossroads at 3850 Barranca Parkway in Irvine. 949.535.0865.
Irvine Heritage at 14450 Culver Drive in Irvine. 949.577.9583.
8899 Garden Grove Blvd. in Garden Grove. 714.537.0404.
26611 Aliso Creek Rd, Aliso Viejo. 949.297.4522.
---
More Daily Doses