Greer's Daily Dose
Did Someone Say Steak?
10.19.12
With the fall season underway, consider tasting local flavors with two culinary powerhouses in the kitchen, Executive Chef Andres Jimenez and sous Chef Ben Ynda at enoSTEAK at the beautiful oceanfront Ritz-Carlton, Laguna Niguel. The two chefs rolled out enoSTEAK several months ago, transforming the former Eno Wine Bar into a modern and sexy steakhouse featuring a menu of prime and grass-fed, pasture-raised beef, sustainable seafood, as well as seasonal organic produce.
Like its predecessor, enoSTEAK also serves artisanal cheeses, charcuterie, fine wines and hand-crafted cocktails. Start with a rich and creamy Gioia cheese burrata mozzarella with apple cider compote and roasted spaghetti squash; or a fresh California greens salads with tomatoes, baby mesclun, avocado, Banyuls honey vinaigrette; and then order a main course, such as grilled prime bone-in New York steak, grilled prime rib eye, grass-fed beef tenderloin, or a sumptuous house grinded Angus burger, with Monterey jack, wild mushrooms, avocado and black truffle.
With the meats, seafood or rotisserie style Jidori chicken, you'll want to try their signature compound butters including black summer truffle, roasted heirloom tomato, garden herb and garlic, 30i enoSTEAK butter and tarragon béarnaise sauce. Side dishes, referred to as "enhancements" truly make the meal. We recommend the most delicious cauliflower we've ever had, tri-color cauliflower with Romanesco brown butter sage; or Brussels sprouts with apple smoked bacon; or heavenly crispy parmesan-truffle thyme potato fries. And, for dessert the chocolate pot de crème and salted peanut caramel corn is the definition of a perfect dessert: rich chocolate with childhood favorites, salty and sweet caramel flavors. And dine at enoSTEAK before 6:30 p.m. and enjoy a complimentary glass of house wine.
enoSTEAK is open for dinner from 6 to 10 p.m. Tuesday through Saturday. One Ritz-Carlton Drive in Dana Point. 949.240.2000.
Great Food in Costa Mesa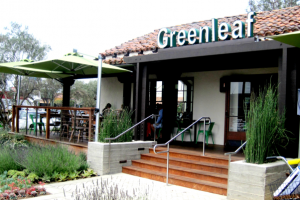 Easily one of the best restaurants to open in Costa Mesa this year, Greenleaf Gourmet Chopshop, is the perfect place to stop in for build your own organic salads, sandwiches, and entrées. And new for fall, the offerings include an ahi burger; vegan gluten-free burger; and spicy turkey sausage and goat cheese thin-crust "pizzas" made on Greenleaf's signature low-carb, high-protein whole wheat tortilla.
At the new happy hour daily from 3-5 p.m. enjoy wines by the glass for and tap beers for $4; specialty Soju cocktail for $5; thin-crust pizzas for $5, and all side dishes and Greenleaf's new small plates such as turkey meatballs, salmon crudo, steak sliders, and a seasonal bruschettas are reduced 50%.
Open for breakfast, lunch, and dinner 8 a.m. to 9 p.m. Sunday to Wednesday, and 8 a.m. to 10 p.m. Thursday to Saturday. Greenleaf Gourmet Chopshop is at 234 East 17th St. in Costa Mesa. 949.200.3950
---
More Daily Doses