Greer's Daily Dose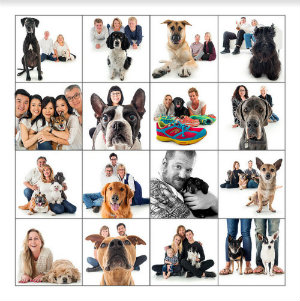 Dog Gone Cute Portraits
09.05.17
When it comes to professional pet photography, our favorite is the award-winning Dogma Pet Portraits in Costa Mesa. The family owned photography business originally started out as a family portrait studio and in a short time, owners Sylvaine and David Capron realized that the star of the show is often, a dog! "We started Dogma Pet Portraits because nearly every time we make a family portrait there's a dog in it, and over the years we've sold as many portraits of dogs as we have of kids," Sylvaine said. "I believe that's because the way we shoot, in a super relaxed, carefree environment, we are able to capture a dogs' personality as easily as that of a child."
They now cater to the needs of four legged friends and their owners. "We designed our new Costa Mesa Studio to cater specifically to those families where the dogs are the most important personalities in the home," Sylvaine said.
Dogma Pet Portraits is offering a special Creative Package through the month of September, that includes a Design Appointment, a Photoshoot and a Personal Viewing Presentation. It's normally $240, and through the month of September, it's specially priced at just $95!
You can click on this link to see what to the creative package includes at youtube.com.
You can find out more Dogma Pet Portraits at dogmapetportraits.com, and know that it's always lots of fun and you'll end up with very special imagery.
They're also supporters and fans of Barks of Love Animal Rescue where they adopted their beloved dog, Roxy. She also inspired their slogan, "Where Unconditional Love Becomes Art" and she's also the first larger than life piece of artwork you'll see when you come to the studio.
1727 Superior Ave. in Costa Mesa. 714.642.9021.
---
More Daily Doses