Greer's Daily Dose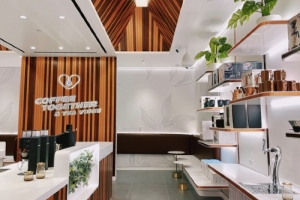 Dripp Coffee Bar Opens at South Coast Plaza
03.01.21
Dripp Coffee Bar, known for its specialty coffee experience, personalized interaction, and directly sourced, single-origin organic coffee, has opened in the Saks Fifth Avenue wing, level 1 at South Coast Plaza.
Founder Rabih Sater launched the first Dripp in 2011 in Downtown Fullerton with the goal of providing high-quality crafted products with superior customer service to the local community.
Each cup is individually ground from locally roasted coffee beans of choice and dripped one at a time. A menu of coffee beverages is complemented by luxury teas, sweet and savory bakery offerings, and artisanal ice cream. A small retail area features packaged coffee, tea and products to enjoy at home.
Dripp at South Coast Plaza has debuted a new design aesthetic in the 1,300-square-foot space. The minimal, mid-century modern-inspired interior is fitted with premium materials such as brushed copper, a carved stone façade, and a sleek patented bar design that contributes to the elevated coffee experience.
The coffee bar is open 8 a.m.- 6 p.m. daily. Orders may be placed online for quick pick-up at drippahead.com.
---
More Daily Doses