Greer's Daily Dose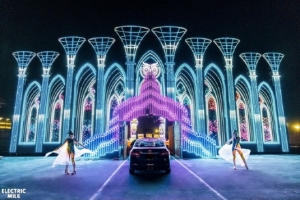 Electric Mile A Drive-Thru Audiovisual Experience
01.25.21
From the minds behind Electric Daisy Festival, Pasquale Rotella, and Insomniac bring a brand new immersive, audiovisual drive-thru experience to Santa Anita Park every night through Feb.
Explore the Insomniac Worlds on your voyage through Insomniac's Electric Mile. Journey through seven unique worlds of Insomniac's most iconic festivals and brands, including EDC, Beyond Wonderland, Nocturnal Wonderland, Escape, and Countdown, complete with music, lights, art, visual effects, installations, and more in a COVID-friendly environment.
The Electric Mile experience will approximately be 45 minutes to an hour-long. Vehicles can have up to 8 passengers, provided that each must have a legal seat. It's family-friendly and is welcoming for all ages.
For tickets and more information, visit electricmilefun.com/#Experience
Santa Anita Park is at 285 W Huntington Drive in Arcadia, (Gate 3)
---
More Daily Doses