Greer's Daily Dose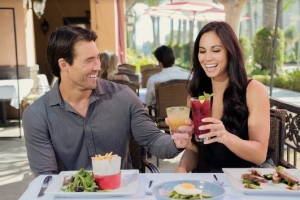 Enjoy OC Restaurant Week at The District at Tustin Legacy!
03.04.21
OC Restaurant Week is March 7–13, the perfect opportunity to try new restaurants or revisit your favorite eateries at The District at Tustin Legacy!
"This year, we're excited to have more restaurants than ever participate in OC Restaurant Week," said Shannon Campbell, marketing director for The District at Tustin Legacy. "Restaurants are such an essential, vibrant part of our community and now more than ever, they need our support and that's why we decided to be a sponsor this year."
At the center of the community, The District offers great shopping, chef‑driven restaurants, and a place to connect with friends and family. Why not take the week off from cooking and make it a family adventure? They have something for everyone — take a look at the The District restaurants that are offering something special for Lunch and Dinner:

•Hermosa Taqueria (NEW! At Union Market)
•Lucille's Smokehouse BBQ
•Luna Rossa Ristorante & Pizzeria
•Prego Mediterranean
•Stowaway Tiki
•The Halal Guys
•The Winery Restaurant & Wine Bar
•The Yellow Chilli
•Utopia European Caffe
Click Here to view the menus. Your food adventure begins March 7-13, 2021
2437 Park Ave. in Tustin.
---
More Daily Doses