Greer's Daily Dose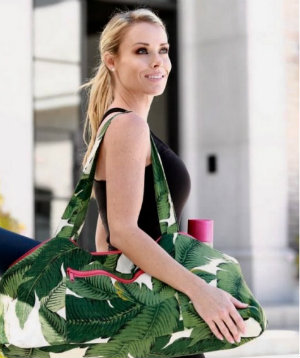 Everyone Tote-Ally Needs a Tudaloo
06.04.17
Tote bags and accessories are great for anything and no one is making them better than Tudaloo, an OC based company founded by Jodi Salerno. Tudaloo's handcrafted fashionable totes are availale in a variety or shapes and sizes: hand clutch totes, cosmetic totes, tissue totes, yoga totes, pool totes, cross body totes and totes perfectly sized for an iPad. You can find fun and chic themes such as French inspired scenes, cupcakes, golf, puppies, American flag, Halloween, fashion studs, USC, and more.
Tudaloo can be found in Orange County at premium retailers such as Lavender Salon, Bellagio Spa & Salon, On Que Style, Roger's Gardens, Mail Room in Newport Beach; and in boutiques in Pasadena, Los Angeles, Beverly Hills, San Diego, Nashville and Jackson Hole. And their custom designs are available at iconic five-star hotels such as the Beverly Hills Hotel, The Langham Huntington Hotel in Pasadena, and The Hermitage in Nashville.
Jodi's career in events and corporate hospitality for the Rams and other companies, as well as her desire to create items that are fashionable, unique and affordable eventually brought her to creating Tudaloo.
She loves the creative design process that's always influenced by her mom. "My mother always has stunning presentations, from wrapping gifts to hosting events, and I grew up admiring her creativity," Jodi said. And the name "Tudaloo" was inspired by her grandmother's loving sign off on the phone. "Toodleloo" was their way of saying goodbye. In honor of her Grandma Rose, the very first Tudaloo collection Jodi designed featured red rose fabric with a rhinestone rose brooch.
Tudaloo's Rose Tote Collection is available at the Langham Huntington Hotel in Pasadena and is popular among the Pasadena Tournament of Roses attendees.
Tudaloo's exclusive and iconic Banana Leaf Collection for the Beverly Hills Hotel has been a huge success. The pink palace carries more than 15 of Tudaloo's custom made products in banana leaf print including Totes of all sizes, yoga bags, dog beds, table décor, wine bottle covers, dog leashes and pool totes. Tudaloo items are featured in the Signature shop as well as on the Dorchester Collection website.
Tudaloo also developed the concept for the Champion Collection of products which are exclusive to the historic and only 5-star hotel in Nashville - The Hermitage.
Jodi believes that giving back to the community is very important and serves on the Board of The Harvesters which raises funds to support the Second Harvest Food Bank. She is also a member of Dream Guild (JDRF) and the Junior League of Orange County. Currently, she is collaborating with her friend since her days at UCLA, Dr. Karen Lane. Dr. Lane is a Breast Cancer surgeon at UCI and the head of the Veterans Breast Care Center in San Diego. Jodi is creating special pink and white Tudaloo Totes to donate to Dr. Lane's female patients who are Veterans with breast cancer.
Jodi takes pride in customizing her
 wrapping for Tudaloo products. She collects a variety of new and vintage brooches which she adorns to her finished products. Tudaloo customers often get excited
to see what brooch will be included with their order. Everyone Tote-ally needs a Tudaloo!
You can request custom designs, and view her entire collection on her Etsy shop or on Instagram @tudaloototes.

---
More Daily Doses